Windows 11 msteams.exe Bad Image is a common error in Microsoft Teams and the error status is 0xc0000020. If you run into this error, what should you do to remove it from your PC? Don't worry and some useful methods will be introduced in this post given by MiniTool.
MSTeams.exe Bad Image Windows 11
In Windows 11, Microsoft makes a big change to Teams and integrates it into the new operating system. With it, you can communicate with your friends, colleagues, and family members through multiple platforms including Windows PC, macOS, Linux, Android, and iOS.  
However, sometimes when you try to launch this app by clicking the Teams button on the Taskbar, you get an error message saying "msteams.exe – Bad image" instead of opening the chatbox with the Meet and Chat buttons. From the following figure, you can see the error status 0xc0000020.
The Windows 11 msteams.exe Bad Image error is usually triggered by corrupt files in an installed update, damaged files in the Teams library, etc. If you are encountering this annoying issue, go on reading you can find some available fixes below.
How to Fix MSTeams.exe Error 0xc0000020 Windows 11
Reinstall Microsoft Teams
How to do this work to fix error status 0xc0000020 Windows 11? See steps below:
Step 1: Launch the Settings app and go to Apps > Installed apps.
Step 2: Scroll down to find Microsoft Teams, click on the three-dot button and choose Uninstall.
Step 3: After the uninstallation, go to download and reinstall it on your PC to see if the msteams.exe Bad Image error is fixed.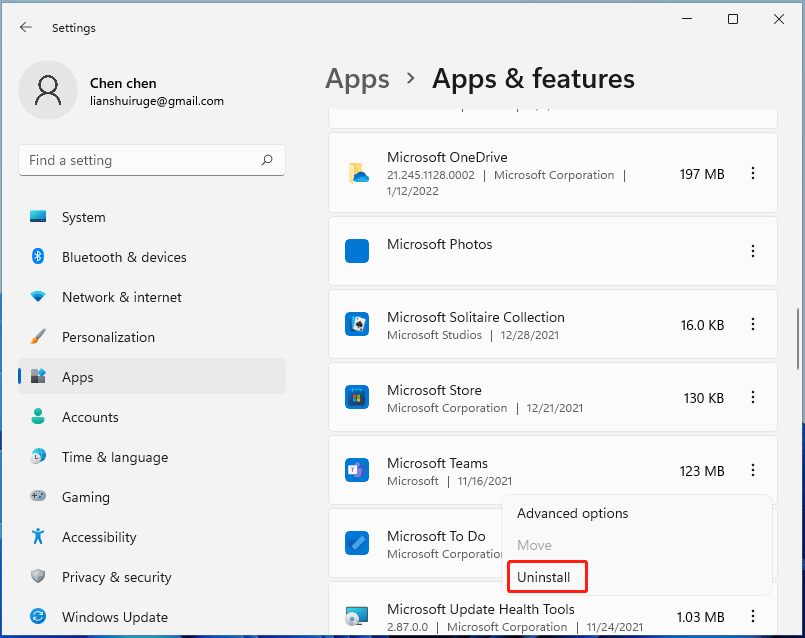 Reset Microsoft Teams
The operations are simple:
Step 1: Go to Settings > Apps > Installed apps.
Step 2: Go to Microsoft Teams, click the three-dots button and choose Advanced options.
Step 3: Click the Reset button.
Rename Microsoft Teams Folder
WindowsApp is a folder that holds sensitive data and it is not allowed to be accessed if you don't have permissions. According to users, you can fix the msteams.exe error 0xc0000020 after renaming the Microsoft Teams folder in WindowsApp.
Step 1: In Windows 11 File Explorer, click three-dots to choose Options, go to View, check the box of Show hidden files, folders, and drives and click Apply.
Step 2: Go to C:\Program Files\WindowsApps.
Step 3: Right-click on the WindowsApp folder and choose Properties.
Step 4: Go to Security > Advanced > Continue.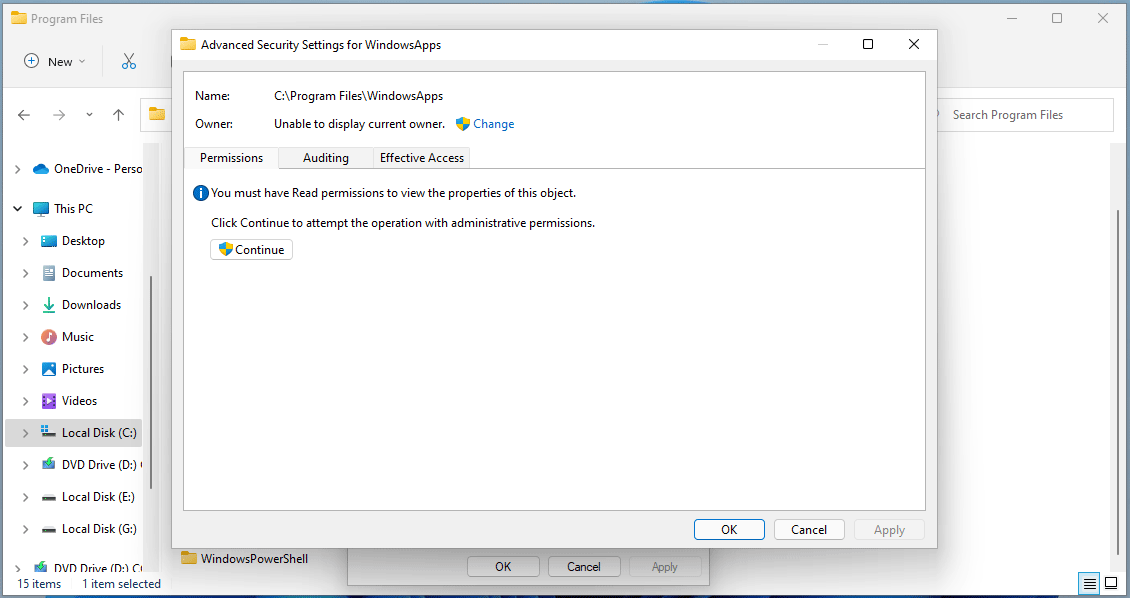 Step 5: Click Change, enter a user name and click OK.
Step 6: Click Apply followed by OK.
Step 7: After opening the WindowsApp folder, find two folders starting with MicrosoftTeams and rename them by adding .old at the end of the folder name.
Restart your PC and see if your issue is fixed.
Create a Local Account
Windows 11 msteams.exe Bad Image can be caused due to account issues. To fix it, you can try to create a local account.
Step 1: Go to Settings > Accounts.
Step 2: Click Add account under the Other users section.
Step 3: Click I don't have this person's sign-in information > Add a user without a Microsoft account.
Step 3: Finish the process by entering your username and password.
These are common ways to fix msteams.exe Bad Image error 0xc0000020 in Windows 11. Just try these methods if you are bothered by the Teams error. Hope you can easily get rid of the trouble.