Do you enjoy watching videos on Netflix? Have you ever run across Netflix screen flickering Windows 10/11? This post on MiniTool Website will render assistance to you on that, please look it through as carefully as you can.
Netflix Screen Flickering
Netflix enables you to enjoy high-quality video content but you might be annoyed with the Netflix screen flickering issue when watching a video. This post is dedicated to offering you a few troubleshooting methods. Without wasting any more time, let's jump into the solutions below.
How to Fix Netflix Screen Flickering?
Fix 1: Change Your Browser
The browser that you are using might not support Netflix so changing a browser is a good option. Besides Chrome, you can try to launch Firefox to see if Netflix screen flickering Chrome is gone.
Warning: Brave or Edge and browsers alike should be avoided.
Fix 2: Check the Server Status
Sometimes, Netflix is under maintenance thus causing Netflix screen flickering Windows 10/11. When you doubt that the culprit is the server status of Netflix, you can go to Netflix Website to see whether your Netflix is down or not.
Fix 3: Switch to Another Account
As long as the number of user account is over the permitted number, the program will be problematic. Therefore, you can try to switch to another account to fix the account limitation.
Warning: Before you remove the old account, you must back up the data in advance.
Fix 4: Scan Virus & Threat
Netflix screen flickering can also be caused by a virus or malware attack. In addition to Netflix flickering in full screen, other problems on system performance will crop up. To save that, you are able to choose to open the antivirus software on your PC.
Step 1. Press Win + I to open Windows Settings.
Step 2. Scroll down in the menu to choose Update & Security.
Step 3. In Windows Security, click on Virus & threat protection.
Step 4. Click Manage settings and turn on Real-time protection.
Fix 5: Disable Plug-ins
Plug-ins provide you with some convenience, but they can interfere with the working of other apps. Disabling it will be an effective fix to address Netflix screen flickering.
Step 1. Open your browser and hit the three-dot icon in the top-right corner.
Step 2. In the drop-down menu, choose More tools > Extensions.
Step 3. On the Extension page, remove all your extensions and relaunch Netflix to check if Netflix screen flickering is still there.

Fix 6: Maximum Power Output
The battery-life-centric algorithm is a primary selling point of Microsoft and Apple. When your system is trying to save power, some problems will occur. To tackle Netflix screen flickering, your system must run on High Performance.
Step 1. Open your Control Panel.
Step 2. Click on Hardware and Sound > Power options > tick the High performance option.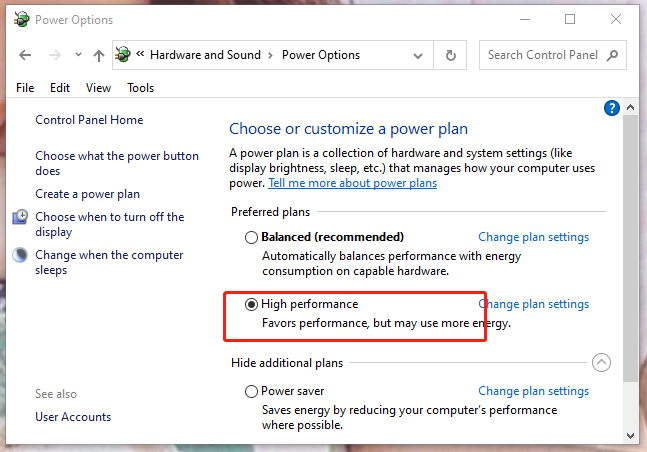 Don't miss:
# How to Fix Netflix Error 5.7 on PC & Android Phone?
# How to Fix Netflix Error Code NSES-404 Windows 10/11?
# How to Fix Teleparty/Netflix Party Not Working? [5 Proven Ways]