Netflix VPN Not Working
Netflix is a famous streaming service that allows you to watch a variety of TV shows, movies, documentaries, etc. It can be used on multiple platforms like Windows, Mac, Linux, iOS, and Android. To know more information about it, refer to this post – What's Netflix & How to Download Netflix App for PC & iOS/Android.
Netflix offers specific content for every country. To stream your desired Netflix content from anywhere in the world, you may choose to use a VPN to change the IP address. However, sometimes you get some proxy error messages.
Why is VPN not working on Netflix? This is mainly because the IP address of the VPN server you are connecting to has been blacklisted by Netflix. Netflix doesn't own the rights to distribute content in all regions. The streaming service has to block some IP addresses of the VPN server due to copyright agreements.
Of course, you can try some tips to fix VPN not working with Netflix. Go to find what you should do from the following part.
Fixes for Netflix Not Working with VPN
Restart VPN Connection
Sometimes you can disconnect from the VPN and reconnect to it. Then, check if you can access the Netflix library. If Netflix VPN not working still happens, continue the troubleshooting.
Update VPN
Usually, the VPN company regularly releases new updates with bug fixes and more servers. You can try to keep the VPN app up-to-date. Just go to the official website of your VPN and download & install the latest version. Or, you can check for an update in the program itself and install the available update.
Connect to Another Server in the Same Region
Some VPN companies can offer different servers in a region. If Netflix VPN is not working, you can try to connect to another server in the same region. The new server may not be blocked by Netflix. If the provider offers a server marked "Netflix" or "streaming", try it first.
Clear Browser Cookies and Cache
A browser always uses cookies and cache to collect account information, search queries, temporary location data, etc. VPN not working with Netflix may be caused by the cache and cookies. You can try to clear them in your browser to fix the issue. Here, we take Google Chrome as an example.
Step 1: In Google Chrome, click the three-dots menu and choose Settings. Alternatively, copy and paste chrome://settings/ to the address bar and press Enter.
Step 2: Under the Privacy and security tab, click Clear browsing data.
Step 3: Under the Advanced tab, choose All time and make sure Cookies and other site data & Cached images and files are checked. Then, click Clear data to start the process.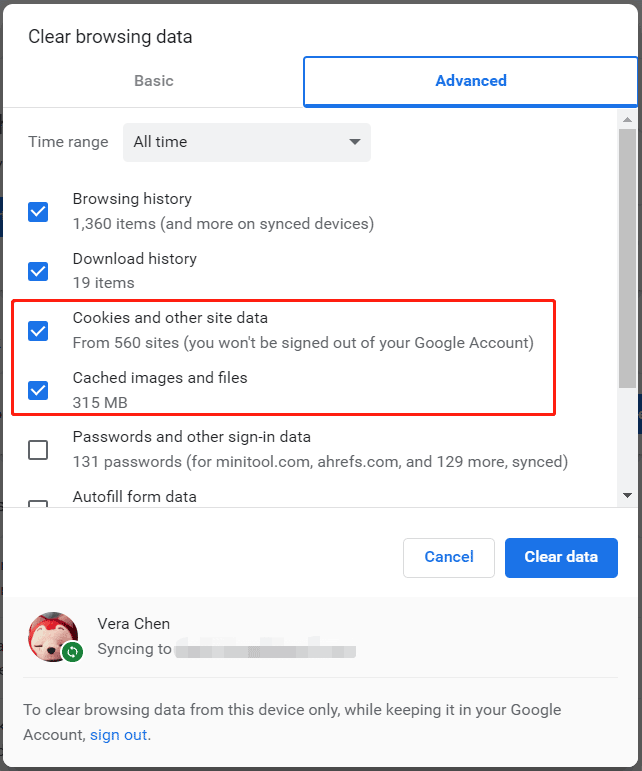 Disable IPv6
Netflix shows you the library based on the IPv6 address. Some VPNs don't support IPv6 and leak IPv6 addresses, leading to the local library showing in Netflix. In this case, you can try to disable IPv6. Here take Windows 10 as an example.
Step 1: Right-click on the network icon in Taskbar and click Open Network & Internet settings.
Step 2: Click Network & Sharing Center > Change adapter settings.
Step 3: Right-click on your network connection and click Properties.
Step 4: Unselect Internet Protocol Version 6 (TCP/IPv6). Then, save the change by clicking OK.
In addition to these ways to fix Netflix VPN not working, some users recommend some useful workarounds, for example, sign out of Netflix and sign in again, change VPN protocol, use another powerful VPN like ExpressVPN or Windscribe with the Smart DNS functionality, or ask Customer Support for the best server.
Hope this post could help you easily get rid of the situation – VPN not working with Netflix. If you have some other useful fixes, share them with us in the comment below. Thanks.