Reportedly, a new Chrome bug can freeze Windows 10 devices. This exploit is used in a tech support scam via JavaScript code to create a loop and tell you the device is infected by a virus, eventually freezing your computer. MiniTool will show you details about this bug and how to fix it if Chrome freezes Windows 10.
As you know, Google Chrome is the most used web browser on the market. Thus, once a bug occurs, a number of users can potentially be affected. Of course, you are no exception. That's exactly what is happening right now and we will explain what it is all about.
A New Chrome Bug Can Freeze Windows 10
In December 2018, a new bug affecting Google Chrome had been spotted. It was reported that it can use up all of a computer's resources in Windows 10, and eventually cause the Windows operating system to freeze up entirely.
The newly discovered bug works via JavaScript code to create a loop and appears in the presence of you as a phishing scam related to tech support.
To be specific, it can call a dialog box that is claimed to be from the official website of Microsoft, telling your computer is infected with a virus, which may compromise your passwords, browser history, credit card information and other data.
You can close this dialog box but it is designed to loop instead of exiting. That is to say, even though you select options to stop new messages from appearing, it won't be working because it never stops running once a page affected by the bug is open. And if you click through the fraudulent dialogue, the scam also won't actually stop.
This is a loop. With the code continuing to execute and loop in the background trying up more resources with each instance, this will push Google Chrome's resource usage in Windows 10 to 100%. Finally, trying to exit the page lead to your PC itself becoming completely unresponsive.
End Task to Fix Chrome Freezes Windows 10
In fact, this wasn't the first time that Chrome had been impacted by a bug or subsequent new cyber attack. This type of scam is the most common and can be found on the web.
Usually, these attacks block you to a page and then ask for money to solve the problem or collect user data in the background. Sometimes they do both. But they reply on interact with credulous users via the dialog to steal information.
As for the new bug on Google Chrome freezing Windows 10, it is related to JavaScript, and it can create a loop to target your computer and finally freeze it.
What to do if Google Chrome freezes computer? The solution to the problem is relatively simple. For anyone who has encountered similar problems or needed to close software that couldn't be responsive properly before, they should be familiar.
Actually, JavaScript can only stop after the page is completely closed. However, since that cannot be done by the usual means, it is necessary to kill Google Chrome from Task Manager.
Step 1: Open right-click on the Windows 10 taskbar to open Task Manager or press Ctrl + Alt + Delete keys and choose Task Manager. This will load up this tool as long as enough resources are available to run.
Step 2: Click on the Processes tab.
Step 3: Find the Google Chrome process or GoogleChrome.exe and click the End Task button at the bottom right corner.
Then the browser should be usable again once it is re-launched as long as you haven't selected the Chrome setting to automatically restore opened tabs. This setting can be found under the three-dot menu in Google settings.
After exiting the page, you had better clear cookies from browsing history so as to remove any cached processes that may have been left behind. Later, open your virus protection software and perform a scan to ensure nothing malicious is left.
Other Possible Solutions to Google Chrome Freezing Windows 10
Actually, the issue always happen. In addition to the mentioned new Chrome bug, the problem might occur after Windows updates, or be caused by abnormal RAM depletion, extensions, etc. When Google Chrome freezes Windows 10, you can try these methods fo fix the issue.
Fix 1: Clear Browsing Data
Google Chrome freezing Windows 10 is a major issue compared to some minor slowdowns. The browser still takes up many system resources, especially when you open multiple tabs. And Chrome always keeps some files in their cache so that it could quickly load the pages when you visit them again.
However, these caches are huge, which can cause freezing issues when browsing the internet. The critical fix for Chrome keeps freezing Windows 10 is to clear caches including temporary files and cookies.
Follow the step-by-step instructions:
Step 1: In Chrome, click on the three dots, choose More tools and click Clear browsing data. Alternatively, you can use the shortcut keys - Ctrl + Shift + Delete to bring the clear window.
Step 2: Go to the Advanced tab, choose the time and check the items you want to clear (Cookies and other site data & Cached image and files should be cleared to release much space).
Fix 2: Disable Add-ons and Extensions
Any extensions or add-ons installed in the chrome can cause the issue - Chrome freezes Windows 10. To fix this issue, you can try to disable them one by one.
Step 1: Type chrome://extensions in the address bar and click Enter. Alternatively, you can click 3 dots, choose More tools and Extensions.
Step 2: In the pop-up window, toggle off all extensions to disable them.
Restart your browser and see if Chrome freezes Windows 10 or not.
Tip: After that, you can choose to run an antivirus program like Windows Defender or Norton Security to perform a scan for virus or malware that may be in the extensions.
Fix 3: Reset Browser and Scan for Malware
If there is a conflict between Google Chrome and other programs on your PC, the issue of Chrome freezing Windows 10 may occur. To better troubleshoot the problem, you can reset Chrome to its default settings.
Here are the detailed instructions:
Step 1: Go to 3 dots > Settings in Chrome.
Step 2: Click Advanced.
Step 3: Go to the Reset and clean up section and perform a reset by clicking Restore settings to their original defaults.
Step 4: Click the Reset settings button to execute the operation.
Fix 4: Update Chrome
According to users' report, Chrome crashing internally even affects system performance, occasionally freezing Windows 10. To fix the issue, you should have the latest version of Google Chrome.
Just go to the three dots menu, click Help and About Google Chrome. If there is an officially available update, the browser will update.
Fix 5: Uninstall and Install Google Chrome
If you still find Google Chrome freezes computer after trying the above ways, you can try to reinstall this browser.
Step 1: In Windows 10, go to Settings from the Start menu and choose Apps.
Step 2: Under the Apps & features tab, find Google Chrome and click it, then choose Uninstall.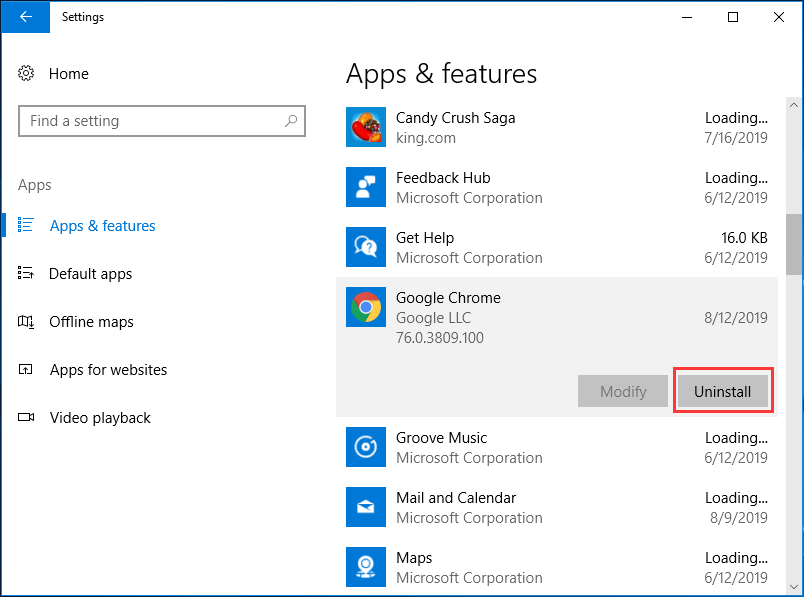 Step 3: After that, download this installation program and reinstall it.
Tip: Alternatively, you can try another web browser like Firefox.
Fix 6: Other Solutions
If you are still experiencing the problem, it is likely that the issue of Google Chrome freezing Windows 10 is related to a virus or could be a Windows problem. Just try antivirus software to scan for malware.
To fix Windows problems, you can try using System File Checker to perform an SFC scan or use DISM commands.
"Chrome always freezes my computer, not limited to the mentioned new Chrome bug. This post helps me a lot since these methods are very useful to fix my issue!"Click to Tweet
Suggestion: Back up Windows 10
A new Chrome bug can freeze Windows 10, and this similar situation is common. After fixing this issue, in order to protect your PC and perform a quick disaster recovery, you should back up your Windows OS and important files with the reliable PC backup software, MiniTool ShadowMaker.
This free backup software can allow you to automatically back up Windows system, files & folders, partition or disk with simple clicks. Additionally, you can create incremental or differential backups for the only added or changed data.
Above all, it offers you a tool – MiniTool Media Builder that allows you to create a bootable USB hard disk, USB flash drive or CD/DVD disc so that you can restore your PC to the previous state in the event of computer freezing issue.
Now, get MiniTool ShadowMaker Trial Edition (30-day free use) by clicking the download button below for PC protection.
Here is how to back up Windows 10 and your important files:
Step 1: Run This Free Backup Software
Step 2: Go to the Backup Page
If there is no backup, click SET UP BACKUP in the Home page.
Directly click the Backup button in the toolbar.
Step 3: Select Backup Source and Destination
By Default, MiniTool ShadowMaker helps to back up the Windows operating system. Of course, you can also choose to back up your important files and the entire hard drive.
Choose a path for the backup source based on your actual situations: a USB flash drive, external hard drive, NAS or network is available.
Step 3: Perform a Backup
Click Back up Now to start a backup for your PC.
The operation will be performed on the Manage page.
"Chrome freezes Windows 10. After I fixed it, I used MiniTool ShadowMaker to easily back up my OS so I can perform a quick recovery when the issue happens next time."Click to Tweet
Bottom Line
Actually, the issue of Google Chrome freezing Windows 10 is very common. If you are bothered by the related problem, just try these solutions above for PC troubleshooting.
On the other hand, if you have any other fixes for the issue - Chrome freezes Windows 10 or any questions when using our software, don't hesitate and tell us immediately. Leaving your idea in the comment part and sending an email to [email protected] are both OK.