This article displayed by MiniTool official website focuses on handling sound output/input devices not found issues. It offers many workable methods that helped a lot of Windows users. Read below to find your solution.
Recently, I have updated my Windows 10 to 21H2 and found that my audio not working. It says "No audio device is installed" when I put my mouse on the sound icon (with a cross icon on it) on the taskbar.
Later, I fresh installed Windows 11 and found the problem persists. When I click on the sound icon and select Manage audio devices, it will inform me with a message saying that "No output devices found".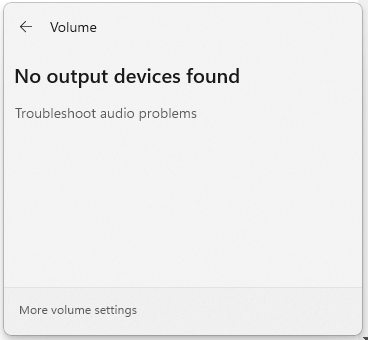 Are you suffering the same situation? If no sound output or input devices are found in your Windows 11/10 computer, you can't hear anything from it. Therefore, it is necessary to fix this issue as soon as possible!
The following solutions apply to popular computer brands including Dell, Lenovo, HP, Asus, Toshiba, Acer, etc.
#1 Add Output Device
As described in the error message, you may really have no sound output device connected. Then, you need to connect an audio output device to your computer.
Navigate to Windows 11 Settings > System > Sound.
On the sound settings page, double-click the sound device listed in the Output section to view its Properties.
In the Properties page of the target output device, Allow apps and Windows to use this device for audio.
If you can't see any output device under the Output section, click on the Add device button behind Pair a new output device and follow the instructions to add a sound output device.
#2 Enable Output Device
Sometimes, no output devices found problems may be caused by a disabled output device. If so, you need to reenable it manually.
Expand the Sound, video and game controllers option to show your output devices.
If the target device is marked with a down arrow, it means it is currently disabled. All you need to do is to right-click on it and select Enable device.
If there is no down arrow on the output device, it means it is already enabled. You can disable it and reenable it to try to fix no sound output devices found issues.
#3 Update, Reinstall or Downgrade Sound Driver
Usually, most sound errors result from outdated or corrupted drivers. If this is your situation. You can deal with the problem by updating or reinstalling your audio driver. It is easy. Just select Update driver or Uninstall device in the right-click menu of the output device in Device Manager.
If you choose Uninstall device, you need to restart your PC to let the system download and install a new output device driver automatically.
If you select Update driver, you need to further choose either Search automatically for drivers or Browse my computer for drivers.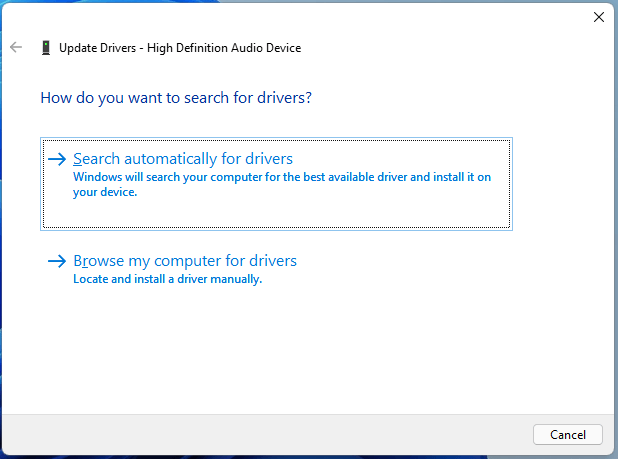 If it says that you have already installed the best drivers for your devices, you can further Search for updated drivers on Windows Update or manually look for better drivers on the device manufacturer's website.
Or, you can directly update the operating system from Windows Settings to get possible sound output device driver updates. Or, you can reset Windows to a previous state.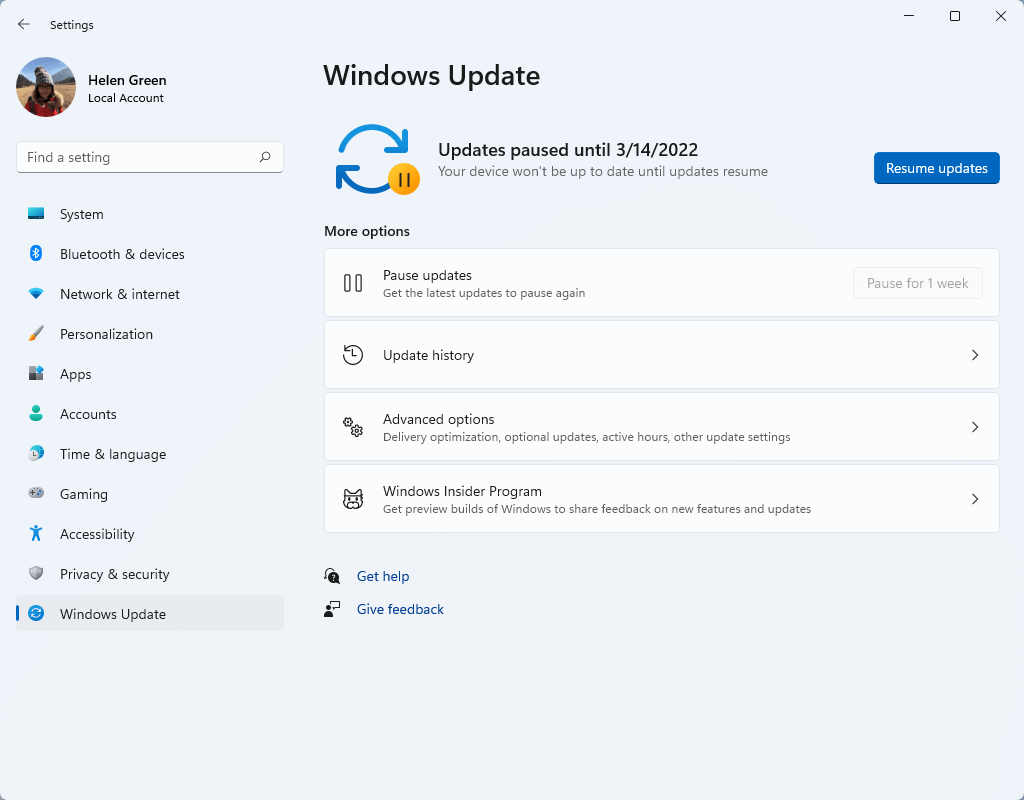 Moreover, you can try to roll back your sound driver to deal with no output devices found issues. Just double-click on the target output device in Device Manager to open its Properties. There, go to the Driver tab and select Roll Back Driver.
If the Roll Back Driver option is unavailable, it means there is no previous version driver.
#4 Troubleshoot Playing Audio
Besides, you can troubleshoot your sound equipment to detect and fix the issue. Just right-click on the sound icon in the taskbar and choose Troubleshoot sound problems.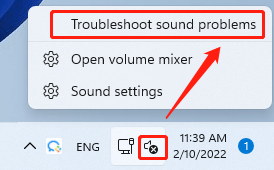 #5 Scan for Virus
Finally, it may due to viruses or malware that prevents you from using your sound device on your machine. To verify that, you need to perform a virus scan.
Open Windows 11 command prompt (CMD).
Input sfc / scannow and press Enter.
Wait until it finishes.
If there is virus and damaged system files on your PC, this command will repair it by the way. Or, you can rely on antivirus to help you fix the issue and remove viruses.
Fix No Input Devices Found Issue
The ways to solve the "no input devices found" or "no audio input device is installed" problem are the same as those for "no audio output device is installed" or "output device not found" issues.
Besides, you can change your microphone privacy settings to handle the input devices not found problem. Go to Settings > Privacy & security > Microphone and enable Microphone access. You can also specify which apps can use the mic on your computer.
Windows 11 Assistant Software Recommended
The new and powerful Windows 11 will bring you many benefits. At the same time, it will also bring you some unexpected damages such as data loss. Thus, it is strongly recommended that you back up your crucial files before or after upgrading to Win11 with a robust and reliable program like MiniTool ShadowMaker, which will assist you to protect your increasing data automatically on schedules!
Related article: