Many NVIDIA graphics card users reported the Control Panel not opening problem. This issue has spanned across various versions from Windows 7 to Windows 10. What to do if NVIDIA Control Panel won't open? Some effective solutions are introduced here by MiniTool Solution.
If you always work on graphic intensive apps like game or video rendering software, it is necessary to control how the graphics card is used, for example, toggle the Graphics Quality settings to get Frames Per Second (FPS) up, adjust the orientation, scaling or size of the display for better work or PC usage.
Then, NVIDIA Control Panel is the app you need. However, it sometimes doesn't open on your computer. So, what should you do? Here are some effective solutions for you to fix this problem.
Fixes for NVIDIA Control Panel Not Opening Windows 10/8/7
Make Sure Necessary Services Are Running
To ensure your system runs properly, certain services should be running. The same goes for NVIDIA Control Panel. If you can't access NVIDIA Control Panel, it is possible that some necessary services are stopped.
To get rid of this issue, you should have a check and make sure they are running. Here is what you should do:
Press the Win + R keys, input services.msc to the pop-up Run window and click OK.
Go to NVIDIA Display Container LS and double-click it to get the Properties window.
Ensure the service is started. If not, start it. Or if it is already running, stop it and re-start it again. Also, set the Startup type to Automatic.
Also, you need to do the same for the NVIDIA LocalSystem Container service by following step 2 and 3.
Next, you can check if you still cannot open NVIDIA Control Panel. If yes, continue the fix.
Restart the Process for NVIDIA Control Panel
At times, some glitches can happen on your computer and cause problems with some processes. If NVIDIA Control Panel won't open, perhaps you can end the process for this app to fix your issue.
1. Press Ctrl + Shift + Esc at the same time to launch Task Manager.
2. Locate NVIDIA Control Panel Application, expand it and right-click the NVIDIA Control Panel sub-process to choose End Task.
3. Then, open NVIDIA Control Panel to see if you can access it.
Upgrade or Reinstall Your NVIDIA Display Driver
If NVIDIA Control Panel won't open in Windows 10/8/7, perhaps the problem is your driver that may be out of date. To fix NVIDIA Control Panel not opening, upgrade or reinstall it.
You can go to Device Manager.
Expand Display adapters, right-click the NVIDIA graphics card driver and choose Update driver.
Let Windows automatically search for the updated driver software and restart the PC to finish the update.
Alternatively, you can reinstall the NVIDIA driver when you can't open NVIDIA Control Panel:
Uninstall the driver from Device Manager.
Visit NVIDIA website, choose the exact model of your graphics card and hit Search.
Download the latest driver and install it on your computer.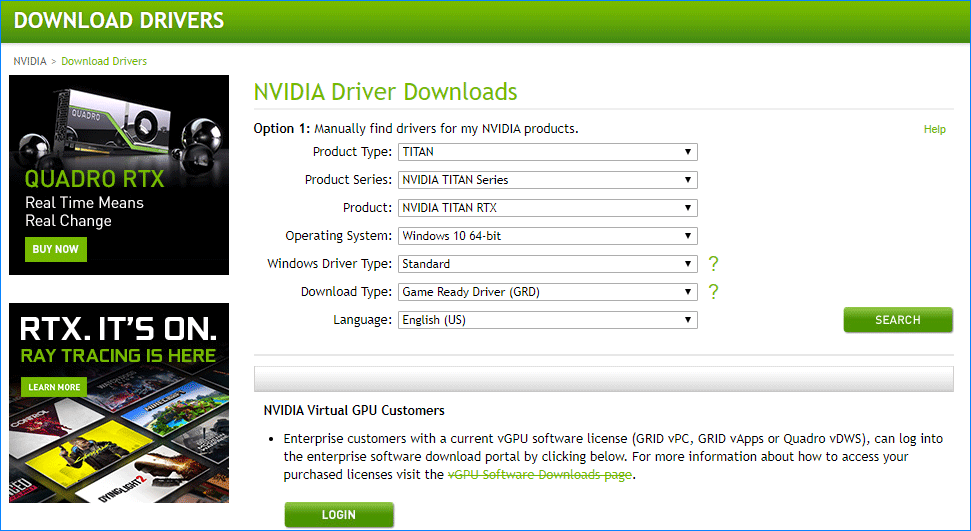 Tip: In addition to these three common methods above, some users offer some other solutions, for example, set highest resolution, directly run the app from the installation directory, disable fast boot option, etc. You can also have a try if these solutions above are not working.
The End
Is your NVIDIA Control Panel not working? For example, NVIDIA Control Panel won't open in Windows 10/8/7? Now, take some time to try these solutions and you can easily get rid of the issue.