This essay created on
MiniTool official site
gives a brief comparison of onsite and offsite backups. It mainly talks about the definition, advantages, disadvantages, selection, and creation of them. Also, why should you store backup media off-site or on-site, this article explains.
It is recommended that a copy of data backup be stored at an off-site location to fight against cyberattacks from viruses or malware; human mistakes like wrong operations, accidental drops, or theft; and natural disasters like fire, flood, and outages.
What Is Offsite Backup?
Offsite backup, also known as off-site data protection or vaulting, is the strategy of sending crucial data out of the main location (off the main site) in computing. Usually, critical data is transferred offsite to remote servers like an online cloud usually via the network. Offsite backup is a part of the disaster recovery plan.
Important data can also be transported electronically relying on a remote backup service, which is also called electronic vaulting (e-vaulting).
Saving data copies off-site enables systems and servers to be restored after any disaster such as system crash or accidental mistakes.
Some organizations create and maintain their own off-site backups. Yet, most other organizations choose to rely on a third-party professional service to manage and store their offsite backups.
What Is Onsite Backup?
On the contrary, on-site backup means to save the backups periodically on local storage devices like external and removable devices like magnetic media (including HDDs, SSDs, USB flash drives, thumb drives, SD cards, tapes, etc.) and optical discs (including CDs/DVDs).
Also read: Computer Storage Devices: Types & Examples and Usage
Offsite Backup vs Onsite Backup: Pros and Cons
Comparing on site backup and off site backup, both have their own advantages and disadvantages.
Advantages of Offsite Backup
Data access flexibility: anywhere
Data is available for many different remote locations by sharing or saving on different devices
Data is safe if the main computer is destroyed or theft
Virus-proof
Of course, off-site backup has some disadvantages. It is inconvenient to access the data stored offsite and a network is needed to access offsite files. What's more, it may cost you a certain period to restore data from offsite devices after disaster depending on Internet bandwidth.
Related article: Best Practice: 3-2-1 Backup Strategy for Home Users & Businesses
Advantages of Onsite Backup
Convenient data access: anytime
Internet access is unnecessary
Quick data recovery if the hard disk drive storing backups is still available after accidents.
Cost-effective
High processing speed
Easy installation
The biggest disadvantage of on-site backup is that if an accident happens to the main machine, all data will become victim including both source and backups. Besides, onsite backup is vulnerable to virus attacks.
Onsite Backup vs Offsite backup: Which to Choose?
Off-site backup and on-site backup, which one to select? In general, it all depends on you! For different people, the situation is unlike. So, some may find on-site backup useful while others may think off-site backup is better.
If you would like to maintain your data by yourself and tend to use it quite often, you should choose an onsite backup. Vice versa, if you don't want to spend time on the troublesome data management and don't use some files frequently, you can store them offline.
Or, for different sorts of files, you can perform different backups to them. For files that you frequently used, just keep an onsite copy. For those files that you don't use too much, you'd better store a copy of them offsite somewhere safe from physical disasters.
Or, if you have enough onsite and offsite storage space, you can create two backups of all your data with one backup stored onsite and the other offsite. Yet, usually, few people have enough storage space to do that.
Onsite and Offsite Backup Solutions
No matter which type of backup you select or both, you can rely on one of the professional and secure on-site and offsite backup services such as MiniTool ShadowMaker to protect your data from loss or damage.
MiniTool ShadowMaker TrialClick to Download100%Clean & Safe
Download, install, and open MiniTool ShadowMaker on your main PC.
If it asks you to buy, just click Keep Trial in the upper right to continue to use it freely.
When it enters its main UI, click Backup in the top menu.
On the Backup page, click the Source module to select the data you want to back up.
Click the Destination module and choose the storage location. Here comes the most important part. If you want to create an offsite backup, just connect the removable device to this computer or server and select the removable drive as the destination. Or, you can select the remote shared location (NAS) as the destination. If you'd like to build an onsite backup, just pick up a local address as the storage location.
Finally, click Backup up Now to start the process.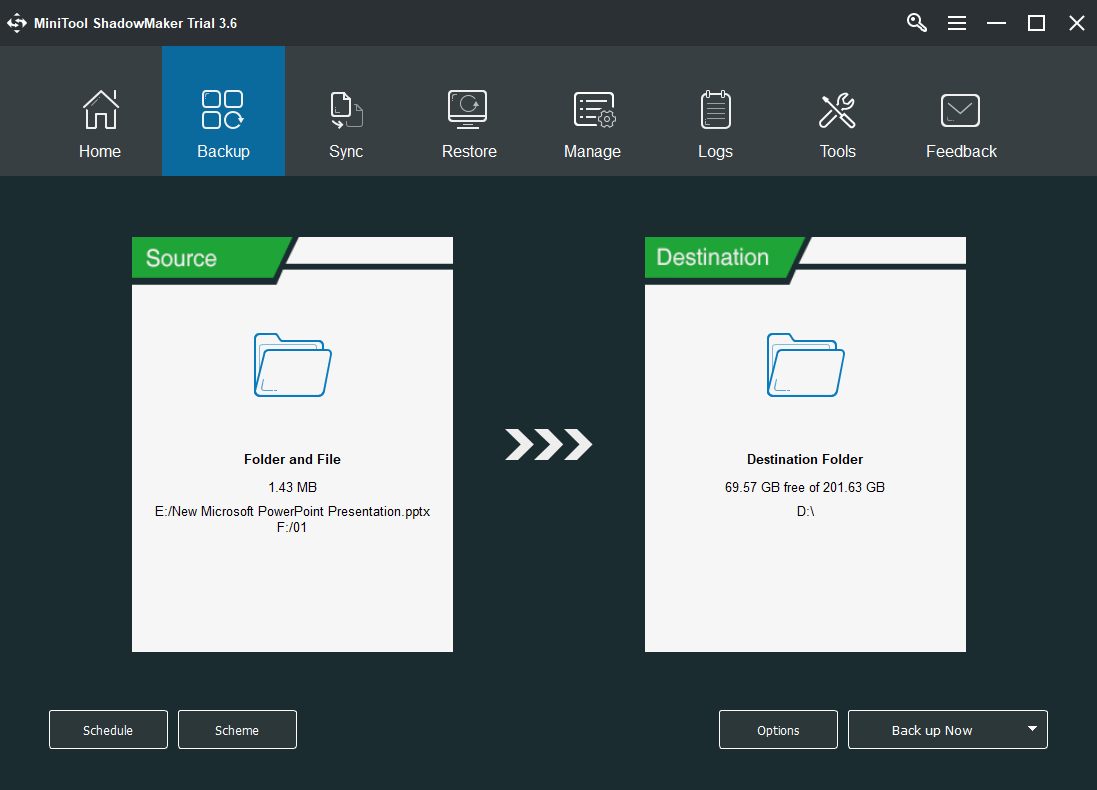 If you want the selected data to be backed up regularly and automatically in the future, you can set up a schedule for this task by clicking the Schedule button in the bottom left.
MiniTool ShadowMaker is not only an onsite and offsite backup software but also a file syncing and disk cloning program to duplicate your files and entire hard drives. Moreover, it can also help you create bootable media to boot up the crashed computers.
Offsite Backup vs Onsite Backup: Conclusion
That Is all about the differences between on-site backup and off-site backup. Both of them have benefits and drawbacks. As for which to choose? For different situations, the selection is different. If you have different ideas, feel free to post them in the below comment part!