You can search for things you're interested in on Google conveniently by saying OK Google; it can even help you complete the search when your hands are busy doing something else. However, some people said their OK Google not working sometimes, making them much depressed. This post on MiniTool will show you how to fix the problem in different ways.
What is Google Assistant? It is actually an artificial intelligence–powered virtual assistant released by Google for smart home devices including computers, mobile phones, smart TVs and consoles. Google Assistant provides a convenient way to help people search for some information online. People can start a voice search easily by just saying 'OK Google' 'Hey Google', 'Hello Google', etc.
Fix Problems With Google Voice Not Working 2020.
OK Google Not Working Sometimes
Google voice search is convenient, but it's also embarrassing. Even the best tech just doesn't work sometimes. I found many people saying they have ever met the OK Google not working or Hey Google not working problem. Repeating the phrase "Ok Google" over and over again but getting no response is an awkward experience. Therefore, people are dying to know whether they can fix the problem when OK Google not responding or OK Google stopped working suddenly.
Why is my OK Google not working? There are some possible reasons.
Battery saver mode
Backend servers failure
Incorrect language settings
Internet connection problem
Software/application conflict
Google microphone not working
Google microphone permission issue
Google training issue
Google application out of date
Environment variables corrupt
Application related problems (app crash or missing data)
USB Dongle issue (MI TV)
Screen context interference
Device error (mobile phone error states)
Bixby interference on Samsung devices
Luckily, there are several useful ways to troubleshoot Google Assistant not working.
How do you fix Google search not working?
Tip: If you are fear of unexpected data loss on computer, you'd better install a professional data recovery tool on it in advance.
MiniTool Power Data Recovery TrialClick to Download100%Clean & Safe
Things to Try & Check
Before starting to make any changes on your device, you should check the following things.
Try to power cycle the device
Check backend server status
Check internet connection
Check the microphone & permissions
Check whether voice search has been turned off (enable Hey Google and OK Google)
In addition, you can try to fix the problem by turning off the battery saver/power saving mode.
How to fix voice search has been turned off error?
Check Google Language Settings
Open Google app on your device where Google voice search not working.
Go to the Settings of your device.
Look for Voice (under Search) and select it.
Click Languages.
Browse the languages and choose the proper language from the list.
Click SAVE to confirm.
Go to Google Assistant and select Languages.
Choose a proper language from the list.
Restart your device and try Google voice search again.
You are allowed to select more than two languages; please press and hold a language to set it as the primary one.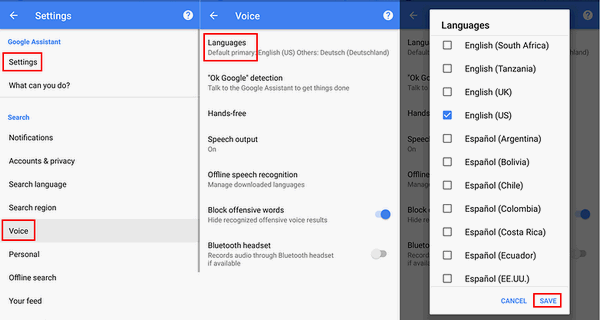 Retrain Google Voice Model
Also, you need to open Google app on your device.
Navigate to top-right corner and click on the three-dots icon.
Select Settings from the menu.
Make sure the Assistant tab is selected.
Go to the Assistant devices section.
Select your device.
Click Voice model under Get hands-free help with Voice Match.
Choose Retrain voice model under Voice model.
Follow the instructions to retrain the Assistant to recognize your voice.
Restart your device and try OK Google again.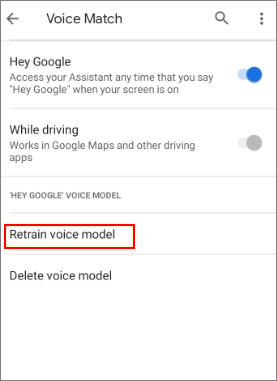 Clear Google App Cache
Open Settings on your device.
Navigate to Applications.
Look for Google from the list and select it.
Select Storage.
Click on the CLEAR CACHE button.
Confirm your selection and wait.
How To Recover Deleted History On Google Chrome – Ultimate Guide.
Also, you can fix OK Google not working by resetting/updating/reinstalling the Google application. Besides, you can try to disable Bixby (Samsung Users) or similar apps and remove USB from MI TV in order to troubleshoot when OK Google doesn't work.