If you want to automatically free up OneDrive space when C: drive runs low space and the system runs slowly, you can use Storage Sense. MiniTool introduces how to free up OneDrive space with Storage Sense in this post. Besides, if you delete some files by mistake, you can use MiniTool Power Data Recovery to get them back.
The best free data recovery software to help you recover deleted files:
MiniTool Power Data Recovery is a professional data restore tool. You can use it to recover data from SSDs, hard disk drives, memory cards, SD cards, USB flash drives, and more. No matter if your data is lost or formatted, whether your disk is inaccessible or the system cannot boot, you can use this software to recover data with some simple clicks.
You can try MiniTool Power Data Recovery Free Edition to scan your drive and see if it can find your needed files. You can also recover 1 GB of files using this free tool.
MiniTool Power Data Recovery FreeClick to Download100%Clean & Safe
OneDrive Free up Space
The File On-Demand feature in OneDrive can help you access all files on your OneDrive cloud storage without downloading them. So, the files will not use the storage space on your computer. But if you view and edit files in OneDrive, these files will take up some extra disk space on your PC. You may no longer need to save files that have been downloaded when you opened them.
How to make OneDrive free up space then? You can use Storage Sense: you need to set up Storage Sense according to your requirements.
How to Free up OneDrive with Storage Sense?
Windows Storage Sense is a feature in the Settings app. It can work with OneDrive to help you automatically free up space by making locally available files that you don't need to use again online only again.
Here, you need to know the online-only files are still in OneDrive and you can see them on your PC. When the network connection is enabled, you can use the online-only files just like using other files.
Tips:
Storage Sense is available on Windows 10 version 1809 and the later Windows versions (including the latest Windows 11). Storage Sense can only run on C: drive to free up disk space. So, the location of your OneDrive must reside on the C: drive. Storage Sense cannot help to free up space on other locations like physical drives, such as CD and DVD drives, and logical partitions, such as D: drives.
If you want to let OneDrive free up space using Storage Sense, you need to make sure Storage Sense is enabled, then you need to change the related settings based on your requirements.
Move 1: Turn on Storage Sense
Step 1: Click the search icon from the taskbar and search for Storage settings.
Step 2: Turn on the button under Storage.
By default, files you haven't used in the last 30 days can be set to online-only when your C: drive runs low on free space. Storage Sense will set files to online-only until there's enough free space for your system to run smoothly, so you can keep your files available locally as much as possible.
Move 2: Set how often Storage Sense runs to free up OneDrive space
You can also let Storage Sense to run periodically instead of running only when C: drive runs low on storage.
Step 1: Click Configure Storage Sense or run it now in the Storage page of Settings to continue.
Step 2: Select During low free disk space for Run Storage Sense.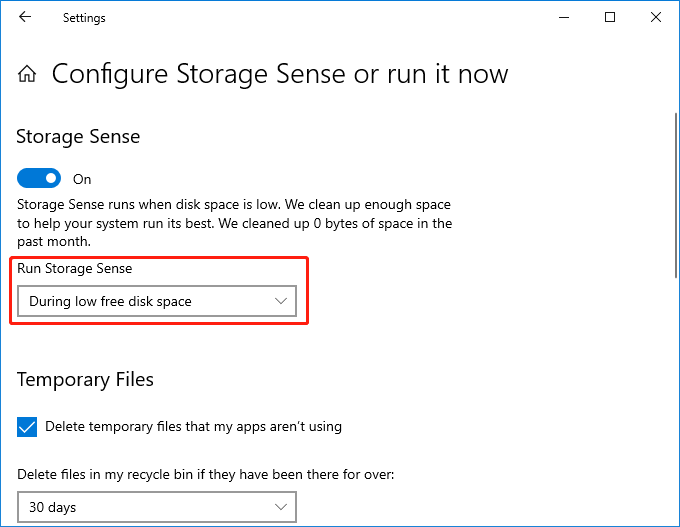 Step 3: Scroll down to the OneDrive section, then select how often you want Storage Sense to run from the drop-down menu.
After this settings, Storage Sense will run based on the frequency you have selected to free up space.
Note:
Files that you have marked to be always available will not be affected and you can continue to use them offline.
Bottom Line
This post introduces the way to automatically free up OneDrive space with Storage Sense. We hope this is the way you are looking for. In addition, if you have issues related to MiniTool software, you can contact [email protected] for useful information.