When Outlook is not working on the web, you cannot send or receive Outlook emails which can influence your work or life. The reasons for this issue are various.
In general, "Outlook web not receiving emails" depends on the browser settings or the crashes of the browser. At times, some browser extensions like ad blockers can also lead to this error. Let us see how to fix it.
How to Fix Outlook Web Not Working Windows 10
Solution 1. Clear Browser Cache
When the browser cache has a corrupted file, you may face the trouble of "Outlook web not working". In this case, you need to clear your browser cache to confirm whether it should be responsible for the error.
If you are using Google Chrome, you can follow the steps below to clear the cache.
Step 1. Open your Google Chrome. Click the three-dot icon in the taskbar and click Settings.
Step 2. In the search box, type cache and select Clear browsing data.
Step 3. Change the time range to All time and make sure the Cached images and files option is checked. You can choose to check other options based on your preferences. Then click Clear data.
Step 4. Try to use Outlook on the web again and check whether the issue has been gotten rid of.
Solution 2. Update the Browser
When the browser is out of date, the problem of "Outlook web not working" may also occur. MiniTool has introduced how to update Edge and how to update Firefox. Here this post shows you how to update Chrome. The steps are extremely simple.
Step 1. Click the three-dot icon in the taskbar and select Settings.
Step 2. Go to the About Chrome section. Then Chrome will automatically check for updates and update directly if it is needed to be updated.
Step 3. When Chrome is up to date, you need to click Relaunch.
Solution 3. Disable Extensions
Some extensions like ad blockers may conflict with your browser or Outlook, resulting in "Outlook web not working". In this case, you need to disable them temporarily.
You can disable Chrome extensions by referring to this post: How to Disable and Enable Chrome Extensions/Plug-Ins/Add-Ons?
Solution 4. Reset Site Permissions
Permissions grant users the ability to perform specific actions. Therefore, if you deny any important site permissions, some Outlook web features may not work. Here you can see how to reset site permissions.
Step 1. Go to the Outlook sign-in page.
Step 2. Click the lock icon in the address bar and choose Site settings.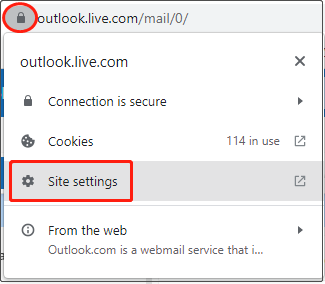 Step 3. Click Reset permissions.
Solution 5. Enable JavaScript
JavaScript is the most widely used programming language in the world and is very important to browsers and websites. When this feature is accidentally disabled, you may be bothered by the matter of "Outlook web not working". You can follow the guide below to enable it (Takes Chrome for example).
Step 1. Open your Chrome. Type chrome://settings/content/javascript in the address bar and press Enter.
Step 2. Under the Privacy and security section, make sure to select Sites can use JavaScript.
In the Not allowed to use JavaScript section, ensure the Outlook site is not in it.
Step 3. Log into Your Outlook account and check whether the issue has been addressed.
MiniTool Power Data Recovery FreeClick to Download100%Clean & Safe
Wrapping Things Up
To sum up, this article explains how to fix "Outlook web not working Windows 10". Hope the solutions mentioned above are helpful to you. If you have found any other possible reasons or methods for this problem, welcome to share them with us in the comment area below.