Wonder why Outrider FPS drops and how to fix it? Want a smoother gaming performance? This article will give you the best options! For more PC problems and fixes, move to MiniTool Website, and you can see the light all of a sudden.
Outrider FPS Drops
FPS also called frame rate, is an important parameter in fast action games and fighting games. The more smoothly the actions are shown on the screen, the better performance you will get.
However, a noticeable problem in many PC games like Outriders appears. Outriders performs poorly due to stuttering, lag and low FPS. In this tutorial, we aim at showing you some viable workarounds to fix issues such as Outriders FPS drops. 
What If Outrider FPS Drops?
Workaround 1: Update Your Graphics Driver
The latest version of graphics driver is one of the determining factors for your gaming experience. If you don't update it in time, you tend to encounter low FPS issues.
Step 1. Type device manager in the magnifier icon and tap on Enter to launch Device Manager.
Step 2. Click on Display adapter to show your graphics driver.
Step 3. Right-click it and choose Update driver.
Step 4. In the new interface, click Search automatically for drivers.
Step 5. Wait for the system to download and install the latest version of graphics driver for you.
Workaround 2: Change Power Plan
Windows manages the power consumption of your PC by power plans. Ultimate Performance is a newly released one for high-end devices. You can also try it to check if Outrider FPS drops.
For those who have the Ultimate Performance plan on the computer, things would be easier. You can type powercfg.cpl in the Run dialog, hit Enter and tick Ultimate Performace directly. If you cannot see this option, follow the steps below to add it.
Step 1. Type cmd to run Command Prompt as administrator.
Step 2. Input the following command in the black command window and hit Enter.
powercfg -duplicatescheme e9a42b02-d5df-448d-aa00-03f14749eb61
Step 3. Press Win + R to open the Run dialog.
Step 4. Copy & paste powercfg.cpl to open Power options.
Step 5. Check Ultimate Performance.
Workaround 3: Run Outriders On DirectX 12
It is reported that launching Outriders on DirectX 12 also works for Outriders performance issues. To do so:
Step 1. Open Steam and click LIBRARY.
Step 2. Navigate to Outriders.
Step 3. Right-click it to open Properties.
Step 4. Paste -force -dx12 under LAUNCH OPTIONS.
Step 5. Relaunch the game to inspect whether Outrider FPS drops or not.
Workaround 4: Change in Windowed Mode
Changing the graphics settings, especially Windowed mode helps a lot if Outriders FPS drops. Just press Alt + Enter when gaming on a full screen.
Workaround 5: Windows Update
Installing system updates is of vital importance for efficient and secure running. Here's how to do it to tackle Outriders lagging:
Step 1. Press Win + I to open Windows Settings.
Step 2. Click Update & Security.
Step 3. In Windows Updates, you can click Check for updates.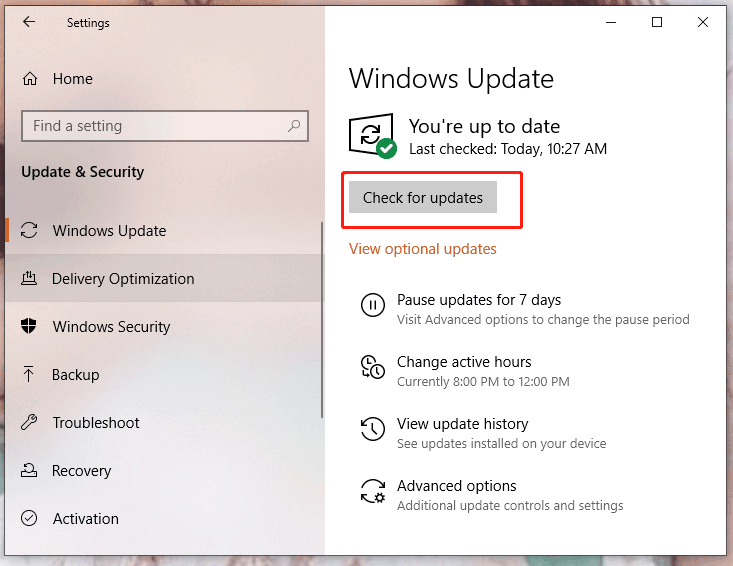 Step 4. Wait patiently since it will take a few minutes.
Workaround 6: Deploy Hardware-accelerated GPU Scheduling
NVIDIA and AMD announced that HAG (Hardware-accelerated GPU Scheduling) has the ability to improve system performance and reduce latency. Whether you are GeForce 10, Radeon 5600 or Radeon 5700 users, you can try this fix when encountering an abnormal Outrider framerate.
Step 1. Right-click your screen and select Display settings.
Step 2. Scroll down to find Graphics settings and click it.
Step 3. Click on Change default graphics settings under Default settings.
Step 4. Switch on Hardware-accelerated GPU scheduling.
Step 5. Restart the game to test if FPS drops issue is fixed.