Paramount Plus is a subscription video service that many episodes are shared here. You may encounter a variety of error codes when you enjoy Paramount Plus such as Paramount Plus error codes 4201, 124, or 3002. If you are struggling with Paramount Plus error code 124, this post on MiniTool Website will help.
Paramount Plus Error Code 124
So why does the Paramount Plus error code 124 happen? It is a common error code on Paramount Plus. Just like other error codes, it can happen for your Internet issues, some device glitches or bugs, or your compromised web browser.
If you are using a browser with high security and privacy demands, the reason may lie in the ad-blocker or tracking protection.
Therefore, to resolve these issues, you can try the following methods to fix Paramount Plus error code 124.
A Full Guide to Fixing Paramount Plus Error Code 124
Before you start the following methods, you can check your Internet connection first. Try your other programs on your device or try other devices to see if they can run well.
If you are certain the culprit is your poor Internet connection, you can disable and re-enable the Internet or restart your router and modem to fix the issue.
Besides, restarting your device is a better choice to fix some little glitches and bugs; make sure your Paramount Plus is the latest version that will help get rid of some troubles.
Otherwise, you can check the Paramount Plus server status. That will show you on its official Twitter website, or you can go to the Paramount Plus down detector website where outages in the last 24 hours will be reported. As for this issue, the only method is to wait for the restoration.
If those fixes can help get rid of Paramount Plus error 124, you can try the following.
Fix 1: Clear Cache and Damaged Files
Some corrupted or damaged data files stored in your browser or device will hamper the good performance of Paramount Plus, causing Paramount Plus error code 124. So you need to clear caches and browser data regularly.
Step 1: Open your browser and then go to this link: chrome://settings/clearBrowserData.
Step 2: Set Time range as All time and check the option of Cookies and other site data.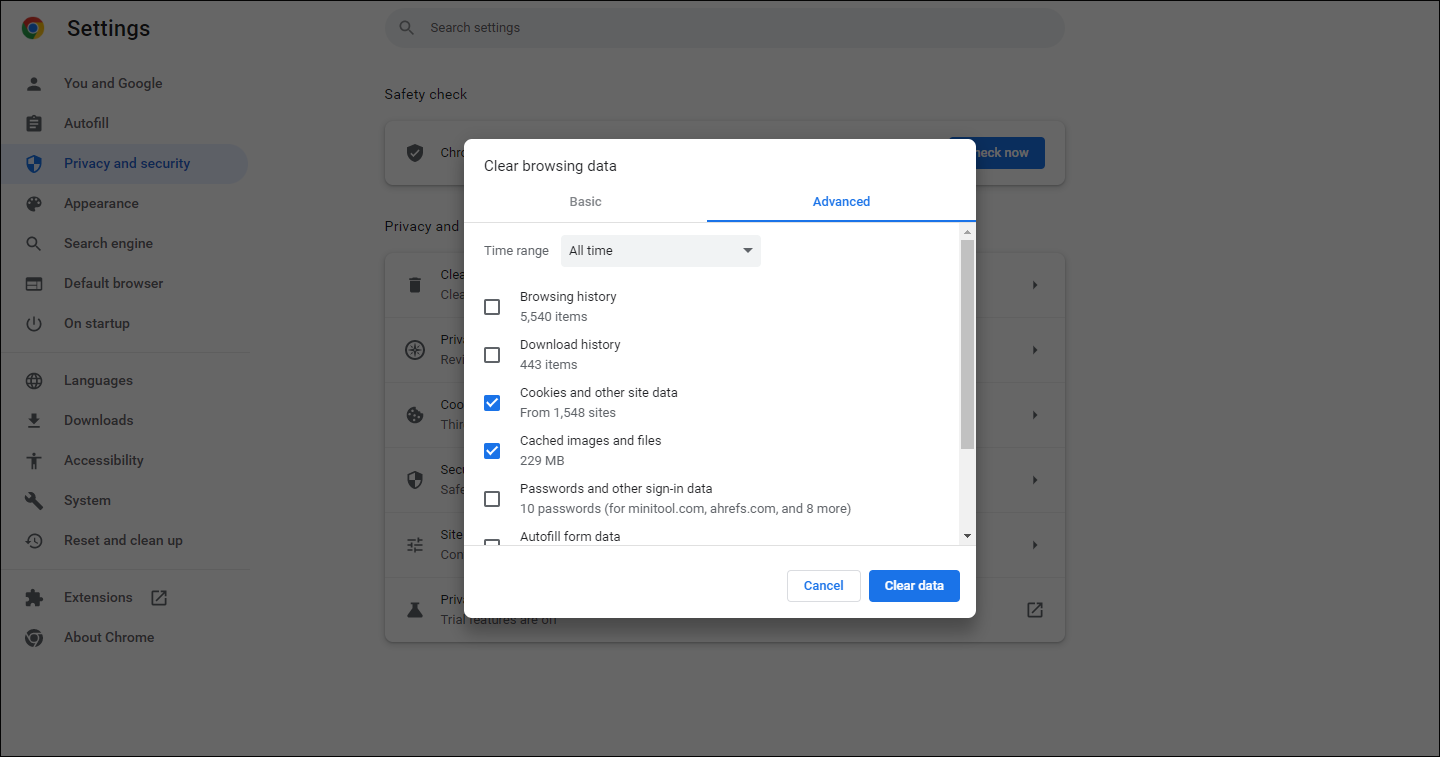 Step 3: After that, please click on Clear data to finish the process.
If you prefer to clear the Paramount Plus site caches, you can refer to this article: How to Clear Cache for One Site Chrome, Firefox, Edge, Safari.
Fix 2: Disable Ad Blocker
Some browsers have powerful functions to safeguard users' privacy and security, so some aggressive features may block some of the site's functionality and you need to disable the related functions.
If you are a Chrome user, you can follow these steps.
Step 1: Open Chrome and go to the Paramount Plus page.
Step 2: On the left of the web address, click on the Lock icon or Info icon.
Step 3: Choose Site settings from the list and locate Ads under Permissions.
Step 4: Click on the arrow next to Ads and choose Allow.
Then try your Paramount Plus to see if the error code 124 on Paramount Plus has been fixed.
Then there is another chance to get rid of Paramount Plus error code 124 that you can uninstall and then reinstall your program. This is a direct method but may be helpful.
Bottom Line:
 This Paramount Plus error code 124 is easily fixed by the above methods. When you encounter this error next time, you can restart your device first, which is a panacea for most glitches.