Can I password protect a USB stick to make sure the sensitive data is secure? How to password protect a flash drive Windows 11? The answer is yes and you can easily do this task. This post below written by MiniTool shows you how to password protect USB drives in Windows 11 with BitLocker. Follow the full guide to protect your USB drive now.
Security is the thing that everyone concerns and perhaps all of us want to keep the data safe with a password so that nobody can steal it. Here comes a question: do you use a password to protect your Windows user account? The answer is yes.
Well then, why not encrypt thumb drives with a password? Are files saved on flash drives not important? Your answer must be – they are vital. So, how can you password protect USB drives in Windows 11 if you get this new operating system?
How to Put Password on USB Flash Drive Windows 11
In Windows 11, there is a built-in feature called BitLocker. It can help encrypt your hard drive to keep the data safe in case it is theft or lost. Also, you can use it to password protect USB drive free. If someone steals your USB stick, he cannot access the data stored on the device.
Only authorized users have access to the BitLocker-enabled device. Without authentication, access is denied.
The way to password protect USB drives in Windows 11 is similar to Windows 10 but there is also a difference since Windows 11 brings many brand new designs and features including new settings. The following are steps for BitLocker USB Drive Windows 11.
Related article: Solved – How to Password Protect USB Drive Free Windows 10
Step 1: Press the Win and I keys on the keyboard to open the Settings app in Windows 11.
Step 2: Go to the System tab, click Storage.
Step 3: Expand Advanced storage settings and then click Disks & volumes.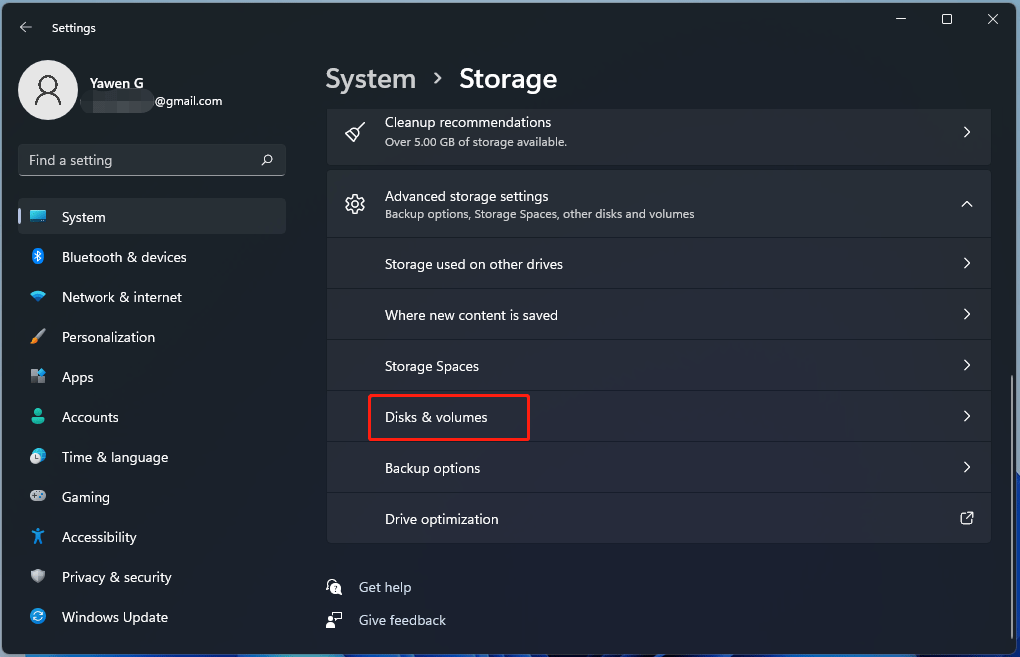 Step 4: On the Disks & volumes settings pane, all the drives are listed. Just choose the USB flash drive that you want to encrypt and choose Properties.
Step 5: In the new window, scroll down to BitLocker and click Turn on BitLocker.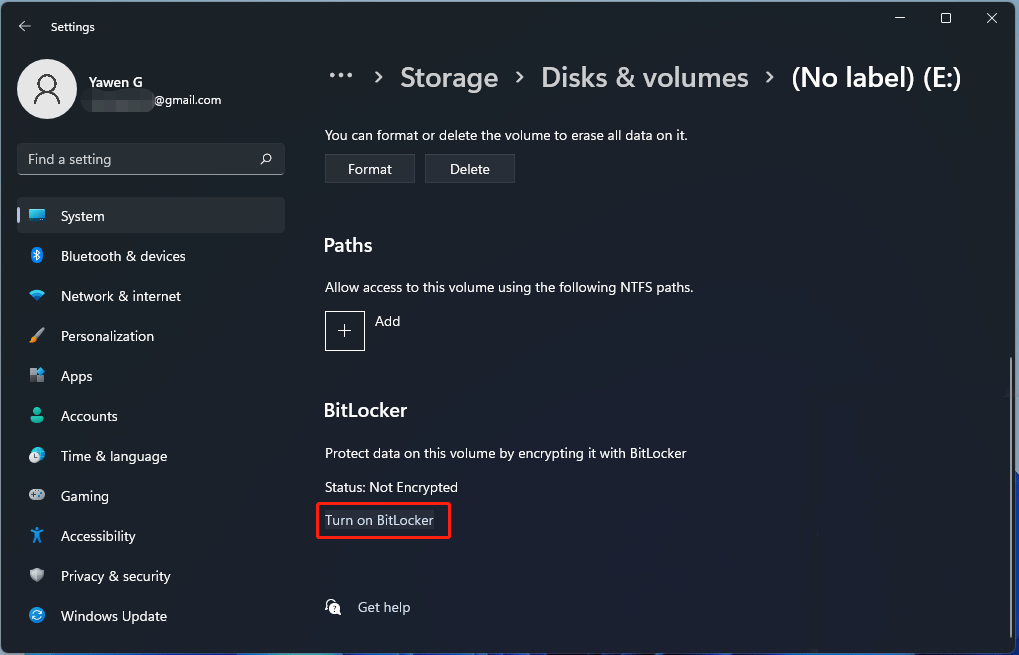 Step 6: Under the Removable data drives – BitLocker To Go section, click Turn on BitLocker.
Step 7: Tick the box of Use a password to unlock the drive, type in a password, and confirm the password.
Step 8: Choose one way to back up the recovery key to avoid forgetting the password when accessing your drive.
Step 9: Decide how much of your drive to encrypt and click Next to continue.
Step 10: Choose an encryption mode and click Start encrypting to begin the process.
This encryption process can take some time depending on the size of the drive and encryption mode.
Tip: To disable BitLocker, click Turn off BitLocker.
To use the thumb drive in Windows 11, you need to go to File Explorer, right-click the drive and choose Unlock Drive. Then type in a password and you can access the encrypted data.
If you forget the password, you can click More options > Enter recovery key. Go to open the backed-up file that has been created during setting up BitLocker, find the recovery key, and type it into the text to unlock the USB stick.
In addition to BitLocker Windows 11 via Settings, you can directly access Control Panel and view all the items by large icons. And then click BitLocker Drive Encryption, go to find your USB flash drive, and click Turn on BitLocker. Next, follow the instructions on the screen to put a password on the USB flash drive.
Final Words
How to password protect USB drives in Windows 11? The operation is not difficult and you can easily encrypt thumb drives with password in Windows 11 using BitLocker. Just follow the above steps for this task.