Google Play Store is the official online store designed for Android devices. Via it, you can download various forms of media including apps, games, books, movies, TV, etc. on your Android phones or tablets. 
Then you may ask a question: is Play Store available on PC? Although Google doesn't allow it, you can try some ways to run Google Play Store on Windows 10/11. In the following parts, let's see how to download & install it on your Windows PC.
Play Store Download for PC Windows 10 & Install
In terms of Google Play Store app download for PC Windows 10, the operations are simple relatively. You need to install an Android emulator on your computer like BlueStacks that allows you to free download multiple apps and games including Google Play Store.
Step 1: Visit the official website of BlueStacks.
Step 2: Click Download BlueStacks 10 or Download BlueStacks 5 to get an exe file.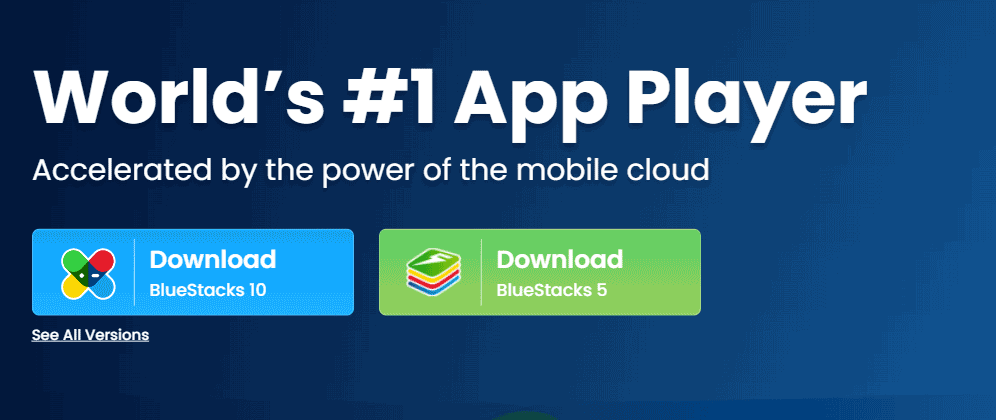 Step 3:  Double-click on the installer setup file and click the Install now button to start the installation on your Windows 10 PC. The process can take some time.
Step 4: Sign in to Google Play Store with your Google Account and then you can download apps you want via the store and use them.
Now, you easily finish the Play Store download for PC & installation in Windows 10 via BlueStacks. If you are running Windows 11, how to install Google Play Store on Windows 11? When searching for this question in Google Chrome, you can find the way is different from the Play Store app download for PC Windows 10. Go to see it.
Google Play Store for Windows 11 Free Download & Install
The operation to install Google Play Store on Windows 11 is a bit complicated. Follow the steps below now.
Move 1:  Uninstall Windows Subsystem for Android from Windows 11
If you install Windows Subsystem for Android on your PC, uninstall it first before the Play Store download for PC.
Press Win + I to open Settings.
Go to Apps > Apps & features.
Locate Windows Subsystem for Android, click the three-dot mark and choose Uninstall.
Move 2: Enable Developer Mode in Windows 11
In Settings, go to Privacy & security.
Click For developers and enable Developer Mode.
Move 3: Enable Virtual Machine
Type Windows Features to the search box and click Turn Windows Features on or off.
Check the boxes of Virtual Machine Platform and Windows Hypervisor Platform.
Click OK.
Move 4: Download Integrated Windows Subsystem for Android Package
Follow the steps below to download the modified version of the WSA installer from the GitHub website.
Go to the MagiskOnWSA page and sign in to your GitHub account.
Click Fork > Actions. Click I understand my workflows, go ahead and enable them if you see Workflows aren't being run on this forked repository.
Click Build WSA or Magisk under All workflow in the Actions tab.
Tap on Run workflow. You can see a download link to the magisk APK.
Go to Variants of GApps and type pico. Click Run workflow.
After a while, click the completed Build WSA or Magisk label, go to the Artifacts section and you can see two versions. Click the proper version to download based on your CPU.
Move 5: Install Google Play Store on Windows 11
Unzip the downloaded folder.
Open the WSA with magisk GApps folder.
Right-click on the ps1 file and choose Run with PowerShell. Confirm the operation by clicking Open. This script can install Windows Subsystem for Android and Google Play Store.
Go to the search bar, type Windows Subsystem for Android and open it.
In Settings, click Manage Developer Settings under Developer Mode.
Click Allow or Yes.
After clicking Start, the Play Store app icon appears. Open Play Store and log in to your account to use the store.
Final Words
How to get the Play Store download for PC and install the app on your Windows 10/11 PC? After reading this guide, you know what to do. Just follow the instructions to easily download Google Play Store for Window 11/ 10 and install it.