To control pop-ups on Firefox, you can utilize the best pop up blocker for Firefox. This post lists the top 5 free Firefox popup blockers for you to choose, and teaches you how to disable or enable pop up blocker in Firefox, how to block or allow pop ups on Firefox. For more computer topics and tutorials, you can go to MiniTool Software official website.
Best Free Pop Up Blocker for Firefox
Firefox has a default pop-up blocker but it cannot block all pop-ups.
There are some popular third-party free popup blocker extensions for Firefox. Below we introduce 5 Firefox popup blocker extensions for your reference. You can find and install them from Firefox Browser Add-ons store, and use them to control the popups in Firefox browser.
Popup Blocker Ultimate
Popup Blocker Ultimate is designed to help identify and block all kinds of pop-ups in your Firefox browser. This web extension can allow or block all popups, block/allow all but whitelist, etc. This free pop-up blocker extension supports desktop and Android.
Popup Blocker
You can also use this web extension for Firefox to prevent websites from opening popups. It will pop up a request window to allow you to accept, reject, or open the popup on a background page. You can get this free extension from Firefox add-ons page.
uBlock Origin
uBlock Origin is a free, open-source, and cross-platform browser extension for ad-blocking, popup-blocking, content-filtering. This extension is available for Firefox, Chrome, Edge, Chromium, Opera, Safari, etc. You can add this extension to your Firefox browser to help you sift or block popups/ads in Firefox.
Adblock Plus
Also as one of the best free pop-up blockers for Firefox, Adblock Plus works effectively for ad-blocking and content-filtering on Firefox. You can install this extension for Firefox, Google Chrome, Microsoft Edge, Internet Explorer, Opera, Safari, Yandex browser, and Android.
AdBlock
This popular free ad blocker for Chrome is also available for Firefox. You can install it from Firefox extensions store to help block all kinds of advertisements on all web pages. It has millions of users.
How to Disable Pop Up Blocker in Firefox
If you installed a third-party Firefox popup blocker, you should see its icon at the top-right in Firefox. To disable it, you can click the ad blocker icon and toggle the switch off. Alternatively, you can also go to about:addons page in Firefox, find the target pop-up blocker extension to disable or enable it.
Firefox also has a built-in pop-up blocker. If you use the built-in Firefox popup blocker, you can check below for how to block or allow pop ups on Firefox with it.
How to Allow or Block Pop Ups on Firefox
Open Firefox browser.
Click the three-line menu icon and click Options.
Click Privacy & Security in the left panel.
Scroll down in the right window to find the Permissions Uncheck the Block pop-up windows to disable the Firefox pop-up blocker. This will allow pop ups on Firefox.
If you want to block pop ups again in Firefox, you can check this option again to enable the pop-up blocker of Firefox.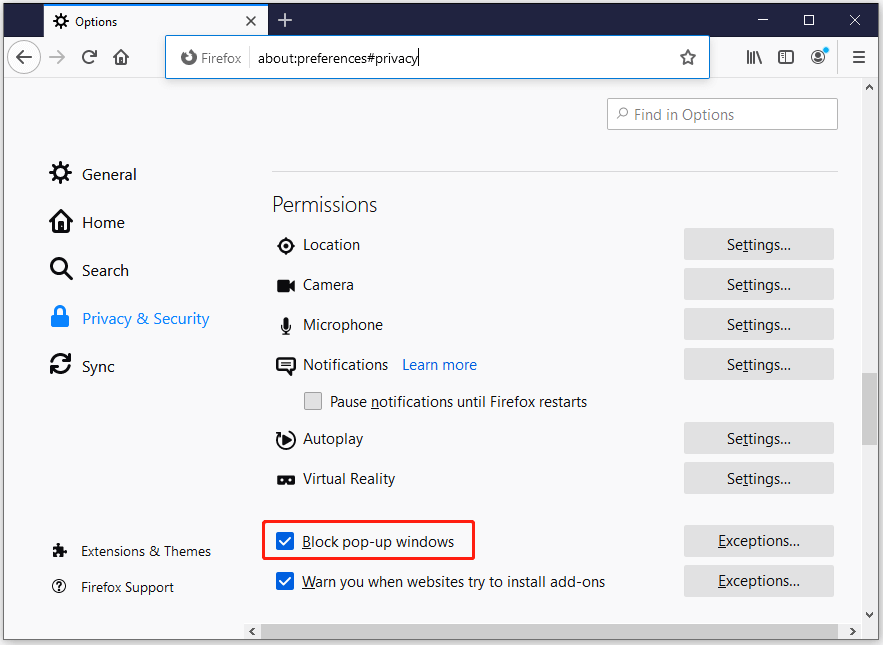 If you want to allow or block pop-ups for a specific website, you can click Exceptions button next to Block pop-up windows option, enter the website address and click Allow to add this site to the exceptions list. Click Save Changes button to save the settings.