PPT files are very useful when you need to present some information in front of certain audiences. For instance, PowerPoint presentation files are used frequently for educational purposes and office use. Like other files, the PPT files could be corrupted sometimes, so it's urgent to repair it especially when important information is included.
Microsoft PowerPoint is a popular program used worldwide. People like to show their plans, information, and ideas to others through a PowerPoint file (it is also called a PPT file with an extension of .ppt).
It would be very depressing when you are working on a PowerPoint file (PPT file), but get an error message saying that the file is corrupted and can't be opened/saved. This definitely indicates that your file goes wrong somehow. But is repairing PPT files possible? How to repair when PowerPoint won't open? I will discuss this.
Tip:
Please go to the
home page
to get MiniTool Power Data Recovery when you need to recover PPT files from your storage media.
You may receive the following error messages when your PPT file suddenly fails:
A part of the file is missing
This is not a PowerPoint presentation
PowerPoint program cannot open this type of file

In fact, errors in Microsoft PowerPoint could be caused by various reasons, such as malware or virus attack, low system resources, illegal instruction, invalid page fault, and general protection fault. Whatever the reason, the most important thing is how to repair.ppt files.
Please refer to this page if you want to recover a lost/deleted PowerPoint file:
Repair PowerPoint File in 5 Ways
Before you taking any measures to repair PPT files, you should check them on another computer to see whether the problem persists. If it does, you should follow the steps mentioned below to repair Power Point file.
One: Move PPT File to another Location
Open the drive and the folder that saves the PowerPoint file in question.
Find and copy the certain PPT file by pressing Ctrl + C.
Go to another drive (external drive is preferred) and create a new folder on it.
Press Ctrl + V. (Remember to move the images, videos or other media files that have been added to .ppt file.)
Open the copied PPT file to a new location and run it.
Two: Open the PowerPoint in Safe Mode
Press and hold the Ctrl button on your keyboard.
Double click on the certain PowerPoint file to launch it.
Choose Yes in the prompt window to confirm to start it in safe mode.
Then, you'll see the safe mode tag after the file title.

You can also try to open the PPT in PowerPoint Viewer, which is a free program provided by Microsoft.
Three: Insert Slides into a Blank Presentation
Create a new presentation.
Select Home from menu bar at the top.
Click the arrow located next to New Slide option.
Choose Reuse Slides… from the list.
Click on the Browse button in Reuse Slides window.
Choose the presentation contained in the corrupted PowerPoint file.
Click Open.
Right click on one slide in the task pane and choose Insert All.
Click Save and give it a new name.
Click on the Save button to confirm.
Four: Scan Drive for Errors
Navigate to the drive that contains certain PPT files.
Right click on it and choose Properties.
Shift to the Tools tab.
Click on the Check button under Error checking section.
Wait for the checking process to finish. The system will fix automatically if any error is found.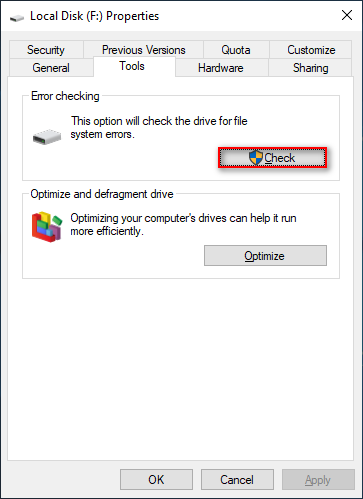 Five: Uncheck Protected View Options
How to repair when the PowerPoint won't save?
Open the certain Power Point file.
Select File in the upper left corner.
Choose Options.
Shift to Trust Center from the left sidebar in PowerPoint Options window.
Click on the Trust Center Settings… button from the right pane.
Shift to Protected View from the left sidebar.
Uncheck all the options listed in the right pane.
Click on the OK button at the bottom to confirm.
How To Recover Unsaved Word Document (2020) – Ultimate Guide.
Other methods for repairing PPT files:
Get help from third-party software.
Change component security to default settings.
Open temporary file version of the corresponding presentation.
Save the presentation as a RTF (Rich Text Format) file.