Adobe Premiere Pro always keeps crashing on your computer? Don't be vexed! This article on MiniTool Website will offer you some ideal solutions. Read patiently and you will definitely fix this tricky problem.
Adobe Premiere Pro Crashing
Adobe Premiere Pro is a very trendy video editing software that is popular among people all over the world. However, many Windows Premiere Pro users like you find that this software always crashes on startup or crashes when it is rendering media.
This Premiere Pro not launching problem will influence more or less your experience of video editing. Don't worry. This guide will explain some practical fixes for you and you can try following the step-by-step instructions.
How to Fix Adobe Premiere Pro Crashing Windows 10/11?
Fix 1: Run as Administrator
If you don't give Adobe Premiere Pro required administration privileges, Premiere Pro crashing on startup may occur. In order to fix this issue, you'd better grant the administrator permission to it.
Step 1. Right-click the software and choose Properties.
Step 2. In Adobe Premiere Pro Properties, tap on Compatibility and check Run this program as an administrator.
Step 3. After hitting OK, reboot your PC to check if the error is resolved.
Fix 2: Update Your Graphics Driver
A broken or outdated graphics driver is a very common cause of software crashing issues, so you may suffer from Adobe Premiere Pro crashing problems if you don't update your graphics drivers in time. Here's how to do it:
Step 1. Type Device Manager in the search box and choose the first one that appears.
Step 2. In Device Manager, click on Display adapters, right-click your graphics driver and select Update driver.
Step 3. Then choose Search automatically for drivers. Windows Device manager will look for, download and install a new version for you.
Step 4. After the process is finished, restart your computer to see if Premiere Pro still crashes or not.
Fix 3: Close CPU/Memory Occupying Applications
Adobe Premiere Pro itself is an application that hogs your internal memory. When you launch it, you cannot run too many applications at the same time or your RAM may run out. In this case, you are suggested to close those CPU/memory-hogging applications under the guide below:
Step 1. Right-click the taskbar and choose Task Manager.
Step 2. In Processes, you can see each application and how much CPU or memory space it takes up relatively. Select the biggest one and right-click it.
Step 3. Choose End task to close it.
Tip:
To avoid Premiere Pro crashing caused by limited memory, you are supposed to
upgrade RAM
on your PC.
Fix 4: Clear Media Cache 
Adobe Premiere Pro crashing Windows 10/11 may be caused by some corrupted media cache files or excessive cache files. Therefore, you need to solve the problem by removing them.
Step 1. Run Adobe Premiere Pro, go to Edit and choose Preferences.
Step 2. Click Media Cache Files and choose Delete…to remove media cache files.
Step 3. Click OK.
Fix 5: Cool Down Your Computer
Adobe Premiere Pro execute heavy computations by utilizing both GPU and CPU thus it will release too much heat if you run it on your computer for a long time.
As soon as your PC turned overheated, Adobe Premiere Pro may crash without any warning. Under the circumstance, you should cool your computers down.
Step 1. Clean the dust in the fans and vents.
Step 2. Make sure the environment is cool and ventilated.
Fix 6: Switch off GPU Acceleration
GPU acceleration is also one of the most common reasons for Adobe Premiere Pro crashing. Try disabling it temporarily to check if you can solve this issue.
Step 1. Open this software and go to File.
Step 2. Click Project Settings and select General.
Step 3. Set Renderer to Mercury Playback Engine Software Only under Video Rendering and Playback and then click OK.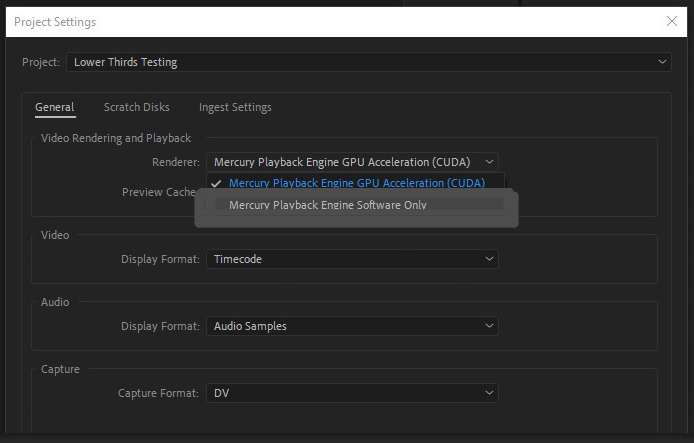 Fix 7: Update or Reinstall Adobe Premiere Pro
If all the fixes mentioned above don't work, attempt to update or reinstall Adobe Premiere Pro to the latest version. This fix can also solve Premiere Pro not opening.
Step 1. Open Setting.
Step 2. Click on Apps & features.
Step 3. Look for Adobe Premiere Pro and click it.
Step 4. Select Uninstall and then follow the popping-up instructions.
Step 5. As soon as the progress is done, download it again on the official website and reinstall the latest version to see if the Premiere Pro not launching still exists.