On your PC, you may find the Brother, Canon, Ricoh, Epson, or HP printer says out of paper but has paper. If you are bothered by this situation, how can you get rid of the trouble? Take it easy and you can go to find some effective solutions from this post on the MiniTool website.
Printer Keeps Saying out of Paper
When using a printer on your Windows PC, you may get an error saying your printer is out of paper. You may think there is really no paper and you need to refill the paper tray to continue using your printer. Actually, sometimes you always get the same error whether it is out of paper or not.
This issue always happens on various printers including Canon, Ricoh, Epson, Brother, or HP. The common reasons for this issue are various, for instance, the paper input tray is overloaded, dust or moisture can affect the paper feed or paper pick rollers, the printer driver is old, etc. Thus, the printer cannot detect the paper that has been inserted into the tray.
Don't be panic if your printer has paper but says out of paper and you can move to the next part to know some useful troubleshooting tips.
Canon/Ricoh/Epson/Brother/HP Printer Says out of Paper But Has Paper
Check the Paper Condition
This is the first thing you should do. When the printing paper's condition is not proper, perhaps your printer keeps saying out of paper.
Check if all the paper is of the same size and type.
Check the paper is not damaged or curled especially around the edges.
Don't include more than 25 sheets in the paper tray.
Align the sheet edges and put them in the paper tray.
Check the Rear Panel of Your Printer
The rear panel of your printer may not be installed properly and you should go to check it. If not, some paper may be jammed or stuck there. Just remove the rear panel, remove any debris or jammed paper and place the back panel back on the printer.
Clear Your Printer Roller
If dirt accumulates in the printer's rollers, perhaps your printer says out of paper but has paper. To remove this issue, clear your printer rollers.
Turn off your printer and disconnect the power cables.
Remove all the paper from the printer.
Clear the rollers using a cloth and bottled water.
Reconnect the power cables and turn on your printer.
Reset Your Printer
According to users, resetting the printer may be a solution. Just remove the power cables without powering off your printer. After 30 seconds, connect the power cables to your printer. Manually turn on your printer if it is not powered on automatically.
Update Your Printer Driver
An outdated printer driver can lead to many printer issues, for example, printer in error state, can't print, printer not working, etc. and the issue of printer says out of paper but has paper is not an exception. To fix your issue, you can try to update the printer driver to the latest version.
Step 1: Go to open Device Manager in Windows 11/10/8/7 by pressing Win + R, typing devmgmt.msc, and clicking OK.
Step 2: Expand Printers, right-click on your printer and choose Update driver.
Step 3: Choose the first option in the pop-up window to let the system automatically search for an available driver and install it.
Make Sure Print Spooler Is Running
Print Spooler is responsible for storing the print jobs in Windows. If this service is not working, you may encounter this situation – the printer has paper but says out of paper. Go to enable the Print Spooler service.
Step 1: Type services.msc in the search box and click Services to open this app.
Step 2: Locate Print Spooler and make sure it is running. If it is stopped, right-click this service and choose Start.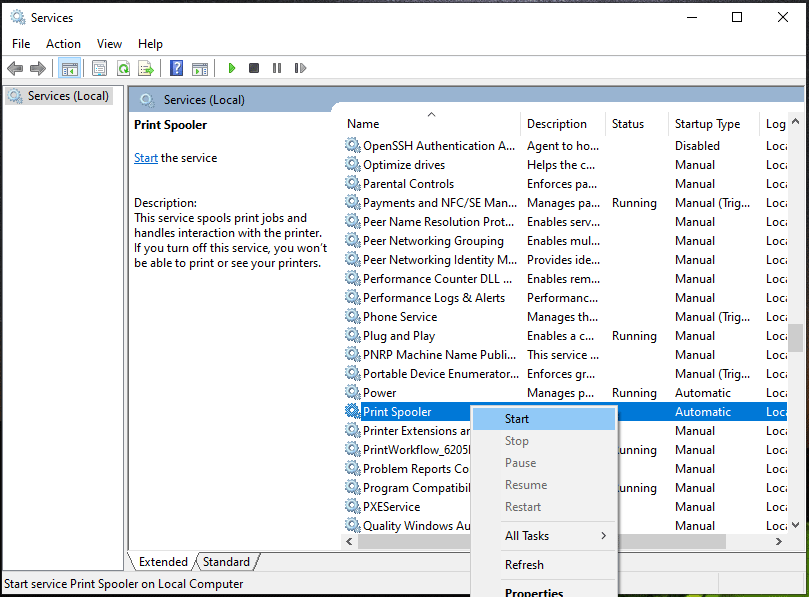 Bottom Line
Brother, HP, Canon, Ricoh, or Epson Printer says out of paper but has paper? After trying these solutions in this post, you can fix this error on your PC. If you have any other methods, let us know in the comment below.