When importing the JPEG image in Photoshop, you may get the error "could not complete your request because of a problem parsing the JPEG data". How can you fix this error? Now, read this post from MiniTool and you can find some useful solutions to fix Photoshop problem parsing JPEG data.
Adobe Photoshop is a professional graphics editor developed by Adobe Inc. for Mac and Windows systems. Due to its wide range of functions, it is widely used by persons around the world to deal with images.
Related article: 8 Best Photoshop Alternatives You Must Know
However, this tool is not always running properly. According to some users, they cannot import an image along with an error message saying "could not complete your request because of a problem parsing the JPEG data".
As you know, Photoshop parses all the pictures you import to enable many features and make them possible. The error may happen because the image, system, or program itself goes wrong. Fortunately, you can follow these solutions below to easily fix this issue.
Fixes for Problem Parsing JPEG Data
Update Adobe Photoshop
Adobe has a version called Photoshop CC 2018 19.1.4 that fixes the JPEG parsing issue. You can update Photoshop to this version to fix this issue.
If you don't want to update the program, you can follow these methods below to troubleshoot the issue.
Open the JPEG Image in Paint
The simplest way to fix problem parsing the JPEG data is to use the Paint application.
Step 1: Type paint in the search bar and click the result to run this program.
Step 2: Click File > Open to open the JPEG image.
Step 3: Then go to File > Save as > JPEG picture and store the file to a location.
Step 4: Launch Photoshop and re-open this JPEG image to see if the problem parsing JPEG data error is removed.
Open the JPEG Image in Picture Viewer
It seems that there is another solution to work for users and that is opening the picture in the Windows default picture viewer, rotating it, and closing the viewer without any change. Many users have tried this way and find it is useful. So, you can also have a try. The reason for this behavior is unknown but it works.
Tip: If you cannot open the image in Paint or Picture Viewer, perhaps the image is corrupted and you can try Stellar Repair for Photo to fix the damaged picture.
Make a Change in Registry Editor
In Windows Registry, Adobe Photoshop as the DWORD value and changing this value can help you to easily fix problem parsing JPEG data.
The following are the steps on how to change the DWORD value in Registry Editor:
Step 1: Launch Windows Registry Editor by typing regedit to the search box and clicking the result.
Step 2: Go to Computer\HKEY_CURRENT_USER\Software\Adobe\Photoshop\60.0 or any folder shown here.
Step 3: Right-click the folder, choose NEW > DWORD (32-bit) Value and name it OverridePhysicalMemoryMB.
Step 4: Double-click this value, choose hexadecimal, and set the value data to 4000 (4000–8000 value for 4–8GB RAM).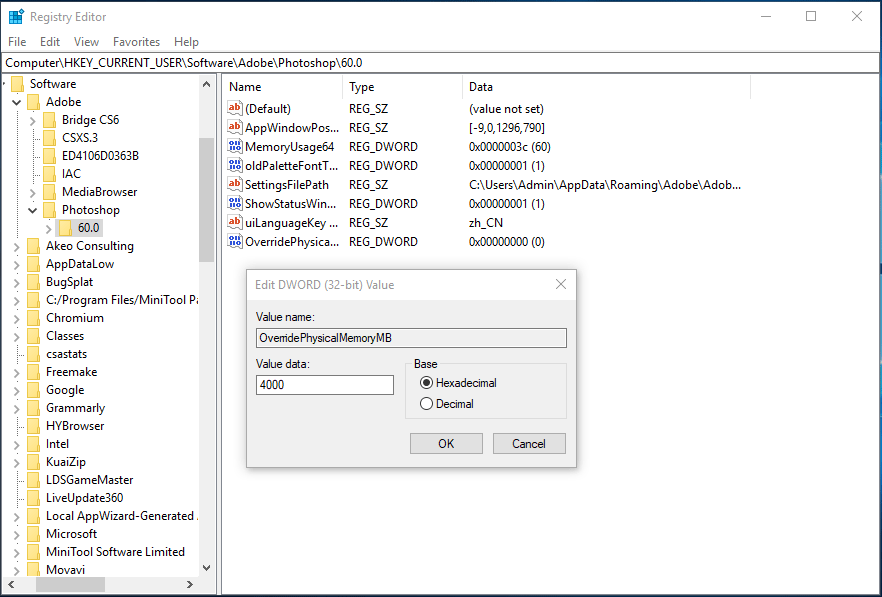 Step 5: Click OK and reboot the computer. Then, run Photoshop and the error "Photoshop could not complete your request because of a problem parsing the JPEG data" should be fixed.
Final Words
Are you bothered by problem parsing JPEG data when using Photoshop? Don't worry and you can easily fix this issue after trying these solutions mentioned above. Just try them.