This article from MiniTool official web teaches you how to back up QuickBooks' company files manually or automatically, restore QuickBooks backup, as well as view and manage backups.
About QuickBooks
What is QuickBooks? QuickBooks is an all-in-one small business accounting software to organize your financials, save your time with automation, and get paid quickly. It is more than just accounting software by bringing your financials into focus and always knowing where your money is going.
It Is Necessary to Back up QuickBooks
Why should I have to create a QuickBooks backup? Nice question! In general, you are recommended to back up your QuickBooks accounting data files in case of unexpected data loss due to software error, system crash, wrong operation, virus, malware, etc.
Since QuickBooks is a financial (money-related) program, its files are of great importance. It is wise to create a copy of QuickBooks data and save the copy in another safe place. Once accidents happen, you are able to restore your crucial data ASAP.
How to Backup QuickBooks Company Files?
Company backup saves everything in your company file currently, including your accounting data, images, logos, templates, letters, and other related files (QuickBooks Statement Writer, Business Planner, Loan Manager, and Cash Flow Projector). Yet, it won't contain your payroll forms.
QuickBooks Manual Backup
Step 1. Sign in to QuickBooks' single-user mode. If you are already logged in, just make sure you are in single-user mode in File menu.
Step 2. Select Back Up Company under the File menu.
Step 3. Then, choose Create Local Backup > Local Backup.
Step 4. In the Local Backup Only area, click on Browse and choose the backup destination. It is recommended that you save the backup image online or on an external hard drive. You can also set up the number of backups you want to keep.
Tip: No need to write it down, just rely on Online and Local Backup function to set backup reminders.
Step 5. In the Online and Local Backup section, choose Complete verification to run a test to ensure your backup file integrity before backing up.
Step 6. Select Save it now and click Next.
Then, QuickBooks will start to back up target files. Wait patiently until it finishes. The time the backup takes depends on how much data you set to be backed up. When the process completes, it will inform you.
QuickBooks Automatic Backup
The guide of QuickBooks auto backup is similar to the above manual backup, the difference begins from the sixth step.
Step 6. Select Save it now and schedule future backups and then click Next to continue. Or, if you don't want to carry out a backup process now, you can select Only schedule future backups.
Step 7. Then, tick "Save backup copy automatically when I close my computer file every" and select the number of times between backups.
Step 8. Click New button to trigger the Schedule Backup window.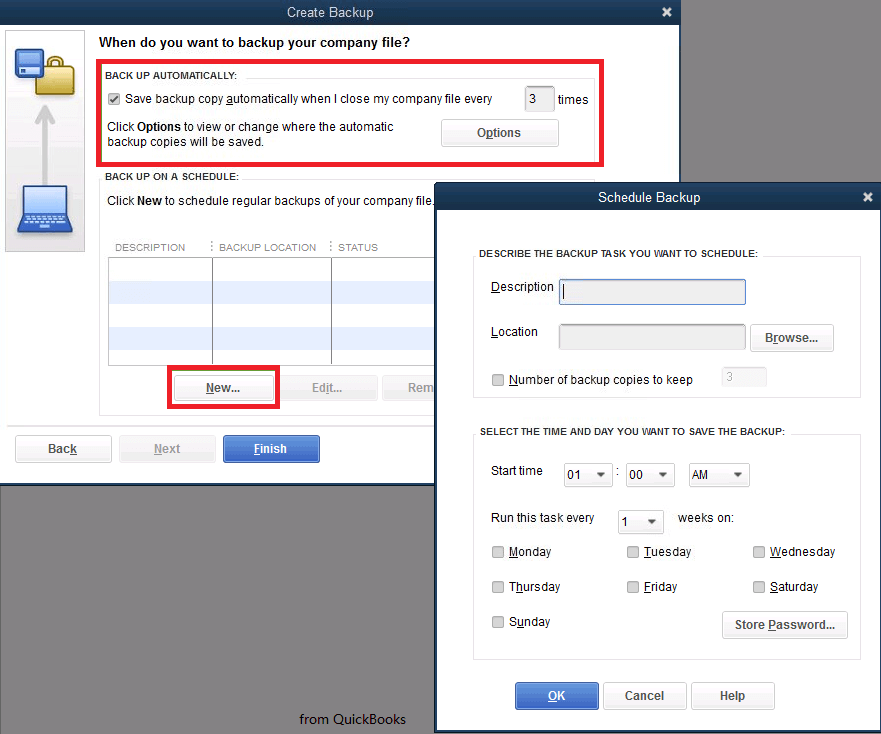 Step 9. In the new Schedule Backup window, you can specify some details about the schedule backup, including backup description, backup location, number of backup copies to keep, at what time in a day to perform the backup, on what day in a week to perform the backup, and store password.
Step 10. When all settings are done, choose OK and enter your Windows login password to authorize QuickBooks to run the scheduled backups at the set time.
Step 11. Finally, click Finish and you are done.
QuickBooks Online Backup
Be different from the local backup, QuickBooks also enables you to perform an online backup. Just select Online backup when asked about where to save your backup copy. Yet, QuickBooks backup online may chare you with money.
QuickBooks Payroll Forms Backup
Just as mentioned in the above content, QuickBooks does not back up your payroll forms automatically. Yet, there are several ways to back up them manually. On the one hand, you can copy and paste them to your local storage. On the other hand, you can save them as PDFs if you use QuickBooks Enhanced Payroll.
Tip:
If you want to back up the digital data on your local computer, the reliable
MiniTool ShadowMaker
is recommended for its powerful features and easy-to-use interface.
How to Manage QuickBooks Backup Settings?
If you already performed one or several backups, you can view and manage them as well.
View Previous Backup
Do you want to see when did you back up your company files last time? Just navigate to File > Back Up Company and you'll see the time when you carried out backup last time.

Change Backup Settings
If you'd like to change your backup settings, just follow the below guidance.
1. Go to File > Back Up Company and select Local Backup.
2. Then, you'll see an Options button under the Local Backup. Just click it to change your current backup settings.
3. Once you have all the settings that you want to change done, click OK to save changes.
How to Restore QuickBooks Backup?
Since you have created backups for your company files in QuickBooks, you can rely on them to restore your accounting data back once the current data is damaged or lost, or you just want to return back to one of the previous restore points. The steps are below.
Tip:
If your QuickBooks backup files are stored on an external storage device (e.g. USB flash drive) or a hosting service (e.g. Box), you should first connect the external drive to your current computer or
map the network drive
locally.
Step 1. In QuickBooks, move to File > Open or Restore Company.
Step 2. Select Restore a backup copy.
Step 3. Choose Local Backup.
Step 4. Find and select the backup file that you intended to restore from. The file extension of the backup is .qbb and it should look like [company name].qbb.
Step 5. Specify a folder to receive the restored company file and choose Open.
Step 6. Finally, click Save to begin company file recovery.
Tip:
If you open the backup in the same folder as your existing company file, it will overwrite the accounting data. You can
rename
either the existing file or the restored file to avoid
overwriting
. Or, just restore the backup to another folder.