Realtek Semiconductor Corp is a fabless semiconductor company founded in October 1987. Realtek produced many products including audio console in the last thirty years or so. Realtek audio card is so popular that it's built into lots of computer. However, users complained about the same problem – they're in face of Realtek audio issues from time to time.
Here in this post, we'll talk about Realtek audio Windows 11. If you're also using Realtek audio console Windows 11 (see how to download Realtek Audio Console), you should read this page with care since it will show you the possible causes for the problem and several effective methods for settling things down.
6 Main Causes of Windows 11 Realtek Audio Issues
The Realtek audio issue could be caused by various reasons. We only summarize the most possible causes for you in this part.
The Realtek audio driver for Windows 11 is outdated, damaged, or corrupted.
Realtek audio driver conflicts with installed Microsoft drivers.
Audio services are not responding or running.
The audio output device is malfunctioning.
Audio settings are not correct.
Set the wrong channel to output audio.
8 Methods for Fixing Realtek Audio Not Working
When having problems with Realtek audio Windows 11, you should try the following solutions to make things right.
Check the Output Device & Connection
You should go to check your devices and connections first.
Check whether the audio output device works properly or not.
Check whether the audio output device can receive power or not.
Check whether the correct output device is selected on Windows 11.
Check whether there's a mute button on the device and whether it's enabled.
Use the volume control to bring volume up.
Remove and then reconnect the output device or change a connection port.
Update Realtek Audio Driver Windows 11
Click on the search icon on Windows 11 taskbar.
Type Device Manager and click Open.
Locate the Sound, video and game controllers option and expand it.
Right click on the Realtek audio device (Realtek High Definition Audio).
Select Update driver from the context menu.
Choose from Search automatically for drivers and Browse my computer for drivers.
Follow the on-screen instructions to continue.
Uninstall & Reinstall Realtek Audio Device
Open Device Manager.
Double click on Sound, video and game controllers.
Right click on your Realtek audio device.
Select Uninstall device and click Uninstall to confirm.
Restart your computer.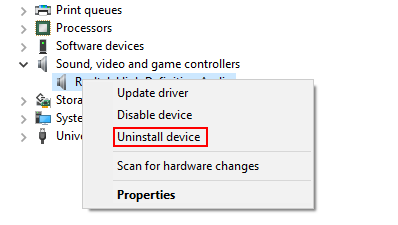 Disable Audio Enhancements
Click on the search icon on taskbar.
Type Change system sounds and hit Enter.
Select the Playback tab in the Sound
Choose the problematic output device you're using.
Click on the Properties button below.
Shift to the Enhancements tab.
Check Disable all enhancements and click OK.
Change Audio Format
Repeat step 1 ~ 5 mentioned in above method to access the Speakers Properties panel. Then, go to the Advanced tab and select another audio format from the drop-down menu under Default Format. Click on the Test button. If it didn't work, please change an audio format and try again. Repeat this until you find that format that works fine. Finally, click OK.
Restart Audio Services
Click on the search icon.
Type Services and click Open.
Find the Windows Audio service from the list and right click on it.
Select Restart from the menu.
Pleas also repeat these steps to restart Windows Audio Endpoint Builder and Remote Procedure Call services.
Run the Audio Troubleshooter
Press Windows + I to open Settings.
Scroll down on the right side to select Troubleshoot.
Click Other troubleshooters.
Look for the Playing Audio option and click on the Run button after it.
Follow the on-screen instructions to continue.
Update/Roll Back Your System
The last trump card to fix any issues occurred on your system is to update to the latest version of Windows operating system or roll back to a previous system version. Besides, you can try to restore your system to a previous statue by using System Restore.