What Is Remote Backup?
Remote backup also refers to online backup, offsite backup, or even cloud backup. So, it has two meanings. On the one hand, remote backup means to save backup images to online servers, offsite devices, or cloud storage, remote from the source. On the other hand, remote backup can be used to mean to back up data that is stored far away on online servers, offsite devices, or cloud drives.
Remote backup service, also known as backup-as-a-service or cloud backup, is a service that provides users with a system for the backup, storage, and recovery of computer files. It is considered as a form of cloud computing.
Remote backup system is built for client software that runs on a given schedule. Typically, it collects, compresses, encrypts, and transfers the data to the remote backup service provider's servers of offsite hardware.
What Is Local Backup?
On the contrary, local backup, also called on-premises backup, means to store the backup image locally on HDDs, SSDs, USBs, CDs, DVDs, SD cards, or tapes. Also, local backup may refer to create a backup of local files, folders, programs, systems, etc.
Remote Backup vs Local Backup: Advantages & Disadvantages
The comparison between remote and local backup is also called cloud backup vs local backup. Below lists the pros and cons of both local backup and remote backup.
Advantages of Remote Backup
Multiple backup copies: If you save your backups remotely, you can keep several copies in different places. Cloud backup automatically stores your backup images on multiple servers at different locations. If one of the servers fails, you can access and retrieve your data from the other servers.
Convenient data access: If your backup is saved on the cloud, generally, you can access it wherever you are via the Internet.
High security: The backup is encrypted by remote backup software before it being sent to the destination. So, your data is safe from potential malicious access.
Comparatively large storage space: Cloud storage providers offer nearly unlimited storage capacity for you only if you pay for it.
Disadvantages of Remote Backup
Expensive: Though unlimited storage space is available, you have to pay for it at a relatively higher cost than local backup.
Network-dependent speed: No matter for sending backups to remote servers or restore data from remote backups, you need to rely on Internet access. So, the task speed also depends on the bandwidth.
Advantages of Local Backup
Quick data access: If you save your data copy locally, you can access it quickly even without a network connection.
Cheap: Compared to remote cloud backup, storing backup images locally costs less money since hard disk drives are cheaper than cloud drives.
Easy operation: To make a backup of your critical data and save it locally is easy and most people or organizations can do it by themselves. Yet, back up to a remote location is difficult and usually needs help from professionals.
Disadvantages of Local Backup
Low security: Local hard drives or other storage devices are vulnerable to natural disasters and theft. So, it's of higher chance to get your data lost or damaged by backing up locally.
Fixed storage: In comparison to remote cloud backup, local backup storage space is fixed and limited.
As for management and cyberattacks, the conditions for local and remote backups are similar. Both are easy to manage if assisted by professional backup programs. And, both of them are able to be attacked by viruses or malware. Thus, you should pay more attention to that.
Local and Remote Backup Solution – MiniTool ShadowMaker
MiniTool ShadowMaker is one of the best free remote and local backup software. It can back up your critical data to internal disks, external hard drives, removable storage spaces, as well as remote shared folders.
MiniTool ShadowMaker TrialClick to Download100%Clean & Safe
1. Download, install, and launch MiniTool ShadowMaker on your computer.
2. If it asks you for a purchase, just click Keep Trial in the upper right to enjoy its free services.
3. In its main interface, click Backup on the top.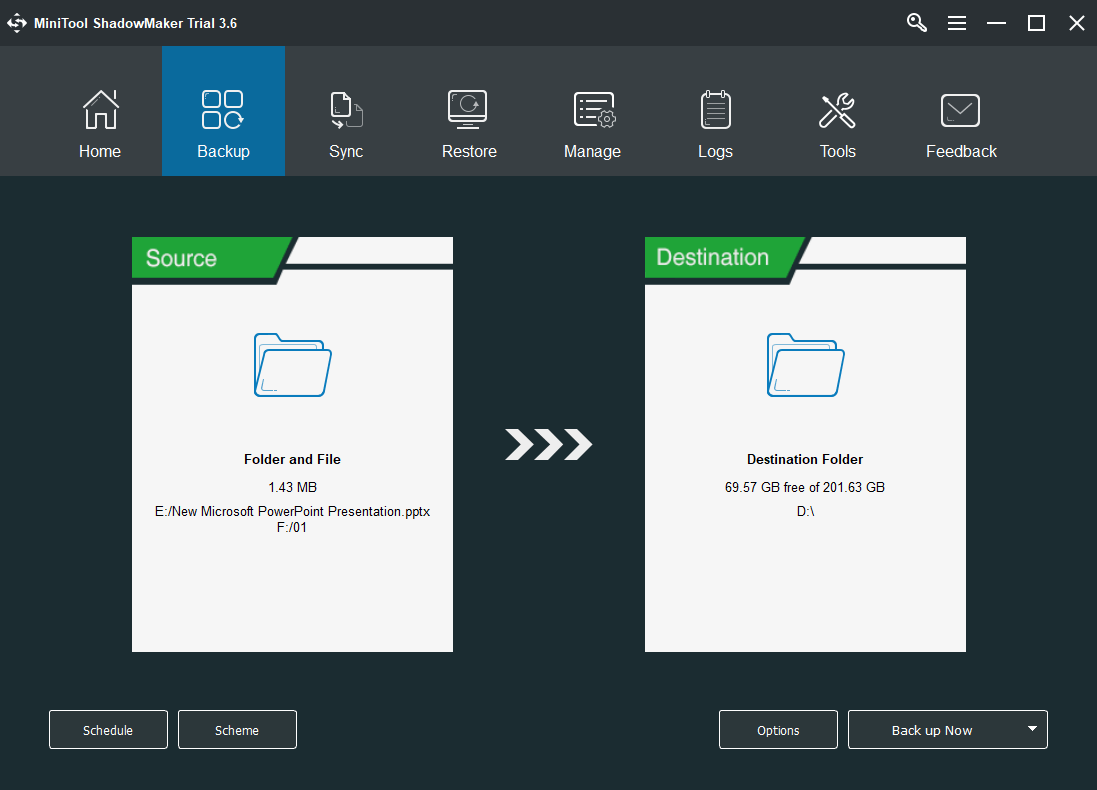 4. On the Backup screen, click the Source module to specify the data you want to protect.
5. Click the Destination module to set up the location for saving the backup image. If you want to create a local backup, just select a local hard drive. If you want to perform a remote backup, you should choose Shared in the left panel in the popup. Next, click Add new and input the path, username, and password of the shared folder. Then, select the newly created remote location to store your data backup.
6. You can schedule this backup task to perform automatically of a set frequency, daily, weekly, monthly, or on a special event (system log on/log off).
Also, you are able to define the backup type by clicking the Scheme button next to the Schedule button in the lower left. There are 3 kinds of backups available: full backup, incremental backup, and differential backup.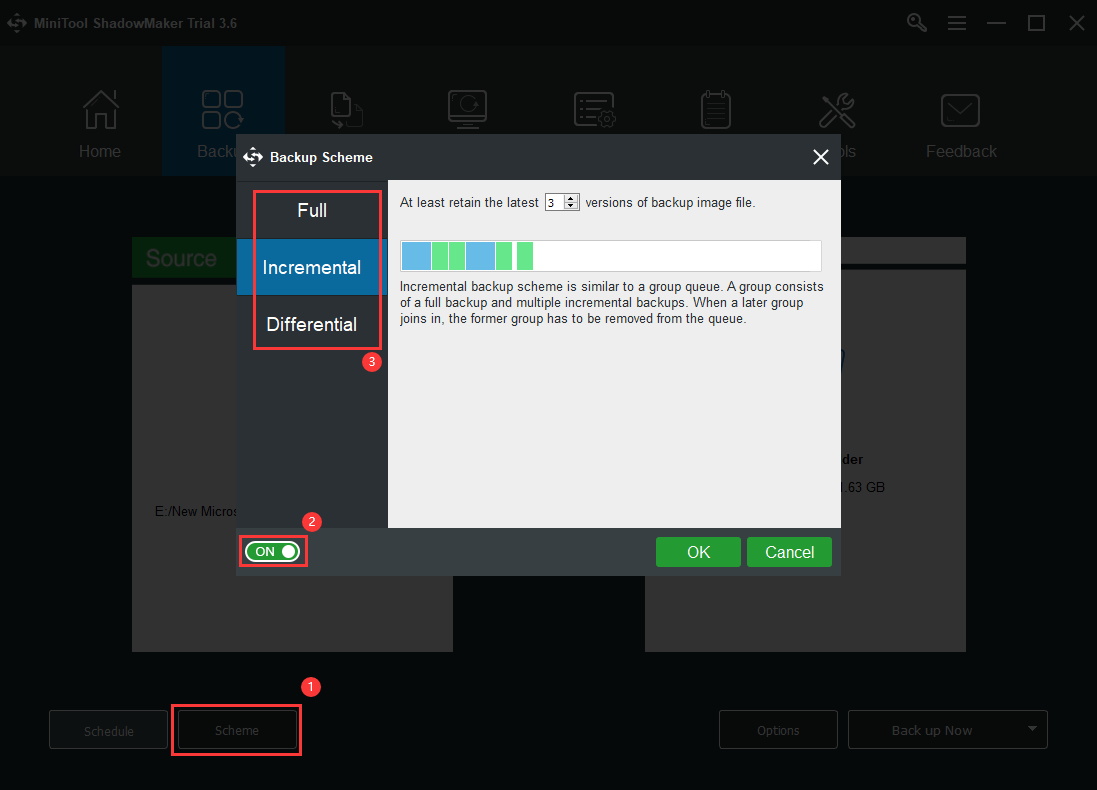 Moreover, you can manage your backup image in various aspects through the Options button in the lower right. For example, you can compress, comment, verify, and encrypt the backup image.
7. Finally, click the Back up Now button in the bottom right to carry out the process.
Local Backup vs Remote Backup: Conclusion
According to this article, generally, local backup means to save backup images on local storage devices while remote backup refers to store backup copies to remote (usually in the cloud) locations. Both have advantages and disadvantages. As for which one to choose, just make your own decision. Or, you can surely use both of them to give robust protection of your important data.