If you want to log in to your Roblox account on a new device without inputting the password, Roblox Quick Login can help you do that. This post from MiniTool tells you how to use the Roblox quick login feature with full steps.
Roblox becomes more and more popular, which is a global platform that brings people together through play. Most of these games are free and you can also create your games. You can get Roblox from Microsoft Store, Apple Store, Google Play Store, Amazon store, and Xbox One.
Sometimes, logging into your Roblox account from a new device is difficult since you may have a complicated password. However, the Roblox Quick Login feature allows you to log in to a new device from another device that is already logged in without entering your password again.
How to Use Roblox Quick Login
To log in to your new device with the Roblox Quick Login feature, you need to follow the below instructions:
First, you need to prepare a new account device to authenticate with the device you are currently logged into.
Then, you need to generate a one-time code and verify this one-time code.
Note:
This Roblox Quick Login feature is currently unavailable on Xbox. This feature only works when your devices are close to each other.
The Roblox Quick Login feature may not be available to all players at this time.
Let's see the detailed steps of using Roblox Quick Login.
1. Generate a One-Time Code
Step 1: Go to the Roblox Login page on your primary device.
Step 2: Click the Log in button in the upper right corner.
Step 3: Then, click the Another Logged In Device option.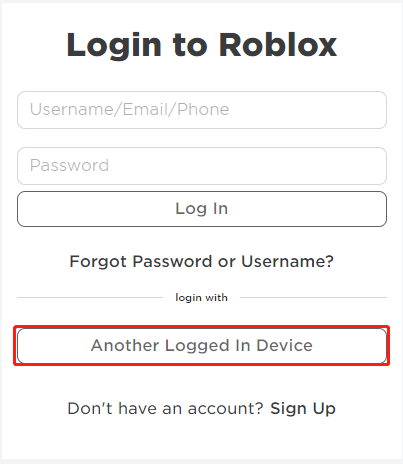 Step 4: A one-time QR code and a 6-character code will be displayed, which is only valid for 5 minutes.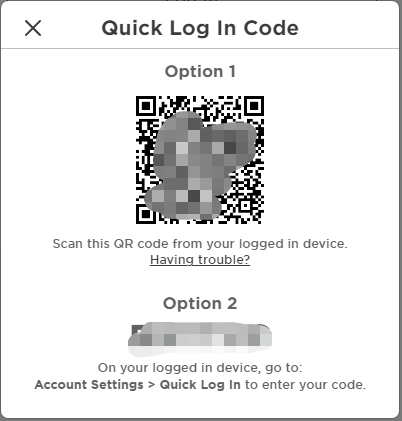 2. Verify One-Time Code
Step 1: Now, go back to your signed-in device. Go to Account Settings > Quick Login.
Step 2: Enter the one-time code displayed on the new device and press Enter.
Step 3: It will notify you that your account is logging into a new device and you need to press the Confirm Login button.
Step 4: Once your new device is logged in and you click the Finish button, a success message will appear.
QR Code Troubleshooting
Sometimes, you can't scan the QR Code, you can do the following troubleshooting:
Make sure you have the latest version of the Roblox app installed.
Make sure you are logged in to the device that scanned the QR code.
You can try another app to scan the QR code. On some phones (e.g. Google Pixel), the built-in camera app may not Properly handle QR codes. Try to install a different QR code scanner or type the 6-character code.
Final Words
That's how to log into Roblox with the Quick Login feature on a PC/phone. I believe that this post can be helpful to you.