What Is Roblox Studio
Roblox Studio is an essential building tool for Roblox games. To be specific, it is a video game development platform that allows you to make anything and release it to your desktops, laptops, smartphones, tablets, consoles, and virtual reality devices with one click.
This platform can help you create anything you can imagine. Its features are appropriate for novices and experienced programmers. For developers, this software also offers a more comprehensive and intricate set of tools.
Besides, Roblox Studio is social, and with the games and creativity of the community, Studio takes the socialization to a new level.
Roblox Studio is free to download on Windows and macOS. If you want to download and install it on your machine, make sure it meets the system requirements:
OS: Windows 7, 8, 8.1, 10 and 11 & macOS 10.13 (High Sierra) and above
CPU: Processor with a clock speed of 1.6 GHz or better
RAM: 2GB or above
Disk Space: At least 10GB of free disk space after installation
Graphics Card: A dedicated video card (a computer less than 5 years old) or an integrated video card (a laptop less than 3 years old)
Internet Access: At least 4-8 MB/s
Next, let's see how to download Roblox Studio for Windows PC and Mac.
Roblox Studio Download PC & Mac and Install
It is a simple way to get Roblox Studio and follow the steps here:
Step 1: Visit this page: https://www.roblox.com/create.
Step 2: Click the Start Creating button and a popup will appear. Click Download Studio.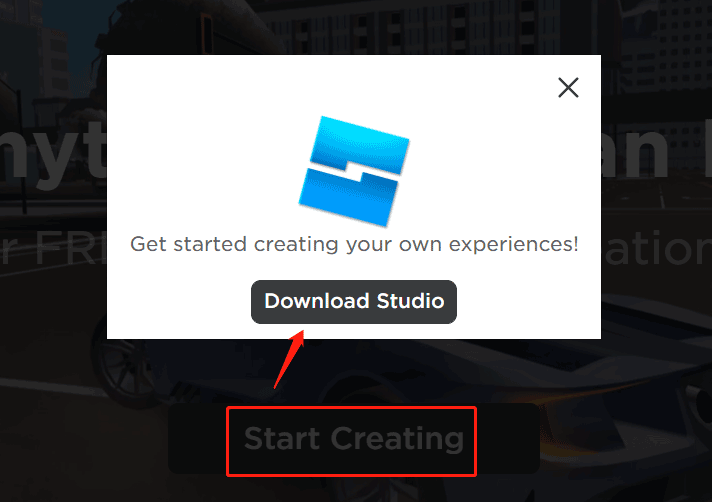 In the new popup, save the studio installer to a place on your PC. If your PC is running Windows 11/10/8/7, the file is RobloxStudio.exe. If you are running a Mac, the file is RobloxStudio.dmg. After getting the download, you need to use the file to install Roblox Studio. Here, we take Windows as an example.
Step 1: Double-click on this .exe file and the setup is connecting to Roblox.
Step 2: Then, the installation process starts, as follows.
After finishing installing Studio, launch it. To use it, you need to sign in to Roblox Studio with a Roblox account. If you are a new user, create one on roblox.com. Next, you can use this tool to start building your experience. If you don't know how to use it, refer to the help documents to get started.
Roblox Studio Uninstall
If you need to uninstall Roblox Studio from your Windows PC, go to Control Panel, click Uninstall a program from the Programs section, then right-click Roblox Studio and choose Uninstall.
Further Reading: Attention
As mentioned in Roblox Studio Download PC, Roblox Studio is only available for Windows and macOS. When you search for "how to download Roblox Studio on mobile", "how to download Roblox Studio on iPad", or "how to download Roblox Studio on Android" in Google Chrome, you find many websites. Actually, they are not helpful. Roblox Studio is not officially available on Chromebook, iPad, or Android.
If you want to use Roblox Studio to create a game on mobile, you can do:
Open roblox.com via a browser like UC browser, Google Chrome, etc. and click Continue in browser.
Log in to the site and click Create > Three dots > Desktop site.
Click the Create New Game button and then follow the on-screen instructions to create a game using Roblox Studio on mobile.
Bottom Line
That's the information about Roblox Studio download for Windows 11/10/8/7 & macOS and how to install it on your machine. Besides, if you want to use Roblox Studio to create games on Android/iOS, follow the given instructions to get started.