Rocket League is an online competitive game which relies on quick reactions and fast synchronization with the game servers. Therefore, high ping can influence the scores negatively. To fix high ping in this game, this post on MiniTool Website will provide you with several solutions in detail.
Why Is My Ping So High in Rocket League?
Ping is extremely important to online games because it can affect the results of the game. The lower ping you have, the better you will enjoy the game. However, some of you may wonder why you receive high ping in Rocket League all the time. The possible reasons for Rocket League high ping are:
Slow and unstable internet connection.
Outdated network drivers
Running resource-hogging applications in the backend
Corrupted DNS caches
According to different conditions, we have come up with some feasible solutions for you.
How to Fix Rocket League High Ping on Windows 10/11?
Fix 1: Reboot or Reset Your Router
When you experience most issues in games like Rocket League high ping, restarting and reboot your router is usually a quick fix for you. Here's how to do it:
Step 1. Unplug your modem and router.
Step 2. Wait for about 30 seconds and then plug in and modem.
Step 3. After 60 seconds, plug in the router and wait for the router to boot up to check for any improvement.
Fix 2: Use an Ethernet Cable
It is strongly recommended to use a wired connection because it allows you to establish a direct connection with your router. If you cannot connect your network via an Ethernet cable, try to move your computer closer to your router to get a more stable connection.
Tip: To ensure the best connection, you should disconnect from other devices and stop/pause all the downloads.
Fix 3: Update Network Drivers
Outdated or corrupted network drivers can lead to internet connection lag and high ping in Rocket League. If you haven't updated it for a long time, consider updating it to the latest version right now.
Step 1. Press Win + X to evoke the quick menu and select Device Manager.
Step 2. Expand Network adapters and right-click on your Realtek, Intel, or Killer adapter to choose Update driver.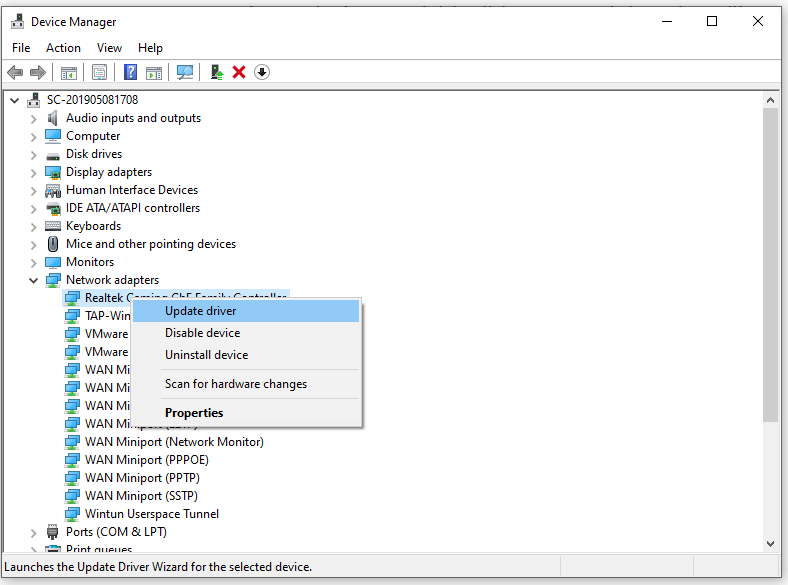 Step 3. Hit Search automatically for drivers and then follow the guidelines on the screen to update your network driver automatically.
Fix 4: Close Bandwidth Hogging Programs
Some bandwidth-hogging programs slow down your network and then cause high ping Rocket League. Therefore, before launching Rocket League, you had better disable them.
Step 1. Press Win + R to evoke the Run box.
Step 2. Type resmon and hit Enter to open Resource Monitor.
Step 3. Under the Network tab, observe the Total volume and you can know what programs are eating up your network resources.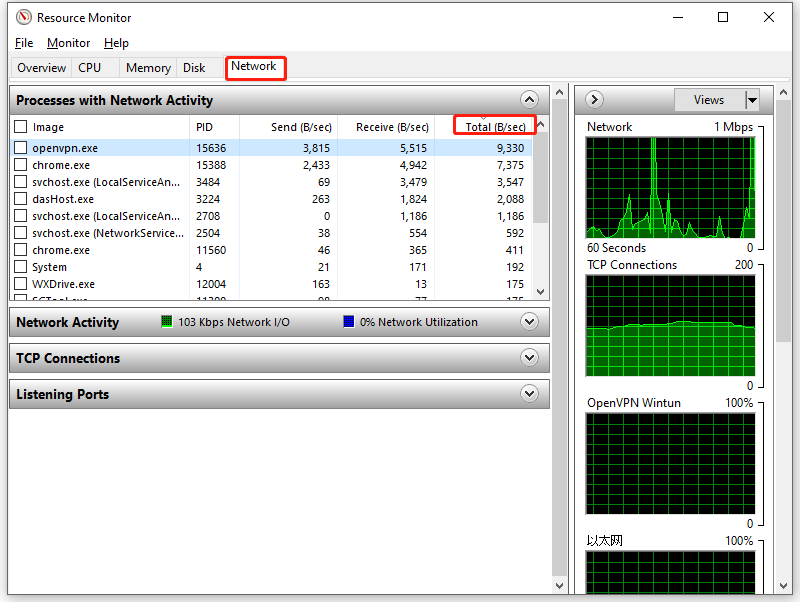 Step 4. Right-click on them one by one and choose End Process.
Fix 5: Change In-Game Settings
To reduce ping in Rocket League, you can change some in-game settings. Launch the game > go to Settings > Gameplay and then change the following settings:
Client Send Rate: High
Server Send Rate: High
Bandwidth Limit: High
Input Buffer: CSTS or STS
Fix 6: Flush Your DNS
The last resort is to flush your DNS and this operation will force your computer to fetch new address records hence lowering the ping in Rocket League.
Step 1. Press Win + S to evoke the search bar and type cmd to locate Command Prompt.
Step 2. Right-click on it to choose Run as administrator.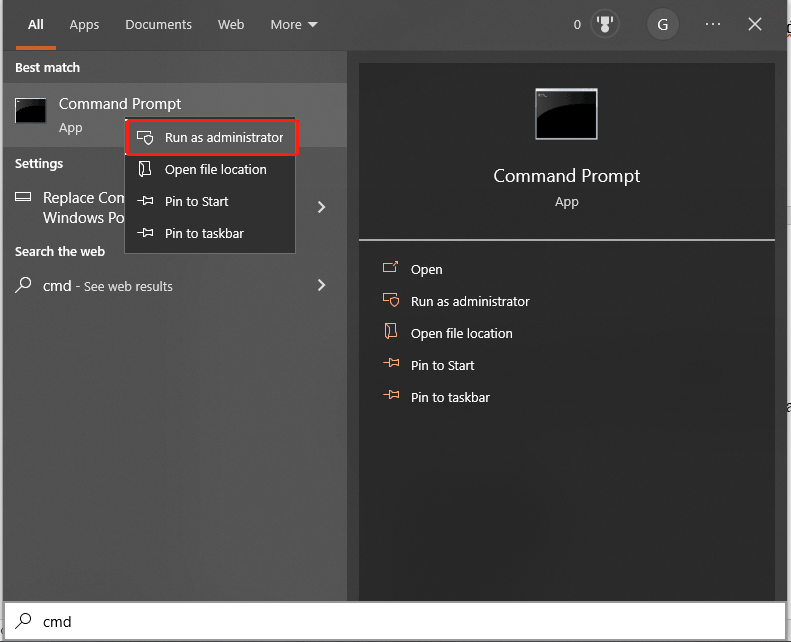 Step 3. In the command window, type the following command and hit Enter after each of them.
ipconfig /flushdns
ipconfig /registerdns
ipconfig /release
ipconfig /renew
netsh Winsock reset