In Windows 10, you can search for files through File Explorer. This post introduces how to get the most of the search tool in Windows 10 File Explorer. As for recovering deleted or lost files from Windows 10 PC or other storage media, you can a free data recovery program – MiniTool Power Data Recovery.
You can search the target file on Windows 10 using the Search tool on Windows Taskbar. You can also open File Explorer in Windows 10 and go the correct directory, click the Search Box to search the target file. Aside from basic file searching in File Explorer search field, you can do more with the Search tool in File Explorer. Check it below.
How to Use the Search Tool in Windows 10 File Explorer
Basic steps for file search in Windows 10:
You can click This PC on desktop to open File Explorer.
Navigate to the directory you want to search file within.
Click the Search field, and you will see a list of items of your previously searches.
You can type a character or two, type Enter, and it will search and list files and folders that match your criteria.
You can then find and click the target search result to open the file or folder.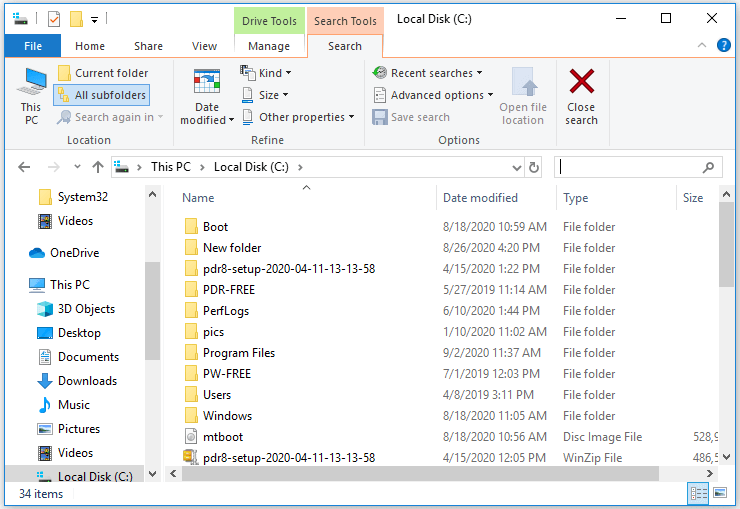 Advanced search in File Explorer:
You can click Current folder in the Search Ribbon in File Explorer to limit the location to current folder but no subfolders.
You can click All subfolders to search in the current folder and all subfolders.
To search files by date modified in Windows 10, you can click Date modified icon in the Ribbon, and search from Today, Yesterday, This Week, etc.
To search files by kind, you can click Kind icon, and choose a file category to search, e.g. document, video, etc.
To narrow the search results to a size range, you can click Size icon to select a file size range.
Click Other properties in File Explorer ribbon, and choose Type, Name, Folder path, or Tags. For example, you can select Type, and then in the search field, you can choose document, video, etc. as the specific type. Or you can select Name, and type a part of the file name to search.
To check past searches, you can click Recent searches icon, and click the search you want to run again.
To save the current search setting, you can click Save search icon.
Best Free Search Tools for Windows 10
If you need to search in Windows 10 often, you can also use some third-party Windows 10 search tools.
Some easy-to-use free search tools for Windows 10 include: Everything, Lookeen, Listary, GrepWin, AstroGrep, SearchMyFiles, Duplicate & Same Files Searcher, UltraSearch, FileSearchEX, etc.
Best Free File Recovery Software for Windows 10
If you can't find the target file in File Explorer on Windows 10, it might be lost or mistakenly deleted. To get back the file, you can utilize a top free data recovery software to easily achieve it.
MiniTool Power Data Recovery is a professional file recovery software for Windows. You can use it to easily recover any deleted/lost files from Windows 10 computer, external hard drive, USB, SD card, memory card, etc. Timely use this tool to recover lost or mistakenly deleted files. It can handle various data loss situations.