In File Explorer, when I select a file in the list, it used to highlight so you could tell, but since recently installing Updates, you cannot see what files you have selected.  This is a problem when copying multiple files since you cannot tell if you have all of the intended files selected or not.  How do I fix this?

answers.microsoft.com
As the user above said, File Explorer not highlighting selected files is an annoying issue. In this situation, you cannot confirm which files are selected, which can easily lead to duplicate files or file loss. Now let us see how to fix this issue.
How to Fix File Explorer Not Highlighting Seleted Files
Fix 1. Restart File Explorer
The easiest way to fix problems with File Explorer is to restart it in Task Manager.
Step 1. Right-click the Windows logo key and select Task Manager.
Step 2. Under the Processes section, find and right-click Windows Explorer to select Restart.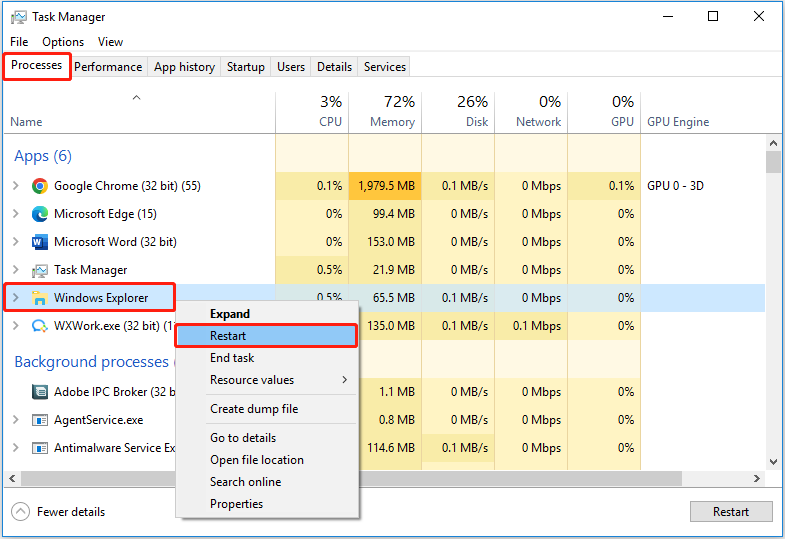 After that, you can open File Explorer to select some files again to check whether the issue has gone through.
Fix 2. Full Shutdown of Your Computer
To eliminate the problem that selected files are not highlighted in File Explorer due to a glitch in the Windows system, you can try to completely shut down your computer and restart it.
Step 1. Type cmd in the Windows search box and right-click Command Prompt to select Run as administrator.
Step 2. Select Yes in the UAC window.
Step 3. In the Command Prompt window, type shutdown /s /f /t 0 and press Enter.
Step 4. Reboot your computer and check whether the problem still exists.
Fix 3. Disable Fast Startup
After you shut down your computer, Fast Startup hibernates your computer instead of shutting it down completely. So, you can try to disable the Fast Startup feature temporarily to fix the "File Explorer does not highlight selected files" problem.
Step 1. Press Windows + R key combinations to open Run.
Step 2. In the text box, type powercfg.cpl and press Enter.
Step 3. Click Choose what the power button does in the left panel. Then click Change settings that are currently unavailable.
Step 4. Uncheck the checkbox next to Turn on fast startup (recommended), and then click Save changes.
Step 5. Restart your computer to check whether the problem has been fixed.
Fix 4. Change Your Background Color
Sometimes selected files and folders are not highlighted just because the highlighted color is the same as the Windows background color. In this situation, you can follow the steps below to change your background color.
Step 1. Press Windows + I key combinations to open Windows Settings.
Step 2. Click Personalization.
Step 3. Under the Background section, choose a color different from the current one.
Fix 5. Perform an SFC Scan
If all solutions above do not work, some of your system files might have been corrupted. In this situation, you can perform an SFC scan to scan and fix incorrectly corrupted system files.
For detailed information about SFC scan, you can read this post: Run System File Checker (SFC) to Repair Corrupted System Files.
Bonus Tip: Recover Accidentally Lost/Deleted Files in File Explorer
When selected files are not highlighted in File Explorer, you may lose your files or folders due to accidental deletion. Is there a way to recover deleted files? Absolutely yes.
Here the best data recovery software – MiniTool Power Data Recovery is recommended. It is an easy-to-use tool that can help you recover many types of files including emails, pictures, documents, videos, etc. in all file storage devices, such as internal hard drives, external hard drives, USB flash drives, CDs/DVDs, and more.
What's more, the free edition of MiniTool Power Data Recovery supports recovering data of no more than 1 GB for free. You can download and install it to have a try.
MiniTool Power Data Recovery FreeClick to Download100%Clean & Safe
Wrapping Things Up
Now you already know what should do when selected files are not highlighted in File Explorer. If you have any other good solutions to this problem, welcome to share them with us by leaving your comments in the comment area below.