Don't want to use Microsoft Edge to open a web page by default in Windows 11? How to configure Chrome as the default browser if you prefer this tool? To look for ways to set default browser in Windows 11, you can read this post on the MiniTool website.
Every Windows computer comes with default apps to meet your basic demands and these apps usually take up a little disk space. Compared to third-party programs, they offer better performance to your machine.
However, the default web browser – Microsoft Edge in Windows 11, a new operating system, is not popular with you.
Although it is based on Google's Chromium engine and brings many powerful features like password monitor, cross-platform support, extensions, vertical tabs, etc., you still prefer Google Chrome as the default browser since it is much faster and more fluid to use.
Fortunately, you can set Chrome as default browser in Windows 11. But unlike Windows 10, the task is not easy because you need to specify each link and file type that the new browser should open by default. Now, let's go to see the detailed guide.
How to Set Default Browser in Windows 11
Install Google Chrome in Windows 11
If you install Windows 11 just now, you firstly need to install the third-party web browser on your PC. Here, we take Google Chrome as an example. If you like Firefox, Opera, or other browsers, install one and then set it as the default browser.
Related articles:
Steps to install Google Chrome:
Run Microsoft Edge by clicking the icon from Windows 11 Taskbar.
Go to https://www.google.com/chrome/ and then click the Download Chrome button.
After downloading, install it on your computer.
Set Chrome as Default Browser Windows 11
In this part, we will show you two ways to do this task – via Settings and the browser itself.
Change Default Browser Windows 11 via Settings
Step 1: Click the Windows icon from the Taskbar to open the Start Menu and then click Settings. Also, you can open Windows 11 settings by clicking the Win + I keys.
Step 2: Click the Apps option from the left sidebar.
Step 3: Go to Default apps and scroll down to find and click Microsoft Edge. Or, you can search for Edge in the search box of Set defaults for applications and choose Microsoft Edge.
Step 4: Click on these extensions – .htm, .html, .mht, .mhtml, .pdf, .shtml, .svg, .webp, .xht, .xhtml, .FTP, .HTTP, .HTTPS, and more, and change the default browser to Google Chrome.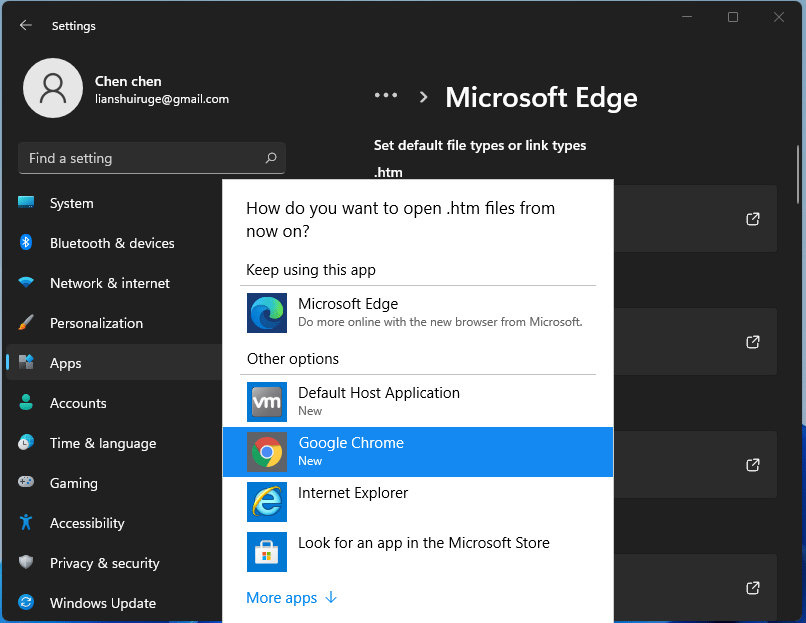 Tip: You need to configure the default web browser like Google Chrome for all the file extensions or link types. Since Windows 11 final version is not released officially, the way to set Windows 11 default browser may change in the final product.
Set Default Browser in Windows 11 via Chrome Itself
Launch Google Chrome on your PC.
Go to the three-dot menu and choose Settings.
Click Default browser and then choose Make default.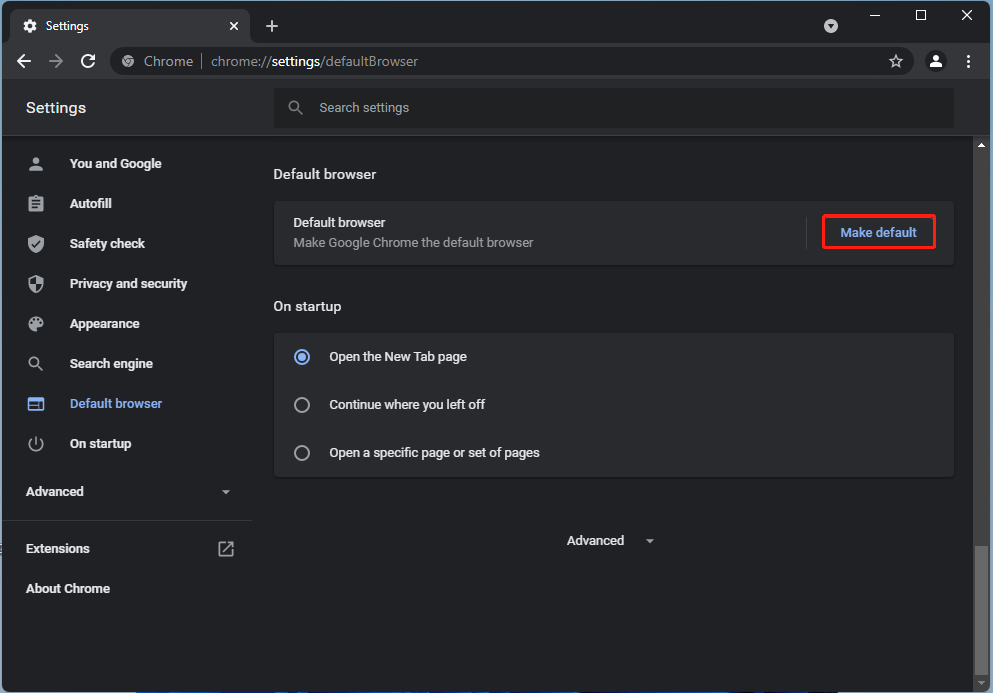 Final Words
How do you change the default browser? If you are looking for the answer to this question, this post is helpful to you. Follow the ways mentioned above and you can easily set Chrome as the default browser in Windows 11.