What is Snap Camera? How to get Snap Camera download for Windows 10/11 PC and Mac? How to install this free camera app for use in Zoom or Google Meet? If you need it, how to uninstall it from your computer? After reading this guide, you know much information given by MiniTool.
Overview of Snap Camera
Snap Camera is a free camera app that offers a fun way for you to interact with friends online through a video. It is designed for Windows 10/11 & Mac and allows you to express yourself with Lenses.
Snap Camera can bring very cool camera effects. If you choose this camera as your webcam device, you can bring the magic of Lenses to your live streams and video chats like Twitch, Google Meet, Zoom, Skype, etc. To sum up, this is an advanced funny camera tool for video calling or live streaming with family and friends.
Via Snap Camera, you can make a choice from a mass of different lenses and apply beautiful lens effects and filters including classic Snapchat lenses and new designs created by the user community via Lens Studio to videos.
If you want to try a video chat with Lenses on your PC now, start Snap Camera download and install it on the machine for use. Is Snap Camera safe to download? Of course, and let's go to see.
Snap Camera Download for PC (Windows 10/11/8.1/8/7)
Snap Camera Download for Windows 10/11
How to download Snap Camera if you are running a Windows 10/11 PC? The operation is very easy and you can directly get the latest version officially.
Step 1: Visit the official website of SC Download – Snap Camera.
On this page, you can see the system requirements of Snap Camera, for example, the operating system should be Windows 10 64-bit and above & macOS 10.13 and above. That's is, currently, the latest version is available to download for Windows 10/11 or macOS 10.13 and higher. Or else, this camera app is incompatible. Also, you can see the Snap Camera license agreement.
Step 2: Tick the checkbox to accept the license agreement and terms of service.
Step 3: To download Snap Camera for Windows 10/11, click the button of DOWNLOAD FOR PC. Then, you will get a .exe file. Currently, the latest version is Snap Camera 1.20.0.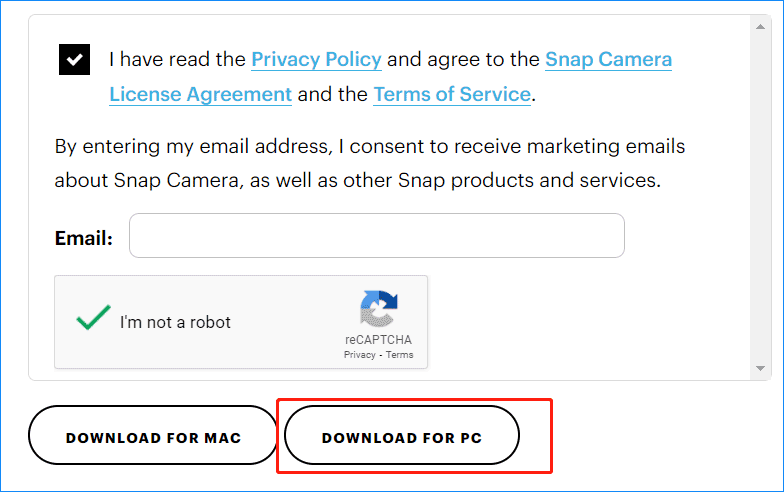 If you need to use this camera app on your Mac, click the button of DOWNLOAD FOR MAC to get a .pkg file for installation.
Snap Camera Download for Windows 7, 8.1, 8 (Old Versions)
If you want to use Snap Camera on your PC running Windows 8.1, 8, or 7, you can also safely and free download the Snap Camera app. Some Snap Camera old versions support these operating systems.
When searching for "Snap Camera download old version" in Google Chrome, you can find some websites and here we recommend uptodown or filehorse.com. To download Snap Camera for Windows 7, 8.1, or 8, versions like 1.12.0 and lower are available. Just click the corresponding link to download one version.
How to Install Snap Camera on Windows PC?
After getting the Snap Camera app download, now install it on your PC for Zoom, Google Meet, etc. See the guide on Snap Camera install:
Step 1: Double-click on the .exe file, click Yes in the UAC interface and then click Next on the welcome screen.
Step 2: Click Browse to specify a path to store the installation files. Of course, you can use the default path - C:\Program Files\Snap Inc\Snap Camera.
Step 3: Setup will create a shortcut in a Start Menu folder that is Snap Inc. by default and you can also change the folder by clicking Browse.
Step 4: Check the box of Create a desktop shortcut and click Next to continue.
Step 5: Click the Install button to begin the installation process.
How to Uninstall Snap Camera from PC?
If you don't want to use Snap Camera anymore, you can completely remove it from your Windows PC. To uninstall it, go to Control Panel, click Uninstall a program from Programs, right-click on this app and choose Uninstall.
How to Use Snap Camera?
If you download and install Snap Camera on your PC, how to use it? The operation is not hard and if you don't know, you can follow the official help document to get started. If you want to use Snap Camera in Google Meet or Zoom but don't know how to set up, follow the post - How to Use Snap Camera for Zoom & Google Meet? See a Guide!
Related post: 7 Ways to Fix Snap Camera No Available Camera Input
Bottom Line
That's the basic information about Snap Camera including download, install, and uninstall. If you need to experience the magic Lenses during video chats, get this camera app for use now.