Sony has launched a series of new flash memory card – Sony-G XQD memory card which is a good choice for camera users. And this post will list some detailed information about this Sony XQD memory card.
Sony-G Series XQD Memory Cards Are a Good Choice for Cameras
XQD card is a memory card format primarily developed for flash memory cards. And XQD memory card is designed for professional users, such as video recording or shooting sequence of images in your cameras burst mode.
In general, the XQD memory card provides fast read and write speeds together with high storage capacities. Thus, Sony has launched a new series of memory card – Sony-G XQD memory card. And in the following parts, we will list some specifications of this Sony memory card.
This Sony-G XQD memory card is available in 32GB, 64GB, 128GB, and 256GB, thus it enables you to save more files and data. It is compatible with XQD format Version 2. Both PCI Express Gen.2 and USB 3.0 interface are supported on a newly developed controller so that it can provide fast transmission speed.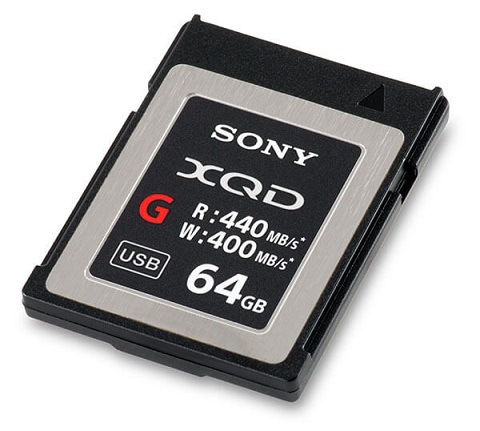 For the performance of this Sony-G XQD memory card, its read and write speed can respectively reach up to 440Mb/s and 400 MB/s which is enough fast for you to transfer some files and data. The 128GB model of this Sony-G XQD memory card allows up to 40 minutes of 4K XAVC Intra 422 60p recording with Sony's 4K video cameras.
Since the Sony-G XDC memory card has fast transmission speed, it is ideal for continuous raw bursting shooting with hi-end DSL Rs. In addition, it enables you to capture up to 200RAW images which 1.5-times more shots per burst than with Compact Flash cards. This Sony-G memory card also enables you to transfer files to a computer with fast speed.
With unique technology, Sony-G XQD memory card has increased the strength and durability. What's more, the recessed contact pins protect the Sony memory card from damage, dust and electrostatic, shock for reliable performance even in harsh environment.
The Sony-G XQD memory card is also shockproof, magnet proof, anti-static and resistant to breakage and offer performance even in extreme temperature. It also has the ability to resist the intense UV light and X-rays so that it will immensely deduce the chance of data loss.
In these aspects, it would be a good choice for photographers especially for those who are working outside.
Difference Between XQD and SD Card
There are many differences between XQD and SD Card memory card, such as speed, storage size, reliabilities and so on.
As a matter of fact, the XQD memory card has high transfer speed which can reach up to 400MB/s, while SD card can't come close to that. So the XQD memory card would be more suitable to those professional or specific needs users.
What's more, the storage size is another main difference between XQD and SD card. The storage size of the XQD memory card even can reach up to 1TB, while the maximum of SD Card is 512GB. So the XQD memory card is more suitable for those users who need large storage size to save more files.
XQD memory card is more reliable and shock-proof ability since they are thicker than the SD card.
Final Words
In conclusion, Sony has launched the G-series XQD memory card which has a high transmission rate and large capacity. And this Sony-G XQD memory card is more suitable for those professional workers, such as recording video or shooting sequence of images. And this post also lists some difference between XQD memory card and SD card.