This article offered by MiniTool company focuses on speeding up the torrenting speed of uTorrent. Especially, it is based on uTorrent 3.5.5 and Windows 10 Pro (64-bit) operating system. Yet, the methods mentioned below also apply to other versions of uTorrent like 3.4.5, 3.4.7, 3.4.9, 3.4.3, and 3.4.2; as well as other Windows OSes; some of them are appliable for macOS & Linux.
uTorrent is a lightweight torrent program developed by BitTorrent that uses minimal computer resources while providing services comparable to larger BitTorrent clients. Although uTorrent is much faster than other torrent software, there are still things you can do to make it even faster.
How to Speed up uTorrent Download Speed?
Download from Reliable Source with More Seeders
Downloading One by One
Close Other Unnecessary Processes
Change Maximum Download Rate
Set uTorrent Priority to High
Connect Directly to Router/Modem & Avoid Using WIFI
Enable UPnP Port Mapping
Add More Trackers
Adjust Disk Cache Settings
Set Bandwidth Allocation to High
Force Start the Download
Keep uTorrent Up-to-Date
Switch Internet Plan or Provider
Solution 1. Speed up uTorrent by Downloading from Reliable Source with More Seeders
The reason for downloading through torrent is comparatively faster than common download (directly from data center) is that every former downloader can be a seeder if they permit. That is to say, a user downloads a file on his computer via torrent and he allows others to access the file on the machine. Then, the file he downloaded becomes another seeder available online. More people do like that, more seeders of the file available.
Since there are many seeders on the Internet, when a further user tries to download this file, it will match the nearest and fastest one for him. So, he can quickly get what he wants with torrent.
Therefore, to choose the source with more seeders will improve the download speed of the target files. Yet, more seeders mean higher risks, you should make your own judgment and choose a reliable source with comparatively more seeders.
Tip: The leech is the number of people who are downloading the target file now and haven't finished it yet. A leecher, also called a peer, can also help with speeding up downloading. Yet, the number of leechers should be lower than the number of seeders. That is, the seed-leech ratio should be high.
Solution 2. Speed up uTorrent by Downloading One by One
Each download task in uTorrent will occupy a portion of the bandwidth. When more than one task is downloading at the maximum speed, all tasks will take a longer time to complete than only download each of them.
So, it is recommended to download those files one by one. You can, first of all, download the file you need most and then the others. Therefore, you can make use of the most urgent file and download the other ones at the same time. If you agree, you should make a change in your uTorrent settings.
Step 1. Click Options on the upper left menu of the uTorrent application and select Preferences in the drop-down menu.
Step 2. In the pop-up window, choose Queueing in the left panel.
Step 3. Then, in the right area, set the "Maximum number of active downloads" to "1".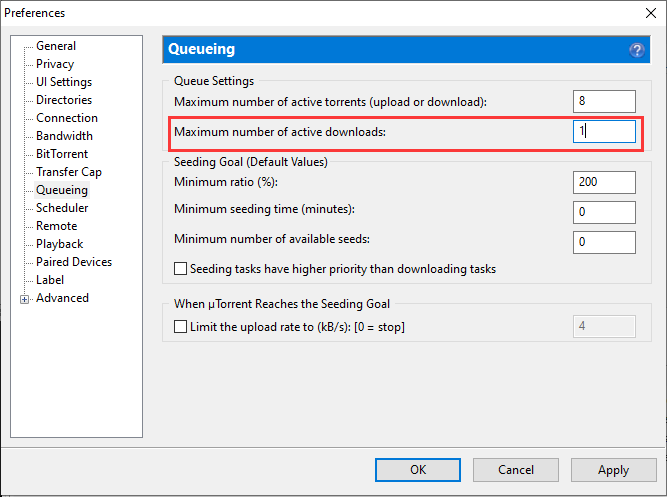 Step 4. Click Apply and then OK to save the changes.
Also read: How to Fix uTorrent Not Responding on Windows 10/11
Solution 3. Close Other Unnecessary Processes
Just like the above solution, torrent only one task can improve the downloading speed. similarly, operating only a few processes will save much bandwidth. Therefore, close as many processes as you can on your computer while you are torrenting will help to speed up uTorrent downloads PC, especially the processes that are not needed currently. You can do this in Task Manager.
Solution 4. Change Maximum Download Rate
Also, you can change the maximum download speed to speed up your downloads.
Step 1. Double-click on the download task.
Step 2. In the pop-up window, set the "Maximum download rate" to "0". It means to set the max download speed to unlimited.
Step 3. Click OK to complete.
Or, you can go to Preferences and move to the Bandwidth tab. There, set the "Maximum download speed rate" to "0" (unlimited speed) for all further downloading.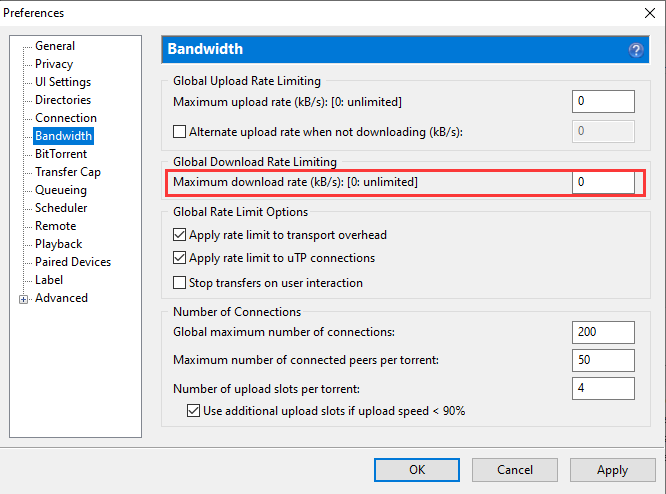 Tip: Change the "Global maximum number of connections" from the default 200 to a proper number might also speed up downloads on uTorrent. So as the "Maximum number of connected peers per torrent", "Number of upload slots per torrent", "Maximum upload rate", etc.
Related article: uTorrent Not Downloading or Connecting to Peers? Try These Fixes
Solution 5. Set uTorrent Priority to High
Another way that may speed up uTorrent downloading is to set its priority to high.
Step 1. Right-click on the Taskbar and select Task Manager.
Step 2. In the Task Manager window, go to the Details tab.
Step 3. In the Details tab, find uTorrent, right-click on it and choose Set priority > High.
Finally, you should see speed improvement when downloading with uTorrent.
Solution 6. Connect Directly to Router/Modem & Avoid Using WIFI
Lots of signals within the WiFi area will influence the connection of wifi. Thus, it will interfere with the Internet speed and the speed of uTorrent downloads. Therefore, you are recommended to connect your computer directly to the modem or router instead of using WIFI.
Tip: Restart your router or modem might also improve your Internet speed, also speed up uTorrent download speed.
Solution 7. Enable UPnP Port Mapping
UPnP port mapping enables uTorrent to bypass the firewall and directly connect to the seeders. So, you can get the best possible data transfer speed for downloading files. Then, how to enable UPnP port mapping? Just follow the below guide.
Step 1. Navigate to Options > Preferences.
Step 2. Select Connection in the new window.
Step 3. Check "Enable UPnP port mapping" in the Connection tab.
Step 4. Click Apply and then OK to finish.
Tip: Also, you are recommended to check "Add Windows Firewall exception". Yet, you are not recommended to manually close your Windows Firewall for your machine.  
Solution 8. Speed up uTorrent with Trackers
Add More trackers will lead to a superb speed if the tracker has more seeds. Anyhow, you can try to find out whether this method can help in your situation or not. Right-click on target download and select Properties > Trackers. Then, paste the trackers you find elsewhere.
Solution 9. Adjust Disk Cache Settings
The following guide teaches you how to get rid of the disk cache of uTorrent.
Step 1. Go to Options > Preferences.
Step 2. Expand the Advanced option in the left menu of the pop-up window.
Step 3. Click Disk Cache in the submenu of Advanced.
Step 4. In the Disk Cache tab, tick "Override automatic cache size and specify the size manually" and set its size from the default 128 MB to a size that suits you.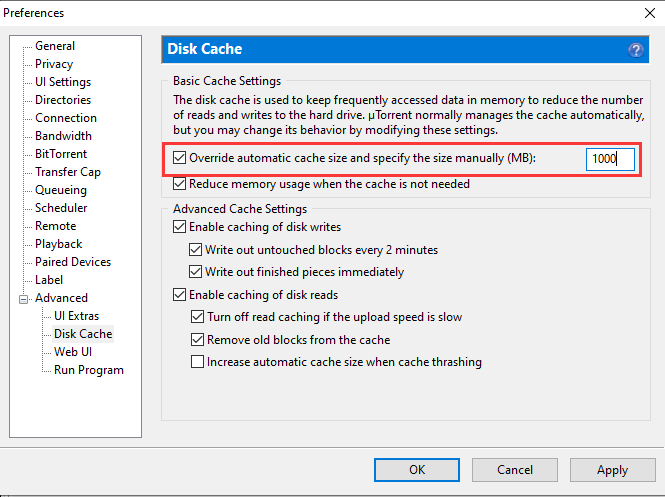 Step 5. Click Apply and OK to exit.
Moreover, to clear the cache on your computer hard disk drives is also helpful to speed up torrenting uTorrent. 
There are other settings that you can set to increase the downloading speed of uTorrent. For example, in the General Preferences, enable "Append .!ut to incomplete files", "Pre-allocate all files", and "Prevent standby if there are active torrents".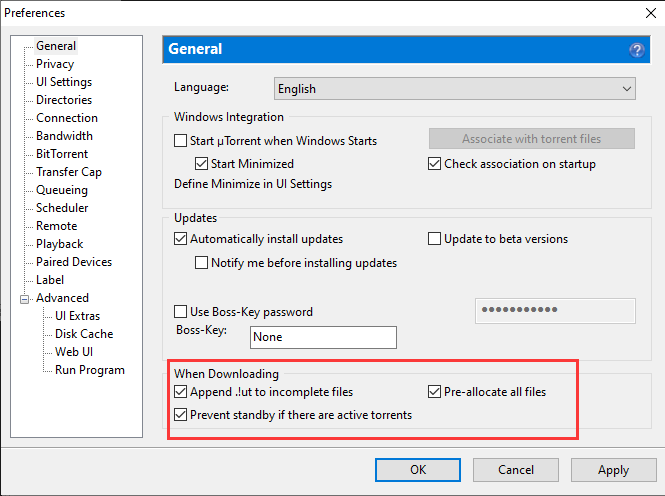 Solution 10. Set Bandwidth Allocation to High
Right-click on the target torrenting task and select Bandwidth Allocation > High.
Solution 11. Force Start the Download
Restart is always a way to fix problems like "not working" and "slow". Also, restart may help to speed up uTorrent downloading. Just right-click on the download task and choose Force Start. After restarting, the downloading speed may fly up.
Solution 12. Keep uTorrent Up-to-Date
Sometimes, the outdated version can also drag the download speed down, while the newest version may add new technology to improve the downloading speed. therefore, it is recommended that you always keep your program up-to-date.
To check whether you are running the latest uTorrent or not, just click Help on the upper left menu and choose Check for Updates.
You may also like: Top 10 Torrent Players You Need to Know
Solution 13. Switch Internet Plan or Provider
If you still experiencing bad downloading speed while torrenting, you may consider subscribing to a higher Internet speed plan of your current Internet provider. Or, you may even switch your Internet service to another company to get better bandwidth.
This will probably cost you more money. Yet, if you think it worth to do so, just do it!
OK, those are all the tricks I'd like to share with you to speed up uTorrent, not only for downloading but also for uploading. Hope you can enjoy them.
also read: