Have you installed Windows 11 on your old device but find the machine runs slowly? You come to the right place and you can find some methods to speed up Windows 11 from this post offered by
MiniTool
. After trying them, the machine can run fast and Windows 11 performance improves.
Windows 11 Computer Runs Slowly
Windows 11, a brand new operating system, has been released to the public. Many users are curious about this new OS and want to install it on their machines. Perhaps you are also the one among them. Before the installation, Windows 11 compatibility check is necessary.
If your device is compatible with Windows 11, you may install this system. But, you may find the new OS is quite laggy and very slow to respond on your computer, especially on old machines.
But fortunately, you can optimize Windows 11 to make it faster and improve performance via some tips. In the following part, we will show you how to do this work.
How to Speed up Windows 11 for Better Performance
Turn Off Visual Effects
Windows allows you to select the settings you want to use for the performance and appearance of your computer. By changing some settings about visual effects, you can make Windows 11 faster.
Step 1: Type advanced to the search box and click View advanced system settings.
Step 2: Click Settings from the Performance section.
Step 3: Choose Adjust for best performance and then check the boxes of Show thumbnails instead of icons and Smooth edges of screen fonts.
Step 4: Click Apply and then OK. This can reduce some visual effects but your Windows 11 computer can run faster without any lag.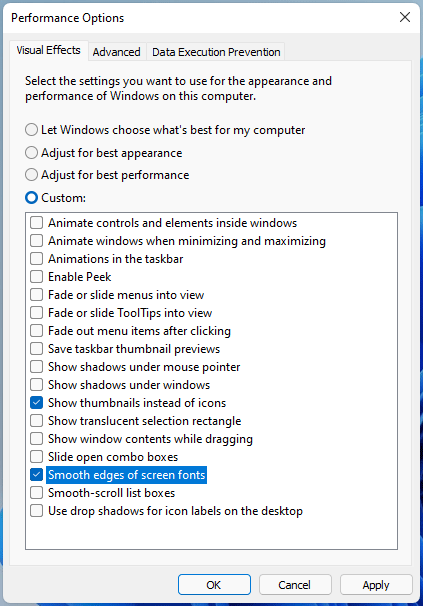 Disable Startup Apps
If you have many apps to run at startup, the PC can take much time to boot up. To speed up Windows 11, disabling startup apps is a good option.
Step 1: Press Win + I to open Settings and choose Apps from the left sidebar.
Step 2: Click Startup and disable the toggle for apps that you don't want to run at startup.
Tip:
In addition, you can disable startup programs via Task Manager. Just press
Ctrl + Shift + Esc
to
open Task Manager
, go to
Startup
, choose one app and click
Disable
.
Activate Storage Sense
Windows 11 continues using the Storage Sense feature of Windows 10. It helps to monitor the storage of a computer and automatically delete junk files like Recycle Bin items, app files, and more to free up space.
To improve Windows 11 performance, you should make sure this feature is enabled.
Step 1: Click the Windows icon and choose Settings.
Step 2: Go to System > Storage and turn on Storage Sense.
Step 3: Configure cleanup schedules in the Storage Sense interface.
Related article: 10 Ways to Free up Disk Space in Windows 10
Tip: Besides, you can delete temporary files to speed up Windows 11. In Settings, go to System > Storage, click Temporary files and then select all the unwanted files, then click Remove files.
Turn Off Notifications
Constant notifications may slow down your computer. Like the old versions of Windows, Windows 11 allows you to disable notifications.
Step 1: Open Windows Settings and go to System > Notifications.
Step 2: Turn off notifications from unnecessary apps. You had better not disable notifications for important apps.
Switch to Performance Power Plan
This is another way to improve Windows 11 performance if you are using a laptop. Follow the steps below:
Step 1: Type power plan to the search box and click Choose a power plan.
Step 2: Go to High Performance and click Change plan settings.
Step 3: Click Change advanced power settings and expand Processor power management, then set the minimum and maximum processor state to 100%.
Final Words
Windows 11 runs slowly on old machines? How to speed up Windows 11? Try these tips above to easily make Windows 11 faster and improve performance. If you have other suggestions for optimizing Windows 11, let us know.