Spotify is a world famous app for media streaming. People like to use it to upload and share digital music. In general, connecting and using Spotify app are simple operations. But some people said they encountered trouble while connecting to the internet. Hence, MiniTool offers several useful ways to help them troubleshoot Spotify app not working,
As you know, Spotify is one of the most popular music streaming services that can work on all your devices. It offers a good way for people in every corner of the world to listen to different kinds of music and get to know new artists.
Why Is Spotify Not Working
However, you may find the Spotify app not working all of a sudden, just like any other apps. This is very frustrating and various reasons should be responsible for Spotify not working.
Attention:
You're advised to get an amazing recovery tool for recovering lost files in time on your Windows devices.
Causes of Spotify Not Working
Some of the most possible reasons why isn't Spotify working include:
Internet connection issue: there's problem with the internet connection on your device. The system will tell you the issue and let you try again.
App bugs: some known/unknown bugs are found on Spotify. They can generally be fixed by updating the app to the latest version.
Constant buffering of songs: your favorite music may not play since it is buffering all the time.
Bluetooth connection issue: the problem will also occur if the Bluetooth you used to connect to Spotify is not working.
Server down: if your Spotify says no internet connection, you should also suspect that the Spotify has stopped working and tens of thousands of users are involved.
And so on.
A Firewall May Be Blocking Spotify: How To Fix It Properly?
How to Fix When Your Spotify Doesn't Work
Everyone encountering the Spotify not working/Spotify not connecting issue shouldn't get anxious because there are several useful solutions to solving it yourself.
#1. Restart Your Device
Press the power down button on your device.
Wait for a few seconds.
Press the button to start the device again.
Open Spotify again.
Restarting device is a super easy but effective way to try when you have problems with any apps and programs on it.
#2. Logout & Login Again
How to log out on computer:
Open the Spotify app.
Look at the top-right corner of the app.
Click on the down arrow and select Log Out.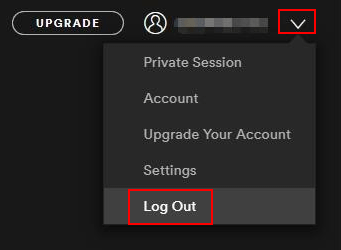 How to log out on mobile or tablet:
Press Home on your mobile/tablet.
Select Settings.
Scroll to the button to see the Log Out button and click it.
Click on the Log Out button again in the prompt window to confirm.
How to log out on web player:
Navigate to your profile icon at the bottom of the menu on your left side.
Select LOG OUT from the menu.
#3. Set the App Online
How to set online on Android phone:
Open Settings.
Look for the Offline Mode option and uncheck it.
How to set online on iPhone:
Open Settings on your iPhone.
Look for the Offline Mode or Airplane Mode option and turn it Off.
#4. Reset Network Settings
If the settings for your network connections are not correct, your Spotify won't connect. You may try to fix the problem by checking the connections and resetting the network.
How to reset network on Android phone:
Open Settings.
Select System or General management.
Click Reset or Reset options.
Choose Reset network settings.
Confirm your choice.
How to reset network on iPhone:
Open Settings.
Select General.
Scroll down to the bottom.
Choose Reset.
Click Reset Network Settings.
Enter your password and confirm.
#5. Check Spotify Status
The server of Spotify could down sometimes and this may affect a lot of users. If you doubt that, please go to check the status when Spotify won't connect to internet. You should visit the DownDetector official website to check. You can also visit the Status Twitter for live updates.
#6. Update the Spotify App
As mentioned earlier, your Spotify may be not working/not connecting due to some bugs in the app. So there's a quick fix for it: updating the app to the latest version. The steps to update Spotify on different devices are not the same. Please go to update it like updating any other apps.
How To Update All Apps On Your Android Devices?
That's all about why is my Spotify not working and how to deal with Spotify app not working properly.