As a data storage device, SSD is gaining the popularity of Windows users all over the world due to its fast read-write speed. This year, SSD prices continue to fall. If you haven't upgraded your hard drive to SSD, now it's your turn. This page will show you SSD price trend as well as how to perform disk upgrade.
SSD Prices Fall 2018, Even 2019
SSD is drawing user's attention all over the world since it has many advantages such as fast read-write speed, no noise, lower consumption, portability, etc. Due to this, many of you may plan to use an SSD as the system disk so that Windows can start up very quickly.
But as to SSD prices, from the second half of 2016 to 2017, the prices of SSD solid-state drives skyrocketed. This makes many users who want to upgrade their computers postpone the operation.
When will SSD prices drop? This year (2018), the price has been gradually reduced, which is undoubtedly good news for users who did not upgrade to solid-state drives last year.
Let's take an example. On Amazon website, search for a Samsung SSD 1TB, you will find the latest price is 229.94 dollars. Namely, this kind of SSD is only about 0.23 per GB ($229.94/1000GB). Even the price of some SSDs reaches 1 dollar per GB.
Besides, you can look at the price of the Samsung 860 EVO 500GB 2.5 Inch SATA III Internal SSD on Amazon via camelcamelcamel website. And the price has been on a steady downward trend in 2018.
See the following figure, the top price is $169.99, but it reaches $72 after Nov 13. The decrease is up to $97.99.
Other popular drives have the similar decrease. In the last few months, the WD Blue 3D NAND 500GB PC SSD has dropped to 69.99 dollars.
As for consumer 2.5-inch SATA SSDs, their prices also have dropped as substantially, and some SSD prices plunge even further. Although m.2 and NVMe devices have historically been resistant to price decreases, now they are showing the same solid-state drive price trend.
Let's see Crucial Mx500 1TB NAND SATA M.2 SSD. From the following figure, you see its highest price is &249.99, but since Nov 25 the price has dropped to the lowest $134.99.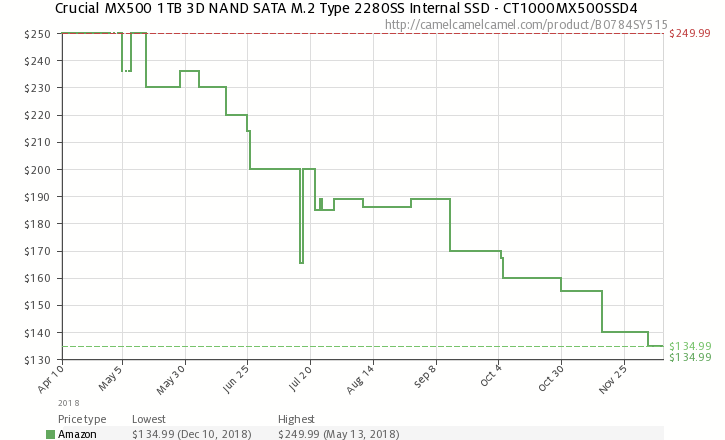 SSD Prices Drop 2018: Purchase an SSD and Upgrade Disk to SSD
SSD can provide faster, more energy efficient and more secure data storage experience. The improvement of read and write speed, especially the startup speed is obvious. Besides, the game loading speed is faster, and the response ability and seamless multi-task processing capacity are stronger.
SSD prices fall, and now here is the chance for you to upgrade your machine to enjoy those advantages.
Product Name
Intel 660p Series (1TB) SSD
Corsair MP500 (480GB) SSD
Samsung 860 EVO (250G) SSD
Samsung 970 EVO NVMe (500GB) SSD
Adata SU800 SATA (1TB) SSD
Brand
Intel
Corsair

Samsung

Samsung

Adata
Capacity
1TB
480GB
250GB
500GB
1TB
I/O Speed
Up to 1,800MB/s
Up to 3,000MB/s
Up to 550MB/s
Up to 3500MB/s
Up to 560MB/s
Pros
Very good NVMe performance most of the time.
Extremely affordable.
5-year warranty.

Black printed circuit board.
Copper strip technology.
High-Performance.
NVMe-Enabled.

Good overall performance.
Outstanding endurance rating.
Samsung Magician software.
Hardware-Based encryption.
Package with DRAM cache and cloning.
5-year warranty.

Affordable (relatively) NVMe drive.
Excellent sequential reads
Available in up to 2TB capacity.
Almost 50% shorter file transfer times.
5-year warranty.

Adata SSD Toolbox.
Acronis Data Migration.
Fair pricing.

Cons
Slows to 100MBps writing during very long transfers.

High initial pricing.
Low warranty terms.
Lack of progress for the E7 controller.

Expensive.

Slows to just over 600MBps after cache is exceeded.
Occasionally trails 960 Pro.
Lower capacities could be cheaper.

Micron 384Gbit 3D TLC NAND.
Low throughput.
High latency.
Low notebook battery life.

Rating Star
Buy
View on Amazon
View on Amazon
View on Amazon
View on Amazon
View on Amazon
It's not hard to install a solid-state drive by following the user's manual and SSD installation guide. But firstly you should know the interface type of the hard drive in advance, and then select the appropriate solid-state drive according to the interface. Next, open the computer and find the slot to install it.
After finishing the installation, if you want to upgrade disk from HDD to SSD, how can you perform this operation without reinstalling Windows?
To migrate Windows to SSD without reinstalling OS or upgrade disk to SSD, the best way is to use professional hard drive cloning software. Here, MiniTool Partition Wizard is strongly recommended since it offers you two features including Migrate OS to SSD/HD and Copy Disk. With this freeware, disk upgrade or system migration can be easily completed.
Why Do SSD Prices Continue to Fall?
Today, buying an SSD is far more cost effective than it used to be even if you purchase a large SSD more than 1TB. This trend indicates that SSD prices will continue to fall or drop in the latter half of 2018. This is caused by competition in the market and oversupply of the NAND Flash memory chips used in the manufacture.
According to the report, the main culprit is smartphones, especially a lack of growth in that sector. Due to the lower-than-average differentiation between new models and old, replacement demand is sluggish. And annual shipments expectedly can only meet, rather than exceed last year's. As a result, the ever-expanding NAND supply is left with more stock than needed.
Namely, because of that, prices have dropped and major components like SSDs have been selling at lower prices.
Even after the first half of 2019, there are many signs indicate that NAND chips and SSDs are cheaper. Reportedly, Toshiba will start operating a new factory in 2019. Intel has become the first company to mass produce QLC SSDs, offering opportunities for cheaper high-intensity NAND memory chips.
With cheaper and denser chips produced in larger volumes, SSDs will be cheaper with a higher storage size.
Final Words
Now SSD prices fall. Then, you can purchase an SSD and upgrade your computer disk to SSD. After upgrading the hard drive to SSD, the speed and performance of your computer will be greatly improved.
Updated: SSD Prices 2020
SSD prices fall in 2018-2019. The prices of NAND and DRAM have dropped to an all-time low in 2019, leading to cheaper SSDs and memory that you have never seen before. But now in 2020, this appears to end.
According to a report from DigiTimes, NAND flash prices will rise by up to 40% in 2020. This report mainly comes from memory chipmakers, presumably some biggest vendors including Samsung, Micron, etc.
If this is real, the prices of products based on NAND flash memory like SSDs can rise. The reasons for this may be the power outage at Samsung that leads to damage worth millions of dollars, or a simple supply-demand ratio, or an inefficient supply of materials used by NAND flash production.
But if you now purchase an SSD, it is a good time. In this post, we have shown you some and just go to get one based on your needs.