This essay delivered by MiniTool official website explains why you get iCloud popups and gives you the possible reason. More importantly, it provides several solutions that can fix the problem and turn off the annoying notifications.
Why iCloud Alert Pops Up?
For every iCloud user, Apple provides 5GB of free storage space. Yet, in today's information age, most people easily fill up this 5GB free cloud space in a short period. If you have reached the limit or are going to reach the restriction, iCloud will send you notifications periodically warning you about insufficient space.
It is recommended to take action at the beginning of the warning message. Yet, many users choose to ignore it at the start. Then, they will face various issues especially the endless notifications that may distract their attention.
Therefore, how to stop iCloud pop up on PC Windows 11? Many users may ask. Let's see!
How to Stop iCloud Storage Pop up in Windows 11?
Windows 11 provides full control on application notifications and you can quickly turn off iCloud pop-up just in a few clicks.
Navigate to Windows 11 Settings > System > Notifications.
In the right panel, under the Notifications from apps and other senders section, scroll down the list to find iCloud Services, and switch it off.
Finally, you have successfully disabled the iCloud pop up on Windows 11. Yet, it is still possible that the iCloud popup will reappear after the computer restart. If you want to permanently stop iCloud alerts and notifications from other apps, you can directly switch off the Notifications (Get notifications from apps and other senders) once and for all.
However, after doing that, you won't receive any message not only from the iCloud service but also other services and apps including Microsoft Windows official programs. So, think twice before you do that.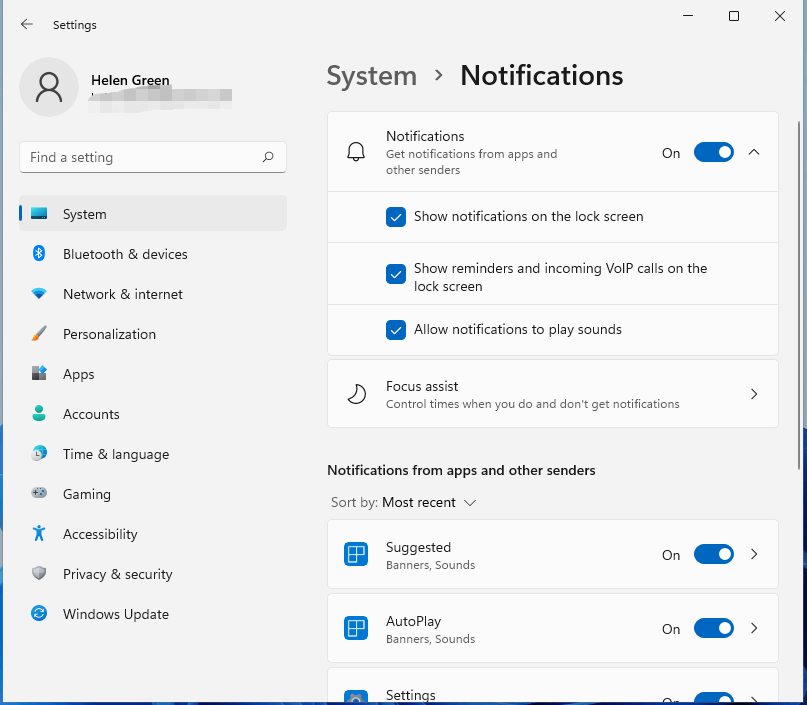 There are other reasons that make iCloud send notifications to you. For a different reason, the fix is unlike.
#1 Free up iCloud Space
Another way to disable iCloud storage pop-up is to free up your iCloud space to make more free space. Then, it will automatically stop warning you about low free space.
#2 Upgrade iCloud Storage Plan
The second way to stop the iCloud storage popup is to upgrade your storage plane and pay for more storage space.
#3 Verify Apple ID Payment Details
If you already upgraded your iCloud storage plan and you have much free available cloud space, it may be a notification related to payment details. If so, you can try to verify your credit card details to avoid the popup.
#4 Sign out and Sign in Again to iCloud
Sometimes, iCloud keeps popping up to ask for a user password. If so, one solution is to log out of your iCloud account and log in again.
#5 Run iCloud as Administrator
If you open your iCloud by just double-clicking its icon, it may pop up over and over again asking for password verification for iCloud for Windows 11 does not have admin rights. If you are in this situation, you can easily prevent receiving such notifications by simply opening iCloud as an administrator.
#6 Check for iCloud Service Outage
If you are prevented to get into iCloud, iCloud will pop up warning about a service outage. Usually, service outage is caused by some problem on Apple's end. If this is the case, usually, you have nothing to do but wait for Apple to solve the problem.
Rarely, the problem cause is on your side like a virus attack. To figure out whether an iCloud service outage is caused by your side or Apple's side, you can go to Apple's system status page to check. If the iCloud service is tagged down there, it means the problem is on Apple's side.
#7 Reinstall iCloud for Windows 11
Reinstallation is always a possible solution to most problems. This is also true to deal with an unexpected popup of iCloud. Just uninstall your current iCloud app, download its newest installation file from its official website, and reinstall iCloud.
Windows 11 Assistant Software Recommended
The new and powerful Windows 11 will bring you many benefits. At the same time, it will also bring you some unexpected damages such as data loss. Thus, it is strongly recommended that you back up your crucial files before or after upgrading to Win11 with a robust and reliable program like MiniTool ShadowMaker, which will assist you to protect your increasing data automatically on schedules!