What Is TikTok?
TikTok, known for Douyin in China, is a popular Chinese video-sharing app owned by ByteDance. It offers videos, music, and live streams.
You can get TikTok downloaded on PC or mobile and use it to make a variety of short-form videos from 15 seconds to 3 minutes, and share the videos with people all over the world. You can use it to make dance, music, comedy, education videos, etc.
TikTok also offers various video editing effects, filters, music, etc. to let you create your original videos and capture your daily moments.
You can also find and watch endless stream short videos on TikTok uploaded by other people. You can skip what you don't like and engage what you like on TikTok.
Douyin was originally released in September 2016 in China. TikTok was launched in 2017 for Android and iOS and quickly gains popularity in East Asia, South Asia, Southeast Asia, the United States, and some other counties.
TikTok is free to download and use. But it offers in-app purchases. It supports 40 languages. You can download TikTok in your preferred language.
How to Download TikTok on Windows 11/10 PC
Way 1. Get TikTok from its official website
Open your browser and go to TikTok official website.
On the web version of TikTok, you can click Get app at the right-bottom corner.
Click Get TikTok for desktop.
Click the Install button in the pop-up "Install app?" window to download and install the TikTok app for free on your Windows 11/10 computer.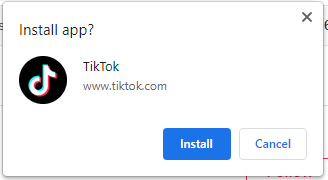 Way 2. TikTok download from Microsoft Store
You can also click Start menu on your PC and click Microsoft Store to open Microsoft Store app on your Windows 11/10 computer.
Search TikTok in Microsoft Store. Click Get button and sign in to your Microsoft account to download TikTok on PC or laptop.
How to Download TikTok App on Android/iPhone
For Android users, you can go to Google Play Store, search for TikTok app, and click the Install button to instantly download and install TikTok app on your Android phone or tablet.
For iPhone users, you can go to App Store, look for TikTok app, and get TikTok downloaded for your iPhone or iPad.
TikTok Web Version
Instead of downloading the TikTok app on your device, you can also use the TikTok web version in your browser to watch trending videos. It also allows you to upload videos. But it doesn't let you make videos using your webcam.
How to Use TikTok to Make and Edit Videos
After you install TikTok app for your Windows 11/10 PC or Android/iPhone, you can open it to watch popular videos or make and share your videos.
You can click "+" icon at the bottom of TikTok app, and start to capture a video. You can also click Upload to upload your local videos or photos, then edit them to make a personalized video. You can add effects, filters, music to the video, change the speed of video, etc.
If you are also interested in TikTok, you can go to get TikTok downloaded for PC or your mobile device now to experience it. Please be aware that the TikTok app is only available in some countries now.