If you are using a low-end PC that cannot meet the system requirements of Windows 11, you come to the right place since you will have a lightweight Windows 11 – Tiny11 23H2.
MiniTool
will show you what it is and how to get Tiny11 23H2 ISO for the installation.
What Is Tiny11 23h2
Since Windows 11 system requirements are high, many low-end PCs cannot meet these demands. To break this limitation, some of you may choose to bypass system restrictions to install it. In addition, some third-party developers devote themselves to rolling out a custom Windows 11 lite system and Tiny11 is a famous one given by NTDEV. After more than 6 months, NTDEV releases Tiny11 23H2.
On Twitter, you can see the related information.  Like Tiny10 23H2, H2 means a release on the second half of 2023 (actually, there is no Windows 10 23H2). Tiny11 23H2 is based on Windows 11 22H2 rather and you can upgrade to 23H2 without problems via Windows Update since it is a simple enablement package.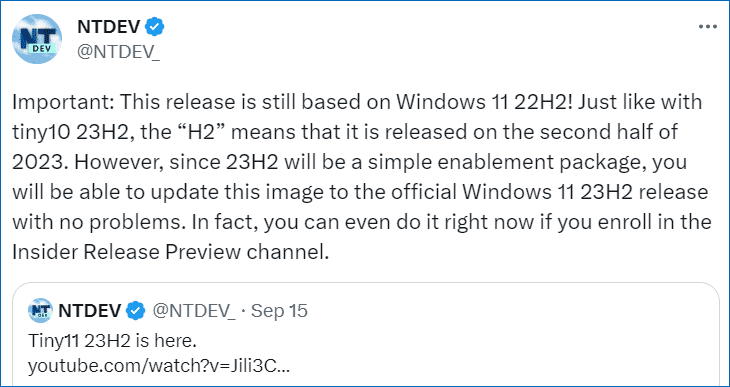 This new Windows 11 ISO is rebuilt using the open-source OSDBuilder tool with some additional tweaks. This can ensure compatibility with most Windows components, apps, and updates so that they can be loaded afterwards even if they don't exist in the clean install by default. Then, you will get a modern and reliable OS that takes up smaller disk space than regular Windows 11.
Besides, Tiny11 23H2 fixes some intractable issues, for example, removing some rarely-used components like Tablet PC Math and adding the Xbox Identity Provider support to play games downloaded from the Microsoft Store and use Xbox-related services.
Notes Before Downloading
This lightweight Windows 11 version isn't activated since NTDEV offers a modification of Windows 11 rather than a pirated Microsoft operating system.
Besides, the ISO file doesn't come from the official Microsoft. You need to consider the potential privacy issues before downing ISO and trust the developer when performing computing tasks in Tiny11. Or you can use the OSDBuilder script to create your own Tiny11 and you can follow the how-to video in https://www.patreon.com/posts/tiny11-23h2-of-89279739.
What's more, remember to back up your important files in advance. This is because the installation of Tiny11 23H2 is 100% clean. That is, it erases all the contents in the original Windows including the system and all the saved disk data.
To do this thing, we strongly recommend using Windows backup software like MiniTool ShadowMaker. It allows backing up data and creating a system image. Just get it via the button below and follow the guide – How to Backup Files on Windows 10/11 to finish the file backup.
MiniTool ShadowMaker TrialClick to Download100%Clean & Safe
Tiny11 23H2 Download ISO for Installaiton
So, how to free download Tiny11 23H2 ISO?
Step 1: Visit the website from Internet Archive – https://archive.org/details/tiny11-23h2.
Sep 2: Click ISO IMAGE under the DOWNLOAD OPTIONS section to get Tiny11 23H2 ISO.
Tips:
This ISO is 4.2GB and currently, it is only available to install on the PC with the x64 architecture. According to the developer, an ARM64 version will be released soon.
After getting ISO, now follow the steps below to install Tiny11 on a low-end PC without a TPM, without Secure Boot enabled, or with less than 4 GB of RAM.
Step 1: Download Rufus, open it, and connect a USB flash drive to the PC.
Step 2: Choose the ISO file you have downloaded, set GPT as the partition scheme, and start to burn ISO to this USB drive.
Step 3: Restart the PC from the USB drive and configure some preferences, as shown below.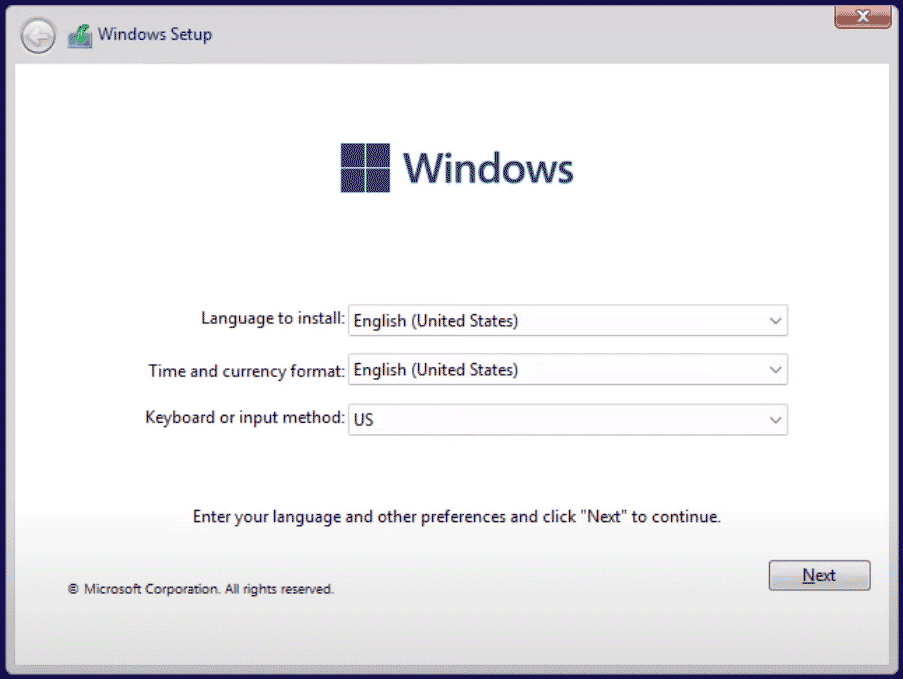 Step 4: Finish the installation by following the on-screen instructions.
Final Words
That's the overview of Tiny11 22H3 and how to download its ISO & install it on your PC. If you need, just follow the guide here to get this lightweight Windows 11 for a good user experience.