It's easy to encounter a low disk space situation after you have used a hard drive for a long time and keeps saving data onto it. Hence, it will become a necessary task to clear the disk space especially when the left free space is not enough to save new data. In this post, several ways will be introduced to help you get more free disk space.
Do You Want to Clear Disk Space
What is disk space?
Disk space is also known as disk storage or storage capacity; it actually means the maximum amount of data that a disk/drive can hold. The disk space is often measured in units of MB (megabytes), GB (gigabytes), and TB (terabytes).
However, though the multi-terabyte options are provided to many hard drives now, it won't take us a long time to fill up the drive with tons of files, photos, videos, games, and programs. This situation is even truer with a solid-state drive (SSD). The performance of disk will be decreased when the space left on it is too small, so it's necessary to clear disk space to improve the situation.
Your SSD Runs Slow On Windows 10, How To Speed Up?
You'd better back up your files (at least the important ones) with MiniTool Software before you start to clear drive space.
How to Free up Disk Space Windows
Definitely, it becomes an urgent thing to clear up disk space when you see the prompt: you are running out of disk space (Low Disk Space). Even if there is a lot of free space on the disk, it's good to master the ways to get more space on it. Considering this, I summarize the following useful methods for you.
Uninstall programs.
In general, the applications and games will take up most of the disk space on users' computer and some of them are actually used seldom (there may even be apps that have never been used). So my advice is go to uninstall/remove the programs that you don't need any more and you can do this work periodically.
Open Windows search and type Control Panel.
Press Enter or select it from search result.
Look for the Programs section and click Uninstall a program link (if you set it to view by icons, you should click Programs and Features).
Now, you can browse the programs installed on your PC.
By looking at the Name column, you can decide whether the program is needed or not; and you should look at the Size column to know how much space it occupies.
Select the app you don't want and click on the Uninstall button.
Follow the wizards to complete uninstallation.
Delete unless files.
You can open the drive to delete files directly: select all the files you don't want -> right click on any of them and choose Delete (you can also press Shift + Delete) -> choose Yes in the prompt window to confirm.
Besides, you can use the Disk Cleanup to find and delete temporary files, temporary internet files, thumbnails, and other data.
Type disk cleanup into Windows search.
Choose Disk Cleanup from the result.
Select the drive you want to clean up and click OK.
Wait for the calculating process.
Choose the files you want to delete and click OK.
Select Delete Files in the pop-up window and wait for the action to complete.
Disk Cleanup Cleans Downloads Folder In Windows 10 After Update.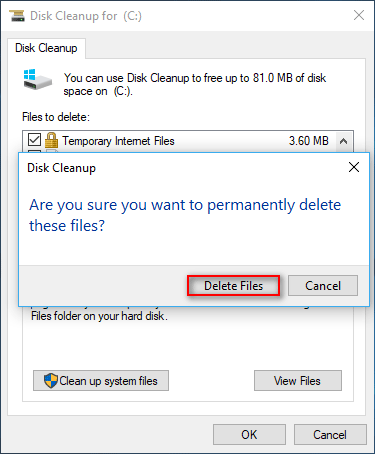 Clear the Recycle Bin.
If you remove files and folders by pressing/choose Delete, they will be sent to the Recycle Bin and this will actually occupy some disk space. Therefore, you need to empty the Recycle Bin by following ways to get more free disk space.
Right click on the Recycle Bin icon on desktop -> choose Empty Recycle Bin from the menu -> choose Yes in the prompt window.
Open Recycle Bin -> press Ctrl + A to select all files -> right click on the files and choose Delete -> choose Yes in the prompt window.
To Complete Recycle Bin Recovery, This Is What You Should Know.
Besides, you can try these ways to clear disk space:
Transfer files to external drive/Cloud
Reduce the space used for System Restore
Disabling Hibernation feature
…