If you notice high CPU usage on your Windows 10 PC and the computer is slow to react to commands, or maybe the startup takes too long, a probable cause can be the TrustedInstaller.exe process. This post from MiniTool will show you some information about TrustedInstaller.exe.
What Is the TrustedInstaller.exe Process?
TrustedInstaller.exe is a process of Windows Modules Installer service in Windows 10/8/7/Vista. The main function of it is to enable the installation, removal, and modification of Windows updates and optional system components.
You can easily locate it in C:Windows\servicing and its size is usually around 100-200 KB. Its normal startup of this service is set at Manual, and it runs under the Local System Account. It has no dependencies.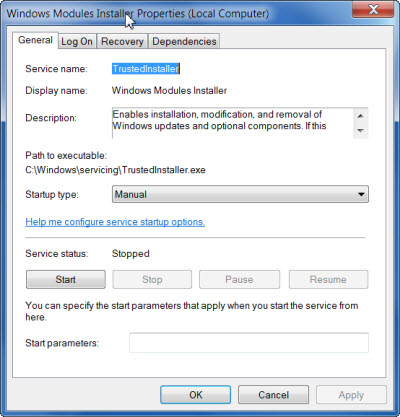 Can You Disable TrustedInstaller.exe?
Sometimes, especially after downloading and installing Windows Update, you may find the "TrustedInstaller.exe high CPU" issue in Task Manager after restarting. Then you may want to disable it, but don't know if you should disable it.
Although there are methods to disable or remove TrustedInstaller.exe, and many sites recommend these methods, I don't sugget you to disable it because Windows Updates may fail to install or uninstall if you disable this service.
How to Determine If TrustedInstaller.exe Is a Virus?
Sometimes, the TrustedInstaller.exe process will make your computers unusable. If you're in this case as well, you need to know that the process may be corrupted or even replaced by malware with the same name. Here are three methods for you to determine if it is a virus. Once you make sure that it is a virus, you should remove it right away.
Check Your CPU Load
One method to find the TrustedInstaller virus is to check your CPU load. You can easily check your CPU performance with some tools. If TrustedInstaller.exe is causing high CPU at all times, that means that you may have been infected.
Check the File Location
Another method you can try is to check the file location. As I have mentioned already, the legit component of Windows is found in C:Windows\servicing. If the location is outside this range, it may be that you are dealing with malware.
The TrustedInstaller malware is very dangerous and can use your camera and microphone without your permission. If you suspect that hackers have access to your webcam, you can use webcam protection software to check to protect your privacy.
Repair TrustedInstaller with SFC Scan
If you still can't figure out if the TrustedInstaller.exe process is a malware, here is the last method for you. It's recommended to do SFC Scan to make sure that your files are in order. The steps are as follows:
Step 1: Type cmd in the Search box, then right-click the first result to select Run as administrator.
Step 2: Then type sfc /scannow , wait for the process to finish and then restart your computer.
This action will repair any corrupted files, including TrustedInstaller Windows 10. Then everything should work fine after that.
The End
To sum up, from this post, you can know " what is TrustedInstaller.exe" and if you should disable it. In addition, here are 3 methods for you to determine if it is a virus.