This post shows you how to turn on Bitlocker in Windows 11 if you want to protect your sensitive data on a hard drive or USB thumb drive. Just read the following guide offered by MiniTool Solution to begin BitLocker setup for data protection.
Only using a password is not enough when you want to encrypt your data on a hard drive since hackers can always find the method to access your data. It is difficult to make sure your information is safe enough. But luckily, you can always use BitLocker to keep your data secure.
You can encrypt both your internal hard drives or external hard drives using BitLocker to avoid data loss in case the drive is theft. Only authorized users have access to the drive data. If anyone manages to access your BitLocker-enabled computer without authentication, access is denied.
If you are running Windows 11, a new version of the Windows operating system, how can you set up BitLocker to protect your important data to avoid access from other persons? Move to the next part.
How to Turn on BitLocker in Windows 11?
Note:
BitLocker is not available in Windows 11/10 Home. If you are running a Home edition of the operating system, you can upgrade Windows Home to Pro. Or you can choose another way to encrypt your hard drive. To get more information, refer to this post –
Can You Turn on BitLocker on Windows Home
.
Before you enable BitLocker in Windows 11, do these:
You need to enable TPM (Trusted Platform Module) to use BitLocker drive encryption. If there is no TPM chip, you cannot use BitLocker without a workaround.
Make sure you log in to the operating system as an administrator. If you are not, sign out and back into an administrator account.
Here is how to enable BitLocker in Windows 11:
Step 1: Press Win + I to open Windows 11 settings.
Step 2: Navigate to System > Storage.
Step 3: Click Advanced storage settings > Disks & volumes.
Step 4: All of the drives are listed here. Just choose the drive that you want to encrypt and click Properties.
Step 5: Under BitLocker and click Turn on BitLocker.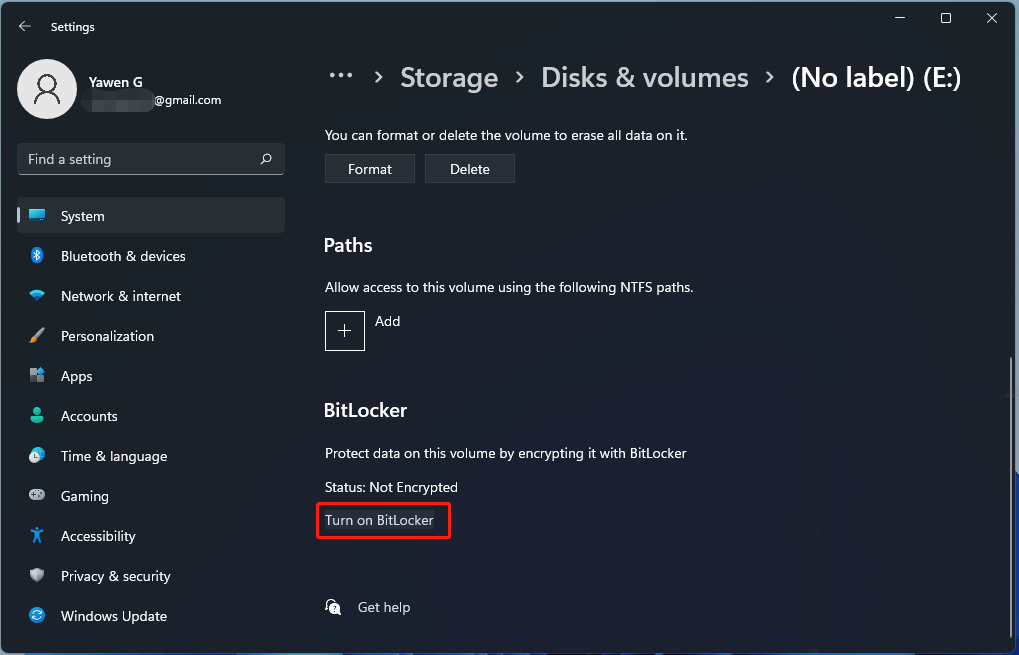 In addition to Settings, you can turn on BitLocker in Control Panel.
Step 1: Follow one way to open Control Panel – How to Open Control Panel in Windows 11? [7 Ways] and then view all the items by large icons.
Step 2: Click BitLocker Drive Encryption to start BitLocker setup.
No matter which way you try to enable BitLocker, now it's time to use it to protect your data.
Here is how to set up BitLocker in Windows 10:
Step 1: Click the Turn on BitLocker button next to the drive that you want to encrypt to continue.
Step 2: Check the box of Use a password to unlock the drive, enter your password, and retype the password.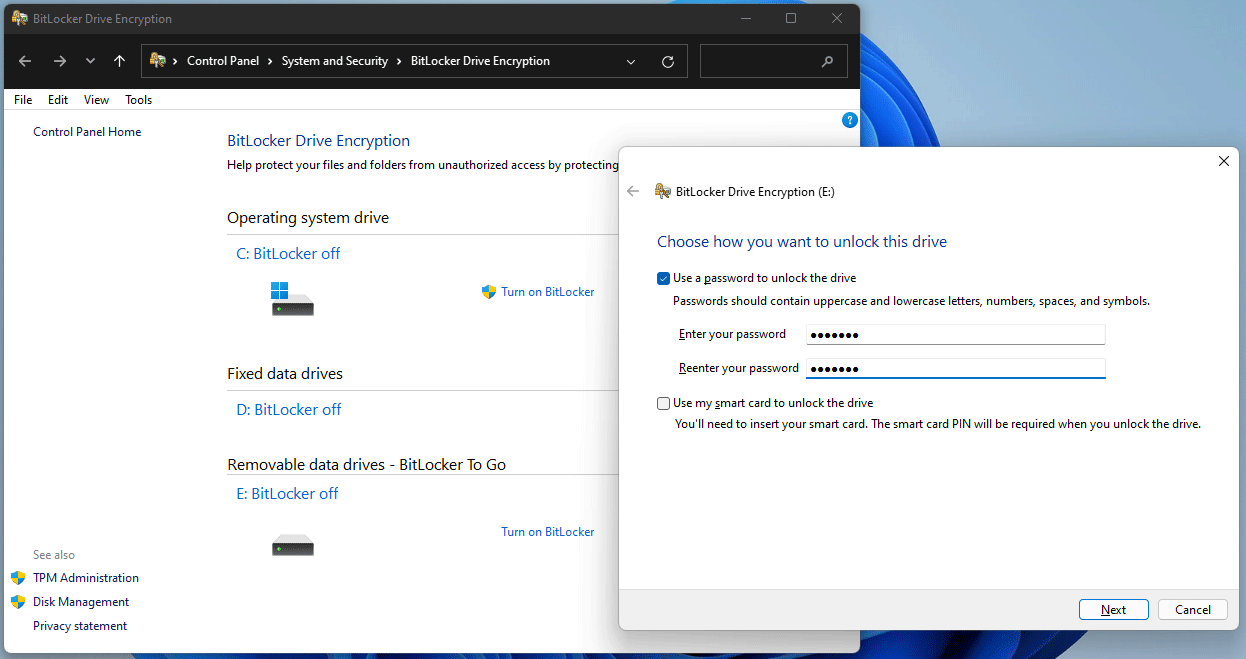 Step 3: Decide a way to back up the recovery key and continue.
Step 4: Choose to encrypt used disk space only or the entire drive based on your needs.
Step 5: Select the encryption mode and start the encryption process by pressing Start encrypting.
To unlock the drive, you can right-click it and choose Unlock Drive. Then, type the password you have configured. If you forget the password, you can use the backed-up recovery key to unlock the drive.
How to Use BitLocker Without TPM?
As stated above, TPM is required if you need to use BitLocker. But if your computer doesn't have a TPM chip, how can you use BitLocker? You need to follow the instructions below to bypass this limitation.
Step 1: Press Win + R, type gpedit.msc and click OK to open Local Group Policy Editor.
Step 2: Go to Computer Configuration > Administrative Templates > Windows Components > BitLocker Drive Encryption > Operating System Drives.
Step 3: Double-click Require additional authentication at startup and then choose Enabled in the pop-up window. Make sure the option – Allow BitLocker without a compatible TPM (requires a password or a startup key on a USB flash drive) is selected.
Step 4: Click Apply and OK.
After finishing these steps, go to set up BitLocker to encrypt your hard drive for data protection by following the above instructions.
Final Words
How to turn on BitLocker in Windows 11? How to set up BitLocker in Windows 11? How to use BitLocker without TPM? Now you know all the answers to these questions and have a try by following the full guide.