Summary :
This article released by MiniTool corporation compares two social tools Discord and Twitch. Both of them are very popular among game lovers. Yet, they are different in many aspects. Let's see what are they.
What's the Difference Between Twitch and Discord?
Twitch is a streaming service that enables people to live stream to others, especially broadcast video games the streamers are playing to their audience. Discord is an instant message app for gamers to communicate with each other.
Streamers can also use Twitch to chat with their subscribers while gamers are also able to share screen or video (assisted by partnered video capture programs) on Discord for real-time.
So, it seems that both Twitch and Discord can provide chat and streaming services. Now, let's see the differences between the two social media tools.
Can you use Twitch emotes on Discord? How to add Twitch emotes on Discord? How to enable Twitch emotes on Discord? How to put Twitch emotes in Discord?
1. Twitch vs Discord: UI
The user interface gives the first impression of an application to its users. So, during the development of a program, the developers will pay a certain amount of attention to this. A good app UI doesn't only mean a beautiful appearance but also indicates intuitive feature guidelines. That is to say, an excellent design of the software UI should make it easy and convenient for users to navigate to where they are designed to be.
In general, both Discord and Twitch do a great job and give us a good experience. Yet, their interfaces are different based on their different focuses.
For Twitch, to enable you to easily discover and join new channels and players who stream particular video games, it puts the various kinds of channels on the left panel and right main area. The default mode of Twitch is white, but you can change it to dark mode.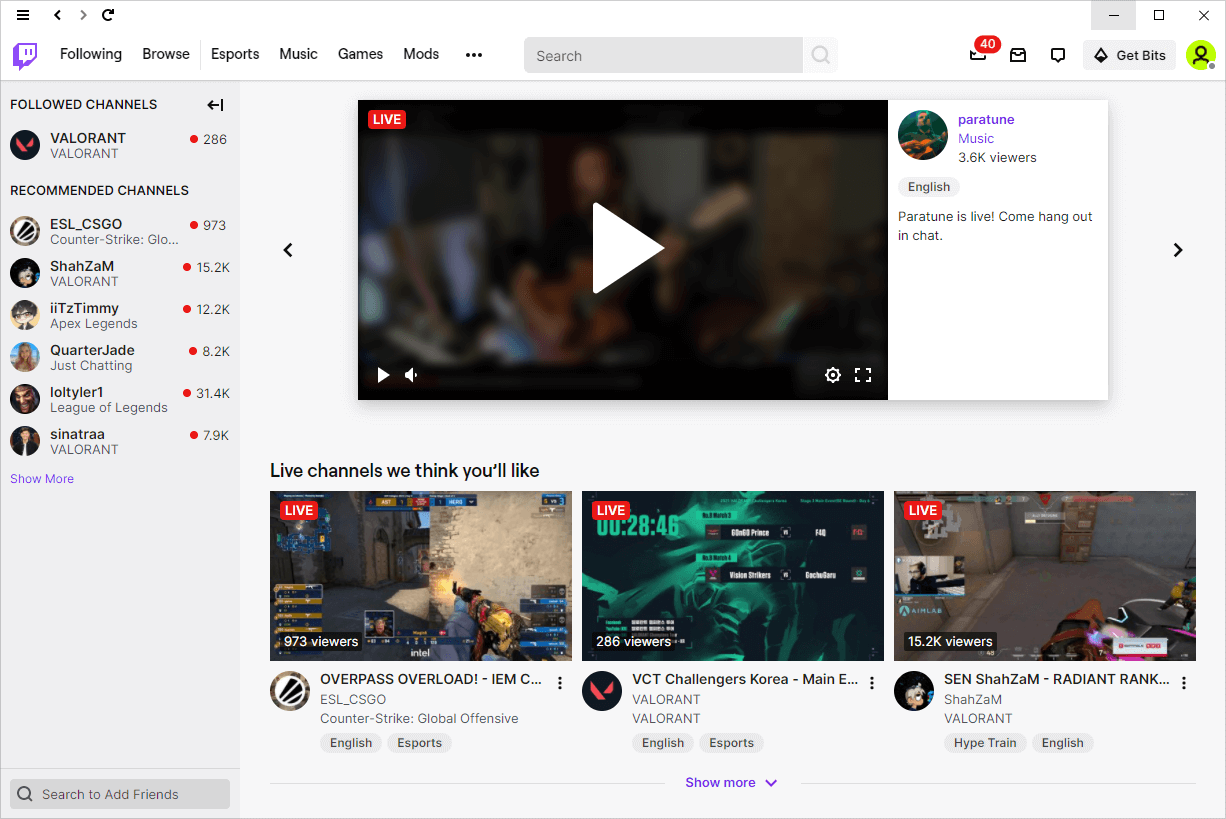 On the contrary, the Discord desktop app by default is in dark mode. The UI of Discord is convenient for users to communicate with their friends or server channel members via text or video call.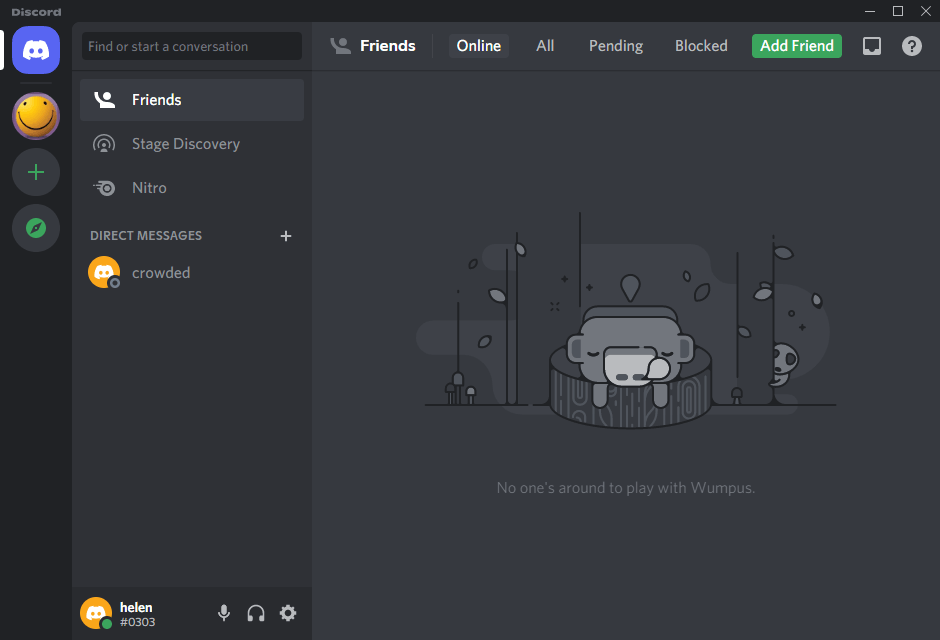 Therefore, for the user interface, both Twitch and Discord do a good job.
2. Twitch Chat vs Discord: General Features
As a professional communication app, Discord has a mature and clear structure for communication. Imagine Discord as a large building, its servers are of different floors and its server channels are different rooms with a floor. Different channels serve different fields like music and stream.
For communication, Twitch also provides Rooms (channels) for you which you can set to either private or public. To make a channel private, you can set it in channel permission settings.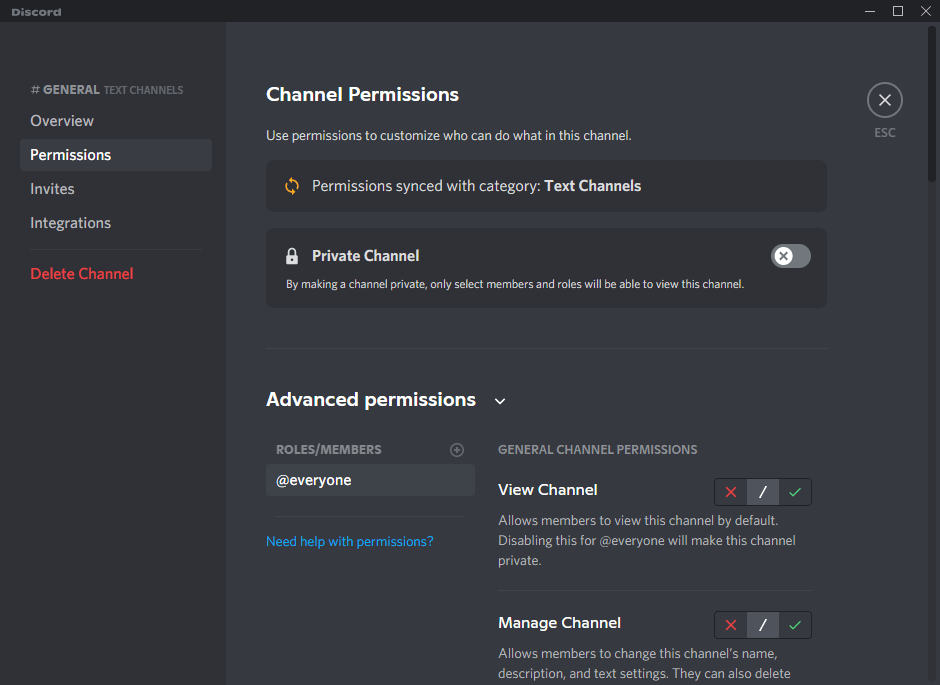 Both Twitch and Discord support voice and video calls. Yet, Twitch mobile apps don't have this feature at present.
Compared with Discord, Twitch is more advanced in live streaming instead of communication. Both Twitch and Discord have a game sore, but Twitch holds a more extensive selection of titles.
3. Discord Game Streaming vs Twitch: How to Make Money?
If you'd like to earn money from your live gaming streams, Twitch is a better choice. You can add affiliate links to game streaming or other products for your fans to purchase from, which will bring you a commission for each deal.
On the other hand, you can receive merchandise and gaming accessories from sponsors freely or by selling their customized merchandise. Or, you can receive money from the old donation option to continue your streaming.
The last but the best way to make money is to join the Twitch Partner Program. Both subscribers and non-subscribers can buy Bits during your streaming to cheer you.
While Discord has no such way for gamers to make money. Yet, people who love your server can pay to boost your server and bring you and your server members with more perks like emojis, stickers, and high audio and streaming quality.
4. Twitch App vs Discord: Encryption
As for the encryption of chats, messages, live streams, etc. digital data generated on the app, Discord makes use of the SSL and voice encryption using Libsodium, a portable and easy encryption technology available on GitHub. This doesn't satisfy most of its users.
For this aspect, Twitch doesn't behave better. Actually, there is no mention of encryption anywhere when Twitch announces Rooms for users to chat and connect with their followers.
Though Discord and Twitch both act badly for information encryption, it doesn't mean users don't care about this problem. They are eager to be encrypted.
5. Discord vs Twitch: Privacy
Discord states: "If you provide information for a certain reason, we may use the information in connection with the reason for which it was provided." That is to say, what you share with them may also be shared with "related companies" for advertising to you.
Similarly, Twitch also takes advantage of user information to improve its products and services experiences including advertising. Yet, "In certain cases, we have a legal obligation to collect and process your personal information (such as our obligation to share data with tax authorities)".
Besides, "Twitch may disclose user information if we believe in good faith that such disclosure is necessary to comply with U.S. state and federal laws or other applicable laws around the world (for example, in the country of your residence), or respond to a court order, judicial or other government requests, subpoena, or warrant in the manner legally required".
Generally, both Discord and Twitch collect certain of your personal information and use or share it for software development, service provision, or in compliance with government laws. They both reserve the right to change, modify, add, or remove portions of the privacy policies at any time and from time to time.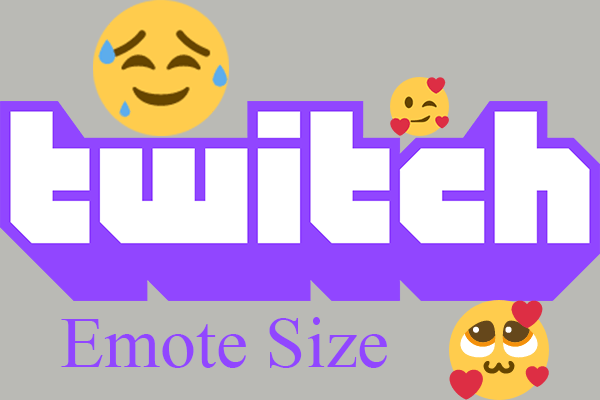 What's Twitch emote size in pixel & capacity? What are the rules & restrictions you should respect when making Twitch emojis? Find the correct answers here!
Conclusion for Twitch vs Discord
Although both Twitch and Discord are social media applications, they have different focuses. Discord is mainly for communication between gamers while Twitch focuses on live streaming. Which app to choose depends on what you plan to use the program for, no matter you are a watcher/member or a streamer/owner.
Or, you can use them both. The good news is that you can integrate Twitch with Discord and live stream video games on Discord while chatting with your fellows.