There are chances you can't hear sound from your computer or you want to get more improved features. In this case, you need to update audio drivers on your PC. But how to update audio drivers bothers a lot of users. This post offered by MiniTool Solution shows you the detailed steps to update audio driver/sound driver on Windows 10 and Windows 7.
Audio driver, also known as sound driver, is actually a part of your computer's nervous system; it's responsible for turning the signals originating from the program into the format that can be used by the speakers. An audio driver is very important for any system; if it works wrong, you can't hear sound as usual. Besides, there are other reasons that you should update audio drivers (it will be talked about later).
The first thing I'd like to show is how to update audio drivers. Generally, there are two ways available for you: update using Windows Update and update via Device Manager.
Tip: You are strongly advised to get a data recovery tool at hand. In this way, you can recover the important files lost unexpectedly as soon as possible so as to minimize the losses that might be caused.
How to Update Audio Drivers Manually
Update Audio Drivers Using Windows Update
I'll show you how to update audio drives on Windows 10 and Windows 7 by using the Windows Update feature respectively.
How to Update Audio Drivers Windows 10
Click on the Start button in the lower left corner.
Navigate to the Settings icon in the left sidebar of Start menu and click on it.
Scroll down to the bottom to select Update & Security (Windows Update, recovery, backup).
Windows Update option will be selected in the left pane.
Click on the Check for updates button (if applicable) -> wait for the checking process -> install available updates on your system.
Click on the View optional updates link.
Look for the Driver updates section and click to expand it.
Check the driver that you want to update from the list.
Click on the Download and install button below.
Follow the on-screen instructions to perform rest actions.
How to recover files lost after Windows Update?

Bonus Tip: How to Disable Automatic Device Driver Update on Windows 10
Right click on This PC icon on the desktop.
Select Properties from the context menu.
Click on the Advanced system settings link in the left pane.
Shift to the Hardware tab at the top.
Click on the Device Installation Settings button.
Check No and click on the Save Changes button.
If you can't find This PC on desktop, please open File Explorer and right click on This PC from the left-side panel.
[SOLVED] Windows Explorer Needs To Be Restarted: Problem Fixed.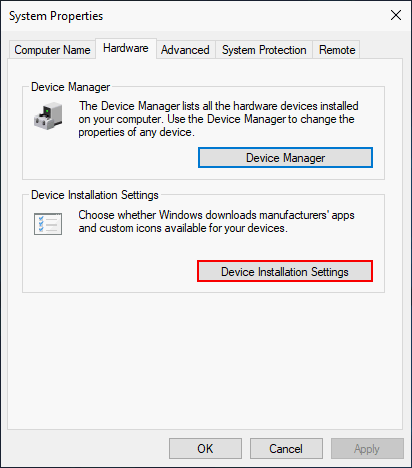 How to Update Audio Drivers Windows 7
Click on the Start button at bottom left.
Select Control Panel.
Click on the System and Security link in the left panel.
Choose Windows Update in the right panel.
Click Check for Updates and wait.
Check audio drivers on the main menu or under Optional Updates.
Click on the Install button.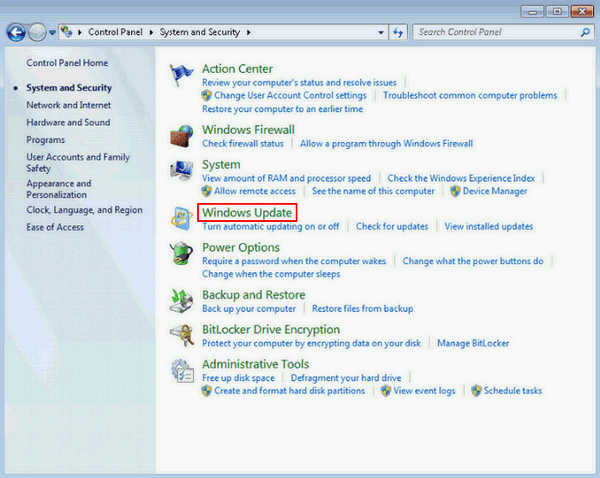 Update Audio Drivers via Device Manager
Update in Windows 10:
Right click on the Start button or press Win+X to open a menu.
Select Device Manager from the WinX menu. (How to fix WinX menu not working?)
Expand the Sound, video and game controller option.
Right click on the audio driver and select Update driver.
Choose Search automatically for updated driver software.
Follow the instructions to continue.
If Windows search doesn't find anything, you should download the latest driver from manufacturer's website manually and then go back to choose Browse my computer for driver software.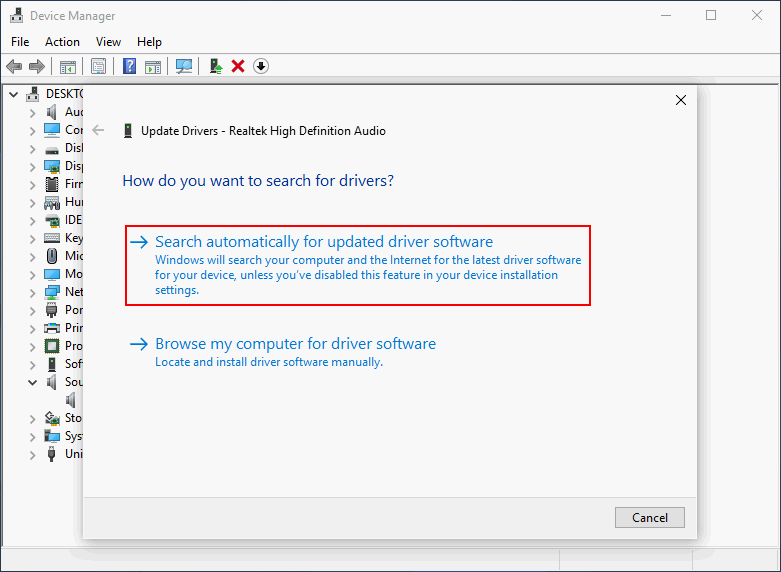 Update in Windows 7:
Right click on Computer.
Select Properties.
Choose Device Manager.
Navigate to Sound, video and game controller.
Repeat step 4 ~ 6 mentioned in the previous Update in Windows 10 part.
Related reading: [SOLVED] How To Recover Permanently Deleted Files In Windows?
Other Ways to Update Sound Drivers
As mentioned earlier, the system may fail to find a driver for you. In this case, you should look for the latest audio drivers on the manufacturer's website or the PC manufacturer's website so as to download them to your PC. After that, you can click Browse my computer for driver software and choose the downloaded driver to update manually.
Besides, if you want to update the audio drivers automatically, you may get a third-party driver updater to help you.