What is the error code van 68 Valorant? How to fix it if it makes the rounds in Valorant? With just a few simple moves below on MiniTool Website, you can easily fix this error code. Hope that you can play the game smoothly.
Valorant Error Code Van 68
Valorant error code van 68 is a recurring issue when gaming and it is widely considered a connectivity error due to poor network connection. Quite a few game players like you can't wait to solve it because this is very annoying, especially if it pops up in crucial mid-game. Don't worry, it is not difficult to tackle van 68 error code Valorant. Just follow these steps carefully.
How to Fix Valorant Error Code Van 68 Windows 10?
Fix 1: Reboot Your PC and Router
When encountering Valorant error code van 68, it informs you to reboot the client to reconnect. Maybe your computer is on for a pretty long time thus it needs to relax for a while. The operation is very easy. You just need to click the Power button and click Restart.
Fix 2: Allow Valorant Through Windows Firewall
The ports that contact to Valorant may be blocked by Windows Firewall thus allowing Valorant through Windows Firewall might be a fix to Valorant error code van 68.
Step 1. Press Win + R to open the Run box.
Step 2. Type control and hit Enter to open Control Panel.
Step 3. Navigate to System & Security and click on Allow an app through Windows Firewall under Windows Defender Firewall.
Step 4. Click Change settings and then click on Allow another app at the bottom of this window.
Step 5. Click Browse to find the executable file of this game and click Add. Make sure to tick Private and Public.
Step 6. Reboot your PC to see if error code van 68 Valorant Windows 10 still exists.
Tip: Don't forget to disable your third-party antivirus software temporarily as well.
Fix 3: Disable IPv 6
Because Valorant doesn't fully support IPv6, disabling it might also work for Valorant error code van 68.
Step 1. Press Win + I to open Windows Settings.
Step 2. Look for Network & Internet.
Step 3. In Status, click Change adapter options.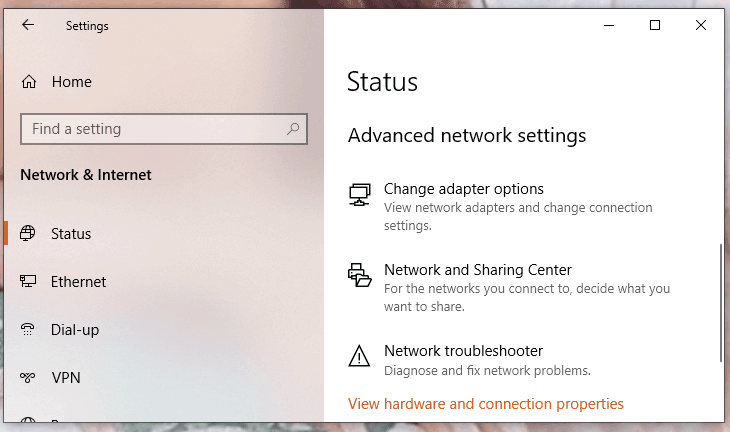 Step 4. Right-click your network adaptor and select Properties.
Step 5. In the Networking tab, untick Internet Protocol Version 6(TCP/IPv6) and hit OK.
Fix 4: Flush the DNS
As known to all, flushing the DNS can address a large majority of network connection issues. Van 68 error code Valorant is no exception.
Step 1. Type cmd to navigate to Command Prompt and right-click it to choose Run as administrator.
Step 2. Copy & paste Ipconfig /flushdns in the black command window and hit Enter.
Step 3. The system will flush the DNS resolver cache for you, please relaunch Valorant again to inspect if Valorant error code van 68 disappears.
Fix 5: Use Valorant Installer
Few people know that the Valorant installer is helpful to repair the game issue. To repair Valorant error code van 68 with Valorant installer, follow these steps below.
Step 1. Go to Valorant website to download the installer.
Step 2. Launch it and click Advanced options under the Install button to select the exact file location of the game. It should be in the folder named Riot Games.
Step 3. Once you find it, choose it and let it repair your error. It takes about 5-10 minutes to finish this process, just wait patiently.