Summary :
Microphone is used widely on computers (desktops and laptops) to record/send your voices to some apps like Skype. The setup process of microphone is easy and it's very convenient to use. But the problem that troubles many people is that the microphone didn't function. They would ask: why is my microphone not working, how to troubleshoot when mic is not working on computer, and so on.
A microphone is a hardware device used to record audios and convert the sound waves into electrical signals that can be recognized by computers. There is usually no microphone on the desktop, but most laptops come with a built-in microphone. You can connect an external mic to the desktop when necessary.
4 Ways To Fix Audio Services Not Responding Windows 10.
Why Is My Mic Not Working
PC mic not working is one of the most common issues you may encounter while using a computer. If you search Why is my mic not working in Google Chrome or another web browser, you'll get hundreds of millions of results within a second. This is proof enough that many users have the same problems and confusion.
Many Xbox One gamers have had the same experience - Xbox One mic not working. Here, I'd like to provide some solutions to it.
Common Factors Responsible for Mic Not Working
Why isn't my mic working? There are some popular causes:
Microphone is muted by accident.
Microphone is disabled on computer.
Your mic is not allowed to access an app
External mic is not set as the default device.
Mic drivers' problems.
There's something wrong with the app settings.
Mic is not compatible with PC or apps have conflicts with mic.
Computer not detecting mic (Windows 10 not detecting microphone)
…
Tip:
If you're worrying that your data may get lost while you're fixing the computer or laptop microphone not working issue, you should install this powerful recovery tool developed by
MiniTool
on your machine before doing that and then perform actions carefully.
How to Troubleshoot Microphone Not Working
What you should do when you find microphone not working Windows 10 (mic not working Windows 10)?
Fix 1: Unmute Microphone
When discovering Windows 10 microphone not working (Windows 10 mic not working), you should make sure it's not muted first.
Increase volume:
Press Windows + I to open Settings.
Select System.
Choose Sound and drag the volume slider to the right.
Fix 2: Enable Microphone
Open Settings.
Select Privacy.
Choose Microphone.
Click on the Change button under Allow access to the microphone on this device.
Toggle the switch of Microphone access for this device to On.
Besides, you can disable & re-enable microphone in Device Manager:
Press Windows + R to open Run.
Type msc and press Enter.
Double-click on Audio inputs and outputs.
Right-click on the microphone you're using.
Choose Disable device and click Yes to confirm.
Right-click on your mic again and then choose Enable device.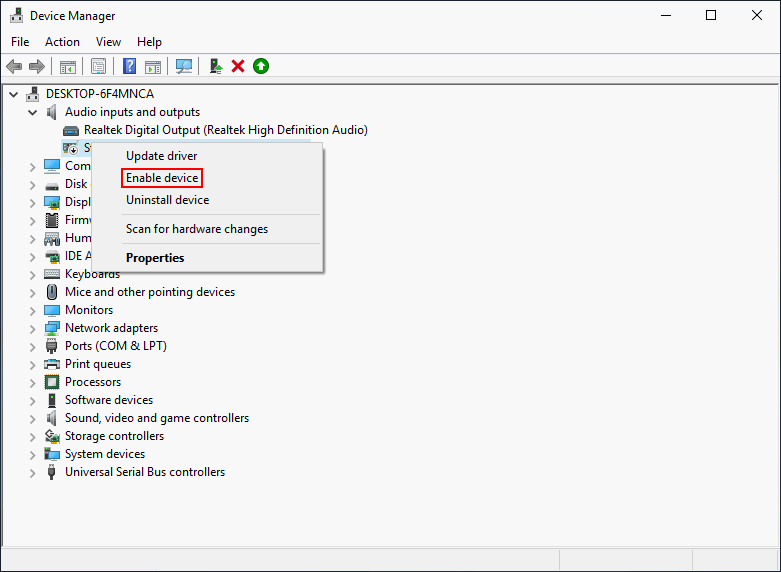 Fix 3: Allow Apps to Access Microphone
Repeat step 1 ~ 3 mentioned in fix 2.
Look for Allow apps to access your microphone and toggle the switch to On.
Move to the Choose while apps can access your microphone part.
Turn On the switch after all apps you want to use microphone in.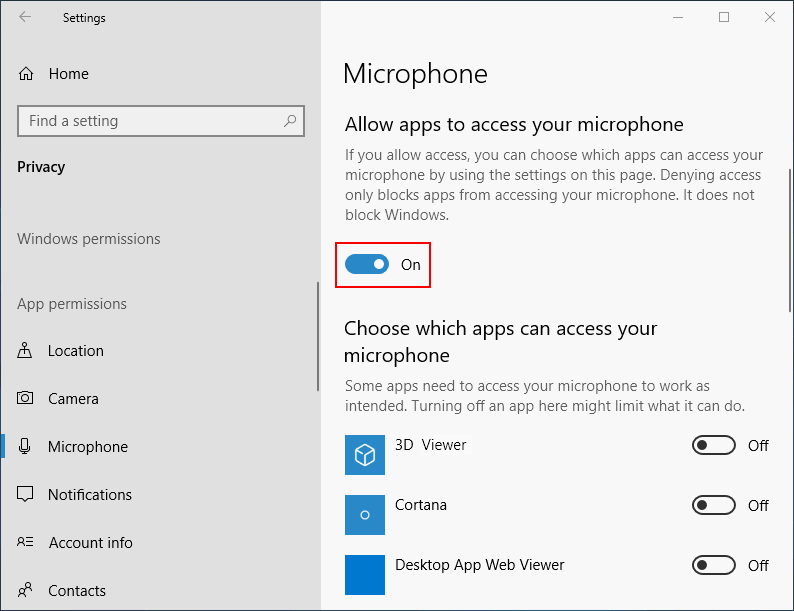 Fix 4: Set the Microphone as a Default Device
Open Control Panel.
Select Hardware and Sound.
Click Sound.
Shift to the Recording tab.
Select the microphone you want to use.
Click on the Set Default button.
If the mic is not in the list, please right click on the blank space and select both Show Disabled Devices and Show Disconnected Devices. Then, select it and set it as default.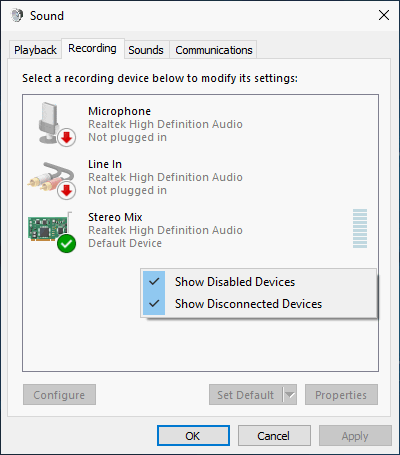 Besides, you need to open the corresponding apps and change the default microphone settings. This is veru useful when headset mic not working Windows 10.
Fix 5: Disable App Exclusive Control
Repeat step 1 ~ 5 mentioned in fix 4.
Click on the Properties button at bottom right.
Shift to the Advanced tab.
Uncheck Allow applications to take exclusive control of this device and click OK.
Click OK again in the Sound window.
Fix 6: Update Microphone Driver
Open Device Manager.
Double-click on Audio inputs and outputs.
Right-click on your mic.
Select Uninstall device and click Uninstall.
Click on the Action menu at the top.
Select Scan for hardware changes.
Besides, you can download or update the driver manually.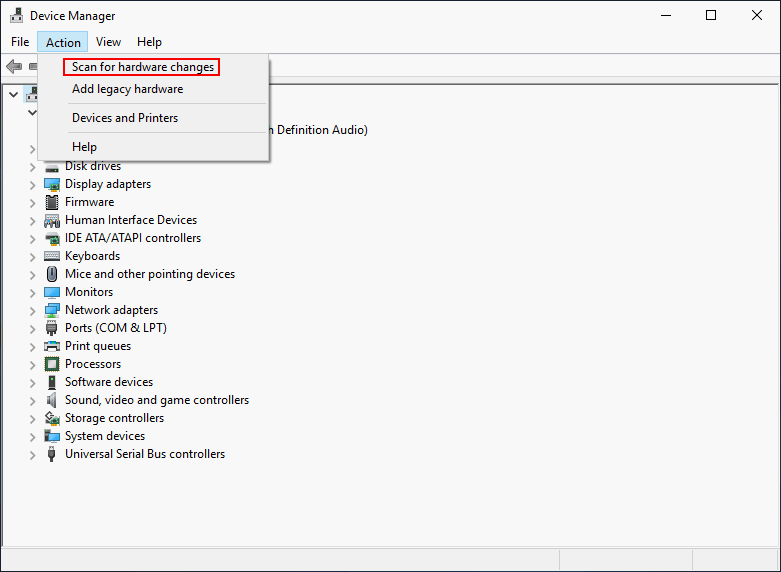 Fix 7: Run Windows Troubleshooter
Let's take Windows 10 microphone not working Realtek as an example.
Right click on the volume icon in the lower right corner of PC screen.
Select Troubleshoot sound problems and wait.
Follow the instructions to finish the rest steps.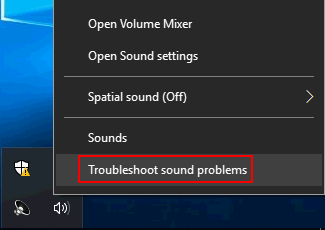 Other fixes for microphone not working on Windows 10:
Restart Windows Audio service.
Restore system to a previous point.
Update your system to the latest version.
Check for hardware & software compatibility issues.