Update: The official Windows 11 is already available since October 5, 2021. 
Microsoft released the first Windows 11 insider Preview build to the Dev Channel, Build 22000.51 to its members of its Windows Insider Program on June 28, 2021. Thus, those users can test the Windows 11 beta together with the developers. Once errors, problems, or issues are found, they can together solve them.
Will Windows 11 bring errors? Not long after the Win11 insider preview build release, some users begin to encounter problems and bugs with the new operating system (OS). Until now, over one week has passed, Windows 11 has brought many issues to its users. Some of those popular issues are below.
Error 1. Unable to Download Windows 11
Unable to download Windows 11 is one of the first problems that came across by insider program members. Isn't that funny? During its announcement, Microsoft promised that existing members who did not meet the Windows 11 minimum system requirements would also have access to the system preview build regardless.
Yet, people soon discovered a bug that prevents the download for "missing hardware requirements" like a trusted platform module (TPM). The full error message is "Your PC does not meet the minimum hardware requirements for Windows 11. Your device may continue to receive Insider Preview builds until Windows 11 is generally available, at which time it is recommended to clean install to Windows 10."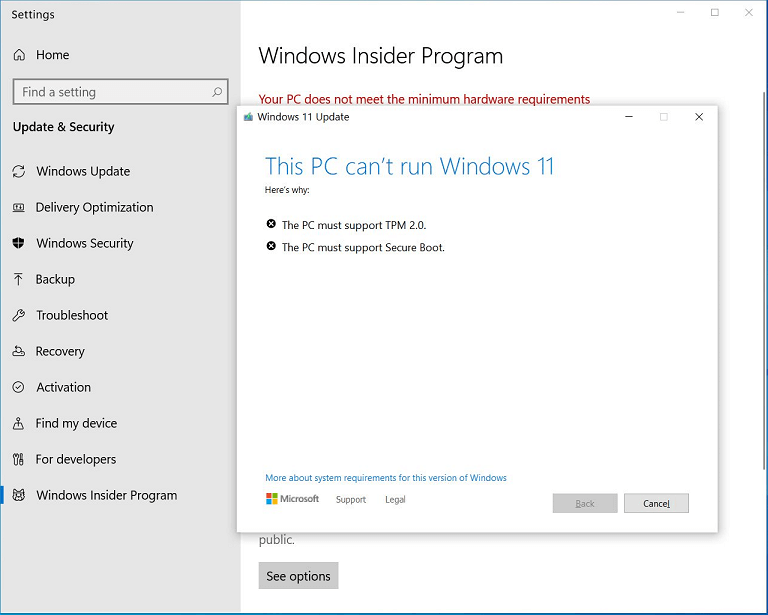 This error is an especially easy fix as Microsoft has already released an update to the settings app. The official instruction is to just restart the computer to receive the update and you are ready for Windows 11.
Error 2. File Explorer Still Looks Like It Is in Windows 10
Microsoft claims that the Windows 11 File Explorer got a redesign with new colorful icons and a streamlined action bar at the top. However, some insiders find that their File Explorers still look like the Windows 10 File Explorer in most parts.
To address this problem, click on the View tab on the top menu and select the Options in the far right under the View tab. In the new popup, switch to the View tab, find "Launch folder windows in a separate process" under the Advanced settings and uncheck it. Finally, click Apply to save the change. File Explorer will restart with the new Windows 11 style.
Error 3. Unable to Use Search Feature in Start Menu
There is also a problem with the search bar in the Start Menu that prevents you from typing into the search bar. Though there are other places that enable you to search in Windows 11, it's a little bit uncomfortable for users who used to search within the start menu.
Microsoft has also acknowledged the issue and stated that opening the Run box can enable you to type into the search bar again. Just use Windows + R keys to launch the Run window and close it once it is opened since you don't actually need it to run anything. Then, you'll find your Start Menu search bar works normally.
Other Issues Discovered in the First Windows 11 Preview Build
Whereas the above problems have already be solved, there are still many errors that are pending for solution yet. Most of them have been acknowledged by Microsoft and they are expected to be patched out in the future release.
Features: Some features are removed such as Cortana, desktop wallpaper, Internet Explorer, S Mode, and Skype. View the full list >>
Taskbar: It won't be shown across multiple monitors but will return in an upcoming build. The preview window may not display the entire window when hovering over Task View on the taskbar.
Settings: Settings will fail to open when upgrading a device with multiple user accounts to Windows 11; the "power mode" setting doesn't show up on the Power & battery page; when using Quick Settings to modify Accessibility settings, the settings UI may not save the selected state.
Start: There is an issue that prevents unpinning apps from Start and making the command bar in File Explorer disappear or hiding a snap. Just restart your PC to handle this issue.
Search: App icons in the Search panel may don't load. Instead, it may appear as gray squares. Also, after clicking the Search icon taskbar, the Search panel may not open. You can solve this by restarting the "Windows Explorer" process.
Widgets: System text scaling will scale all widgets proportionally and may result in cropped widgets. Besides, the Widgets board may appear empty. Just sign out and then sign back in again.
Store: The install button might not be functional yet in some limited scenarios. And, ratings and reviews aren't available for some apps.
Conclusion
So, the conclusion is that Windows 11 does bring us errors, bugs, problems, issues, as well as bad/unstable performance. Yet, you can still enjoy it with its fresh new appearance, powerful new features, more convenient services, etc. however, you are recommended to do that with a spare computer instead of your main PC.
Besides, you are recommended to back up your crucial files not only before but also after upgrading to the new Windows 11 with a reliable and powerful data backup program like MiniTool ShadowMaker.