Maintaining the computer to a safe state is effectively able to avoid some accidents. But how can you make Windows 10 safe or safeguard your computer with ease? This post will show you some detailed Windows 10 security guides.
Here Are Some Windows 10 Security Guide to Safeguard Your PC
Some people may think that keeping Windows 10 safe is an easy task because they think it may be completed within just a few steps, such as installing some security software, changing some settings and so on.
As a matter of fact, in order to security Windows 10, many difficult and complicated steps are required. And this post covers some Windows 10 security guides for computer users, with each heading discussing an issue that decision-makers must consider when deploying Windows 10 PCs.
Before advancing to the single setting, you had better take some time for a threat assessment. In particular, you need to be aware of your legal and regulatory responsibilities in the event of a data breach or other security-related event.
And now, we will show you some Windows 10 security tips in the following part.
Manage Updates
First of all, we will take about Windows Updates. The Windows Update can fix some bugs of previous Windows version and provide some new functions and features. In addition, Windows Update may offer better reliability and quality. Therefore, one of the Windows 10 security guides is Windows updates. If you know that the new Windows Update has fixed some problems and bugs, you can choose to update.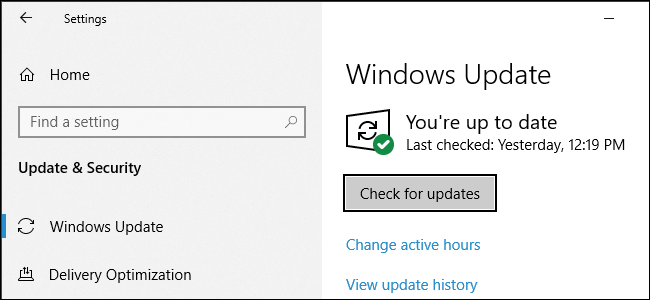 By default, Windows 10 device download and install updates as soon as they are available on control when updates are installed. But for the security, you can decide when to install the updates. And Windows 10 Pro or more advanced users can choose to delay the Window updates for 30 days or more, but it depends on the specific version.
Relate articles: How Can You Recover Lost Files after Windows Update?
Identity and User Account Management
The second Windows 10 security guide is the identity and user account management. For the security of Windows 10, users can choose to set an account which is protected by the password and optional authentication mechanism.
Therefore, in order to protect Windows and computer, users can choose to set an account. In this way, other people can't access the computer without a password.
Blocking Malicious Code
Nowadays, there are many different viruses that can bring damage to the computer and data. Thus, one of the Windows 10 security improvements is blocking malicious code. As the world has become more and connected and online attackers have become more sophisticated, the role of traditional antivirus software has changed since they can't block the installation of malicious code. Thus, a piece of security software is needed.
As a matter of fact, the built-in software – Windows Defender can play an important role. This Windows Defender tool can help you to find the malicious code and delete them. So in order to keep computer security, you need to make sure that the Windows Defender service is turned on.
Back up Windows 10
Besides the above Windows 10 security tips, you can also try another way to keep computer safe which is to create a Windows backup image. Thus, you can use the Windows snap-in tool – Backup and Restore(Windows 7) or use a piece of third-party software to backup Windows 10. Thus, you can read the post Easily & Free Create a Windows 10 Image Backup Now – MiniTool to know more.
In the above part, we have shown four Windows 10 security guides. Since computer protection is a common issue, you can try them.
Final Words
In conclusion, we have listed for Windows 10 security tips. If you want to keep your computer safe, you can try them. In addition, each of them is easy to operate. So just take measures to safeguard your computer.