Microsoft has accidentally confirmed the final build for Windows 10 22H2: it is Windows 10 Build 19045. Are there some new features in this new build? What to expect in this build? In this post from MiniTool Software, you will get some related information.
Microsoft Accidentally Confirmed Windows 10 Version 22H2, Build 19045
Now, Microsoft is preparing for both Windows 11 22H2 and Windows 10 22H2. As Microsoft is paying more attention to Windows 11, there will be not so many new features in the final release of Windows 10 22H2. However, Windows 10 22H2 is still a feature update for Windows 10. As the release time approaches, you may want to know which the final build is and what to expect in this update. Here, we will show you some related information we know until now.
Whether you know it or not, Microsoft is preparing for Windows 10 22H2 and releasing the preview builds to Insiders in the Release Preview Channel. Windows Insiders can install these preview builds on their devices and test them. They can feedback to Microsoft about the problems they encountered. This can help to develop the next feature update of the Windows versions that are still in service. So, if you want to use Windows 10 22H2 earlier than other users, you can join the Release Preview Channel of the Windows Insider Program and get the Insider preview builds.
Recently, Microsoft has accidentally confirmed that the Windows 10 version 22H2 final build is Windows 10 Build 19045. References to this build have now been spotted in the latest optional cumulative update. As expected, Windows 10 22H2 Build 19045 is built based on Windows 10 version 2004 and there will not be significant changes to the Windows 10 operating system.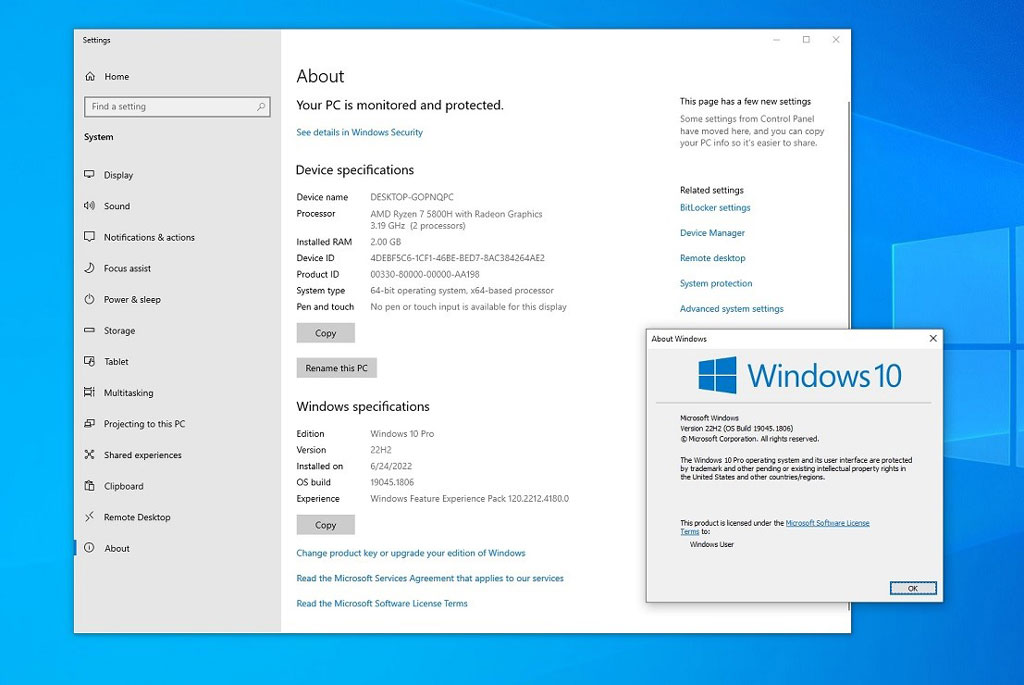 Image source: Windows Latest
Windows 22H2 will be another minor update for Windows 10. This is the fourth such update in a row. However, you still can see some minor new features in it. For example, the new search interface which recently started rolling out to Windows 11 will also be introduced in Windows 10 22H2.
Previously, Microsoft has stated that the feature updates for Windows 10 will "have a scoped set of features" and will be deployed "using servicing technology". This means that Windows 10 22H2 is going to be another enablement package.
If you are running the latest optional and quality updates, it will be easy and quick to upgrade to Windows 10 22H2. The downloading and installation process will not last for a long time because it is just a refresh of the Windows 10 Version 2004 as they're essentially part of the same core build.
What to Expect in Windows 10 22H2 (Build 19045)?
It is still unknown what new features will be launched in Windows 10 22H2. But the new search interface can be expected. As mentioned above, there won't be significant changes in this update. Windows 10 22H2 will focus on some productivity and security updates.
Windows 10 22H2 is expected to be released in the fall of 2022. If you can't wait, you can just join the Release Preview Channel. The preview builds in this Channel are more stable now. You should not worry about it so much.
However, to protect your files and system, you'd better back up your computer using MiniTool ShadowMaker.
If your files are lost and there is no available backup, you can use MiniTool Power Data Recover (a professional data recovery software) to get them back as long as they are not overwritten by new data.
You can follow MiniTool Software to get more information about Windows 10 22H2.