Generally, people can use a laptop for a few hours constantly on a single charge. A laptop with better battery life could last longer. However, it's true that your laptop battery life will be degraded over time. What you can do to prolong the laptop battery life manually? MiniTool gives you some advice.
Even if you're running the best battery life laptops, you'll be struggling to keep Windows 10 running for more than half a day. This will become more obvious as time goes by. However, the good news is that Microsoft offers you several ways to extend laptop battery life running Windows: enabling relative features, modifying settings, etc. In the following part, I'll take Windows 10 as an example to show you how to save battery on Windows 10 (how to extend battery life on laptop running Windows 10).
Tip:
Don't worry if your important
files are missing from Windows 10
. A lot of software is provided on the internet to help you get back lost files easily. If you give the following recovery software a chance, it won't let you down.
How to Increase Battery Life on Laptop Windows 10 Using the Built-in Tools
Microsoft adds some features to Windows for better battery maintenance. In this part, I'll show you how to maximize laptop battery life on Windows 10.
3 Ways To Check The Battery Health Of A Dell Laptop.
Configure Power and Sleep
The Power & sleep option was built in Windows 10 for battery optimization. You can access it by following steps.
Press Windows + I to open Windows Settings.
Click on the System option, which is in charge of display, sound, notifications, power, etc.
Select Power & sleep from the left sidebar.
Here, you can configure the Screen and Sleep settings.
The Screen is running on battery power: specify the time that you want your system to wait before it turns off the screen when you're not using the Windows 10 laptop.
The Screen is running when plugged in: specify the time that you want your system to wait before it turns off the screen when you're not using the laptop.
The Sleep mode is activated on battery power: specify the time that you want your PC to go to sleep when you're not using the Windows 10 computer.
The Sleep mode is activated when plugged in: specify the time that you want your PC to go to sleep when you're not using Windows 10.
The smaller the number is, the more the battery will be saved. However, it would be inconvenient if the number is too small. You need to find a good balance between power usage and convenience. That's all about improving battery life via Power & sleep.
Use Battery Saver
How to increase battery life of laptop using battery saver:
Open Settings.
Choose System.
Select Battery in the left pane.
Look for the Battery saver section in the right pane.
Toggle the switch of Battery saver status until next charge to On.
If you the battery saver to turn on automatically whenever the battery falls below a certain level, you should check Turn battery saver on automatically if my battery falls below and then set a battery level by dragging the slider.
Also, you can check the Lower screen brightness while in battery saver option to save more battery.
By default, the battery saver will be enabled automatically in Windows 10 when the battery level falls below 20%.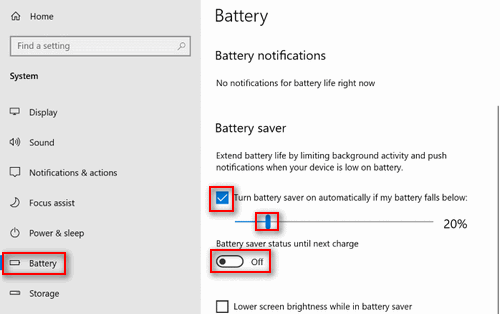 Turn to powercfg Command
How to improve laptop battery life using the Command Prompt tool: press Windows + S -> type cmd -> right click on Command Prompt -> select Run as administrator -> type the following commands and press Enter.
powercfg /a: find out what are the available sleep status and what are the unavailable status.
powercfg /energy: trace the system usage for 60 seconds and show the power efficiency.
powercfg /batteryreport: show the results of the up-to-date analysis of your battery.
powercfg -devicequery wake_armed: keep track of your unwanted processes and disable them.
16 Other Tips on How to Increase Laptop Battery Life Windows 10
Here are some practical tips to save battery power in Windows 10:
Change display settings: reduce the brightness, use a dark theme/background, set a shorter active display duration, etc.
Change power settings: set a shorter PC sleep duration, disable Wi-Fi/Bluetooth connection when in sleep mode, select a lower power mode, choose what the power buttons do, put a lid, etc.
Change sync settings: specify the emails/calendars/contacts you want to sync, sync items less often, etc.
Mute the volume or turn it down.
Turn off the keyboard backlights.
Close unnecessary applications and processes.
Control startup apps and services.
Turn on the airplane mode when it's possible.
Browse with Microsoft Edge, instead of Chrome or other browsers.
Check the laptop battery health regularly.
Remove all unnecessary peripherals.
Keep the PC plugged in until it's fully charged.
Disable some of the CPU processors.
Disable special effects like UI animations and shadows.
Run the Troubleshooter to let Windows fix battery problems for you.
That's all I want to say about how to keep Windows 10 laptop battery healthy.