You can see clearly the content on a webpage most of the time. But in some rare cases, you'll access a page that's hard to look at. In addition, in order to help those people with impaired vision see things more clearly, Microsoft allows them to invert colors. This post shows you how to invert colors on Windows.
Whether you can work properly on a computer is based on what you can see on the screen. Considering this, Microsoft adds a series of features to Windows to help people with color blindness or vision problems see what they're looking at clearly.
If you have deleted files mistakenly or encountered other problems, please turn to MiniTool Solution to get help.
What's built into Windows to help users with impaired vision?
High contrast mode: it replaces colors with defaults or user-set values.
An on-screen magnifier: it is used to see small icons easier.
A dark mode: it turns your screen into dark instantly to make the light from your screen less intense.
Inverted colors: it will flip the bits that make up the pixels on the screen so that all the colors will turn to the opposite.
But the question is how you can invert colors.

How To Enable Windows 10 Dark Mode – Here's A Detailed Tutorial!
Invert Colors Windows 10
Do you want to get a color inverter to see your screen more clearly? Different ways will be demonstrated in this part to show you how to invert colors easily on your computer. I will focus on how to invert colors on Windows.
Use Magnifier as Color Inverter
Press Windows + S buttons on the keyboard to open search box.
Type magnifier into the textbox.
Choose Magnifier (Desktop app) from the search result. (You can also open Magnifier directly by pressing Windows and + buttons.)
Click on the Options button in the far right corner.
Scroll down in the right panel to find and check Invert colors. (You can also access Windows 10 invert colors by pressing Ctrl + Alt + I.)
How to invert colors Windows 10 by using Settings app?
Press Windows + I to open Settings app.
Choose Ease of Access from the menu.
Select Magnifier from the left sidebar.
Look for Invert colors option in the right panel and check it.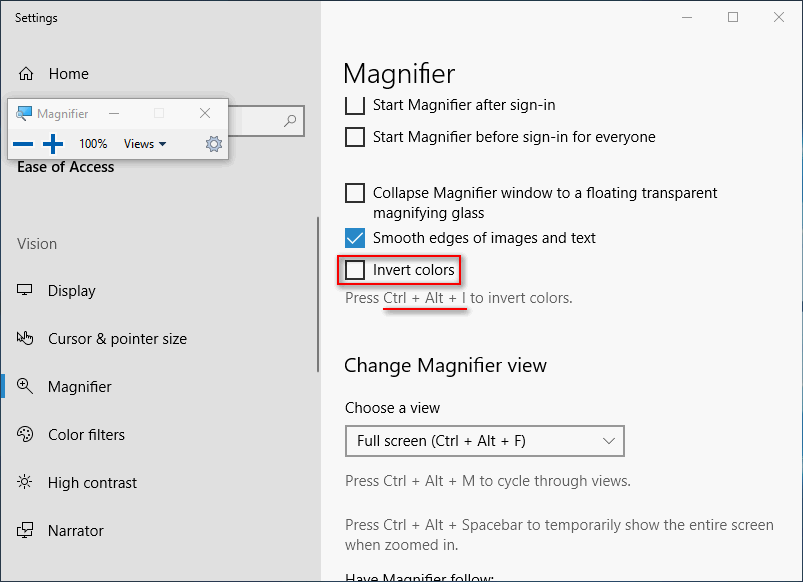 Attention please:
You can uncheck Invert colors or press Ctrl + Alt + I to disable inverted colors.
The inverted color effect will disappear as soon as you close the Magnifier.
The last used settings of Magnifier will be remembered, so the Magnifier will show inverted colors if you open it again without disabling the effect in advance.
Invert Colors through Color Filters
Open Settings app by pressing Windows + I or through other ways.
Also, select Ease of Access from the Settings window.
Choose Color filters (it's Color & high contrast in some editions) option from the left sidebar.
Look for Use color filters section in the right panel.
Switch the toggle under the Turn on color filter option to On.
Choose Inverted (reverse colors on the display) for Select a color filter to see elements on the screen better.
You can also check Allow the shortcut key to toggle filter on or off.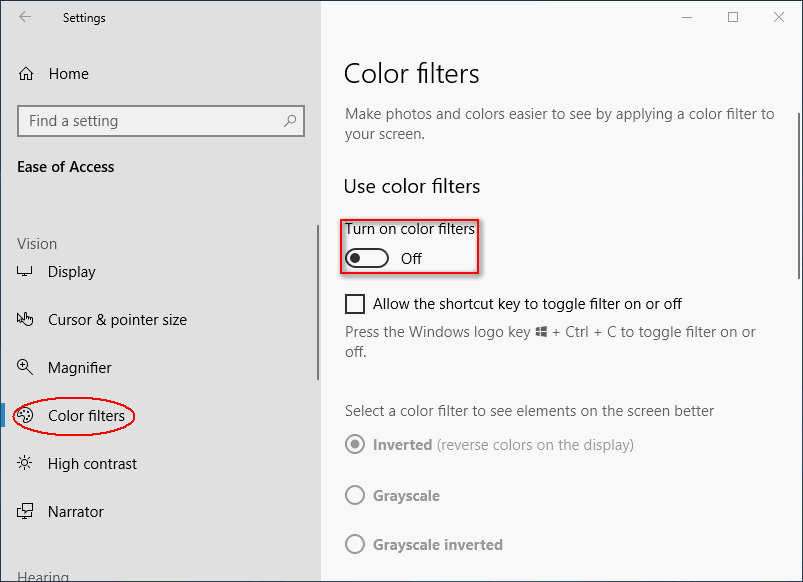 Make Use of High Contrast Mode
Click on Start button in the lower left corner of your PC screen.
Choose Settings option from the left sidebar of Start menu.
Also, you need to click Ease of Access.
Select High contrast from the left panel.
Switch the toggle under the Turn on high contrast option to On.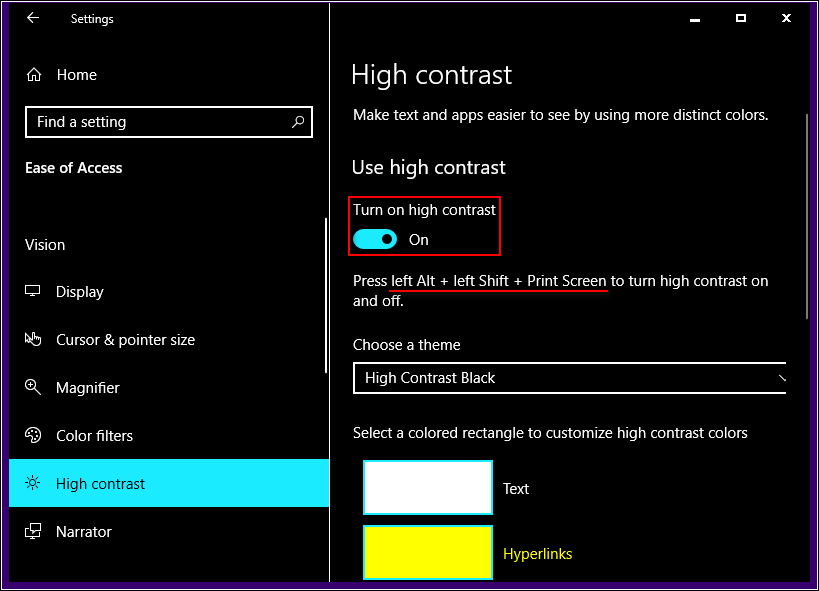 What's more to know about high contrast?
You can choose a theme for the high contrast effect.
You can also press left Alt + left Shift + Print Screen and click Yes to turn high contrast on directly. Then, press left Alt + left Shift + Print Screen to turn high contrast off.)
Besides, Microsoft adds a dark theme to some of the apps running on Windows.
Windows 10 Mail App Dark Theme Appeared In The Latest Update.