Windows 10 services are important components to maintain the smooth running of your computer. However, not all of them are necessary for you. You can disable unnecessary service in Windows 10 to improve your computer performance. This post tells you which services you can disable in Windows. More information, you can visit the MiniTool home page.
What Are Windows 10 Services Used for?
Windows 10 services are there used to guarantee the normal functioning of your operating system. You'd better keep their default settings. But, some of you may want to disable unnecessary services in Windows 10 to let your Windows 10 run much faster.
Before talking about Windows 10 services to disable, we will show you something useful like where to see the Windows 10 services you have and their states:
Search for services.msc in the search box and press Enter to open it. Then, you will see the Component Services window. Click Services (Local) and you can see all the Windows 10 services on your PC. You can select one item to view its description. You can also see the Description, Status, Startup Type and Log On As on the window.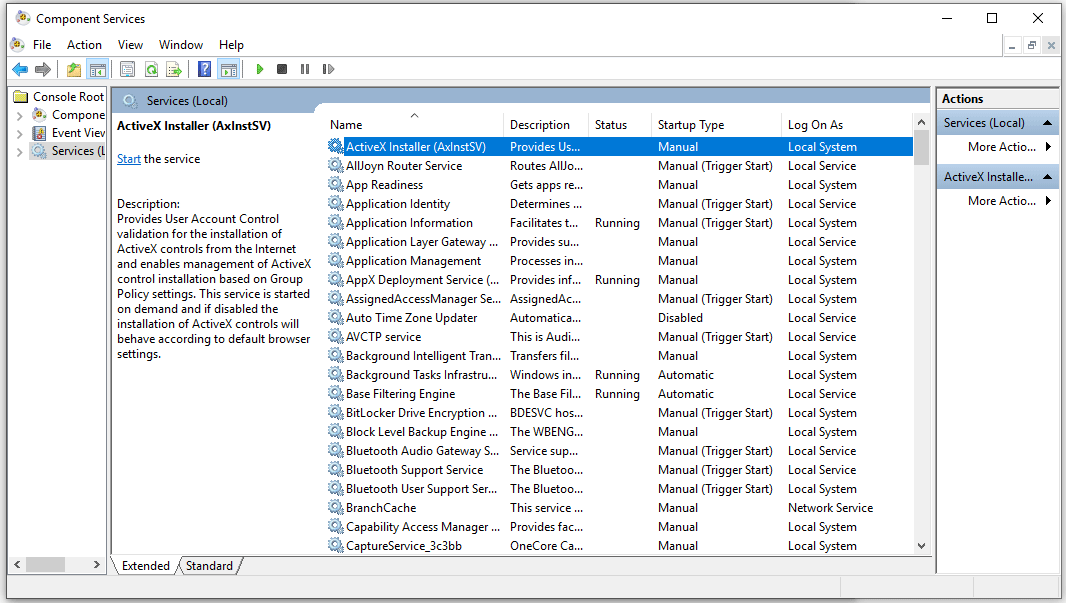 Many services are set as Manual that means that they are started only when they are needed. The services which are shown as Automatic can start with Windows boot.
Disable Unnecessary Services in Windows 10
Before disabling unnecessary services in Windows 10, you'd better create a System Restore Point and make a note of the Windows services that you are disabled.
Many of you want to disable Windows 10 services to improve performance. In this situation, you can take a look at the services that are shown as Automatic because only these services can make your Windows take longer time to boot up.
Now, you can lick the Startup Type header to show all the automatic services. Then, you can right-click on one service and select Stop. While you can also see that there is no such a Stop option after right-clicking a service. If so, just go to the next one.
However, before stopping a service, you can read the description of that Windows service and then decide whether to stop it.
Which Windows 10 Services Are Safe to Disable
You may still ask what services can I disable in Windows 10. Here we will show you a list that contains the Windows services that can be safely disabled:
AVCTP service: if you don't use Bluetooth Audio Device or Wireless Headphones.
BitLocker Drive Encryption Service: if you don't use BitLocker storage encryption.
Bluetooth Support Service: if you don't use any Bluetooth device.
Computer Browser: this will disable Network discovery of systems on the local network.
Connected User Experiences and Telemetry: it will disable Feedback, Telemetry and Data Collection.
Diagnostic Tracking Service: it will turn off Telemetry and Data Collection.
Distributed Link Tracking Client: if you don't need to use a network.
Downloaded Maps Manager: if you don't use the Bing Maps app.
File History Service: if you don't intend to use Windows Backup or System Restore.
IP Helper: if you don't use IPv6 connection.
Infrared monitor service: if you never use File transfer via infrared devices.
Internet Connection Sharing: it is an old service that can be disabled.
Netlogon: if you are not on a domain controller environment.
Program Compatibility Assistant Service: it will hinder your running in the Compatibility Mode though.
Print Spooler: if you don't use a Printer.
Parental Control: if you don't use the Parental Control feature.
Remote Registry: you'd better disable it. Then, no one can access your Registry remotely.
Secondary Logon
TCP/IP NetBIOS Helper: if you are not a part of a Workgroup network.
Windows Error Reporting Service: if you don't need to save or send error reports.
Windows Image Acquisition: if you don't use a Scanner.
Windows Camera Frame Server: if you never use a webcam or an integrated camera.
Windows Insider Service: if you are not a part of the Windows Insider Program.
Windows Search: if you never use Windows Search.